Every time we go to the Hamptons with friends this is what my friends request this jalapeno popper burger! It makes me smile all the times we sat on the sun soaked deck, gooey sharp cheese dripping down, and laughing so hard from pure beef joy! I love love love how happy comfort food gives my friends love and happiness! We all deserve a moment of bliss and to celebrate us! This burger has big beefy flavor stuffed with spicy crunchy cream big smiles.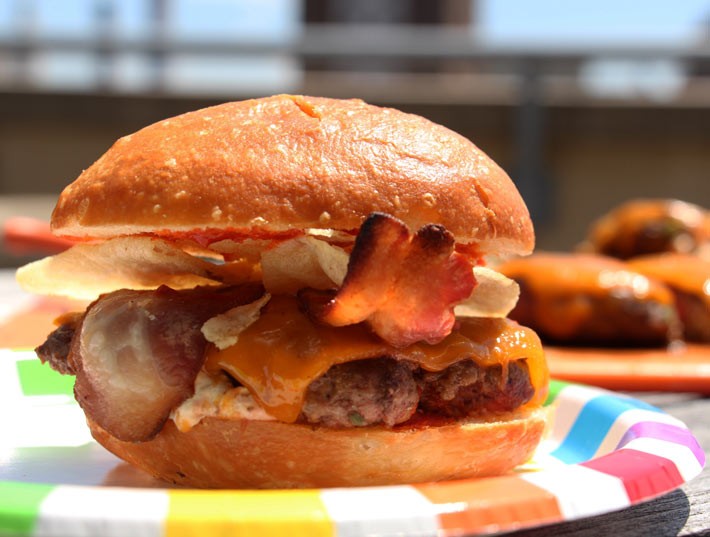 Here is my new crazy burger recipe (a super simple combo).  Combining my two faves, crunchy and spicy jalapeño poppers and juicy mouth watering burgers seemed like a match made in heaven. The challenge was how to make it easy, but bursting with ooey gooey flavor. I am excited to share this with you. There are some surprise toppings you will learn on the video inspired by Bobby's Burger Palace. 
OMG I'm so excited for you to try this one! This recipe is dedicated to the one year anniversary of my being on the Good Morning America show were I made my BBQ Bacon Garlic Burgers. I am sooo grateful for the opportunity and the chance to live my dream of cooking on TV!
LET'S COOK TOGETHER – grab your ingredients and follow along with the video!
Jalapeno Popper Burger
Combining my two faves, crunchy and spicy jalapeño poppers and juicy mouth watering burgers seemed like a match made in heaven.
Ingredients
Burger Ingredients:
4 oz cream cheese
3 scallions (finely chopped)
1 cup shredded sharp cheddar cheese
2 jalapeno (de-seeded/chopped finely) separate the 2 jalapenos
1 lb 80/20 ground beef
1 tsp salt
1 tsp black pepper
1 tsp garlic powder
Other Ingredients:
4 slices cheddar cheese
4 hamburger buns
ketchup or sriracha (for topping)
8 slices bacon (2 per burger)
1 handful potato chips (to top burger)
Instructions
Preheat BBQ grill or grill pan on high

In a bowl mix together (with a fork) cream cheese, cheddar cheese and jalapeño

In a separate bowl mix together (with your hands

hamburger, jalapeño, big pinches of salt and pepper and garlic powder

Divide meat into fours – for each patty make a hole, add 1 tablespoon cheese mixture, wrap meat around, flatten into patty, press a small divot in the center, grill for 3 minutes – flip – add cheese slice – grill for additional 3 minutes

For each burger – drizzle Sriracha sauce on buns, add cooked burger, 2 slices of bacon and a handful of your favorite potato chips on top!
What is your favorite burger recipe? Any burger questions? – please ask in the comments section.
I'm super excited to answer them ???!
With a grateful jalapeño heart and an amazing burger tummy – Jay
(Visited 2,197 times, 1 visits today)
Subscribe for tasty, free recipes!