Hello – I am Jay – the chef behind Chop Happy!
I live in the bright lights of New York City and The Hamptons. My dream has always been to cook, dance, uplift, and inspire people to cook and have fun.
I have two fun rules:
Just like life – food doesn't always turn out like you expect – have fun and don't take cooking so serious!
Set yourself up for Chop Happy Smiles. This means measure cut and chop everything for a recipe before you make it. This will allow you to put your favorite tunes on and drink a glass of wine and smoothly and stress free cook!
Being a busy professional who always found zen and happiness in the kitchen – my goal for Chop Happy is to spread happiness and good food!
---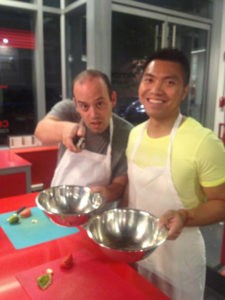 When I was a kid my heroes were cooking stars instead of sports stars. I loved watching Yan Can Cook, 30 Minute Meals and anything on the Food Network.
I love cooking for my husband Tom. He rates my recipes from 10 (the best) to zero (the worst) and he knows never to go below a 4 or he doesn't eat LOL! My child is a french bulldog Charlie who I call my sous chef! He chills on the couch and barks when the sizzle gets loud.
I feel life is too short and we should "grab the french fries by the handful" and live life. I learned this early on when I lost my dad at a young age. His death made me wake up and say I am going to try to be happy and live as happy as I can.
My dream is to be on TV to be crazy, inspire and cook awesome food!!! I was a top ten finalist of Rachael Ray's day time show for "Next American Cookbook Author" and the cook book idea was Leftover Remake. You take leftovers from the night before and a couple other ingredients and make new meal. I also won Top ten best Pigs-in-the-Blanket recipe on "The Daily Meal"!
---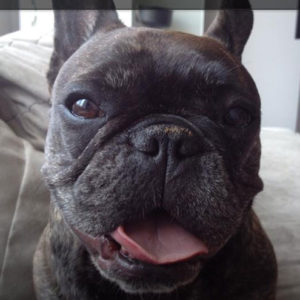 The Chop Happy mission is to have fun through cooking and enjoy life to the fullest. It's all about delicious food and cooking for someone you love that can make the world a happier place and put more smiles on their faces.
With Gratitude and a yummy tummy – I hope you enjoy Chop Happy Land! 
I am grateful you joined us to cook with you!
~Jay
---

My Favorite . . .
Holidays
Thanksgiving
Labor Day weekend
My Birthday
Foods
French Fries
Egg Rolls
Pigs-in-the-Blanket
Things to Cook
My Meatballs
Eggplant Rollatini
Roasted Shrimp
Kitchen Tools
Reynolds Non-Stick Aluminum
My Orange Le Creuset Pot
Rachael Ray Orange Handle Pot
Gratitude Books
The Secret by Rhonda Byrne
The Magic by Rhonda Byrne
The Art of Mindfulness by Thich Nhat Hanh
Hero Chefs
Ina Garten
Giada De Laurentiis
Bobby Flay
(Visited 4,295 times, 1 visits today)