Warning: You Can't Stop Eating These Flavor Crazy Meatballs!
I went on a meatball mission to make the best meatballs ever. I tried bread and milk, extra eggs, prayer (LOL), frying the balls and everything possible. After gaining 1,000 pounds I think I perfected the meatball! I actually used this recipe to submit for Rachael Rays Next Great American Cook Book Author. To my amazing surprise and my "taste buds world" I made it to the top ten!
This is my favorite thing to cook! It is fool proof, moist all the time and an explosion of flavor. I combine ricotta cheese for moisture and parmesan cheese for that salty bite!
Let's take a trip to Italy in your kitchen. There is a secret ingredient, my Italian Glue. This mixture makes the meatballs sing, and the spaghetti dance in the moonlight! The key is to have even distribution of the meatball mixture. How you do that is by mixing the Italian glue first then add it into the meat mixture.
Recipe Hack / Cooking Tips:
Pour Sauce in Sheet Pan: Why clean more dishes! When there is 15 minutes left pour the marinara sauce on meatballs in sheet tray and finish cooking. The suace soaks in the meatballs and it is truly 1 pan recipe.
Use Fresh Herbs: It makes a huge difference. The sweet basil, grassy parsley, a pungent garlic make these meatballs so good. Dried herbs sit on a bottle and lose their oils. Fresh makes a rainy day sunshine in the recipe!


Things you will need:
---
Best Baked Meatballs Recipe
Ingredients
1/2 cup fresh ricotta
Small handful chopped parsley
7 basil leaves chopped
1 tablespoon of ground fennel
Pinch of red pepper flakes
2 tablespoons of chopped fresh oregano
2 cloves of garlic minced
4 heaping tablespoons of parmesan cheese
2 lbs of ground beef (80/20)
2 eggs
1/2 cup ground up croutons or Italian "magical" bread crumbs
1 teaspoon of salt and a couple grinds of black pepper (Best Friends Forever)
Jar of your favorite marinara sauce (I like Roa's!)
---
Instructions
Let's get started!
Pre-heat oven to 425 degrees
Oil a baking dish
Combine the ground beef, eggs, bread crumbs, salt, pepper and fennel in one bowl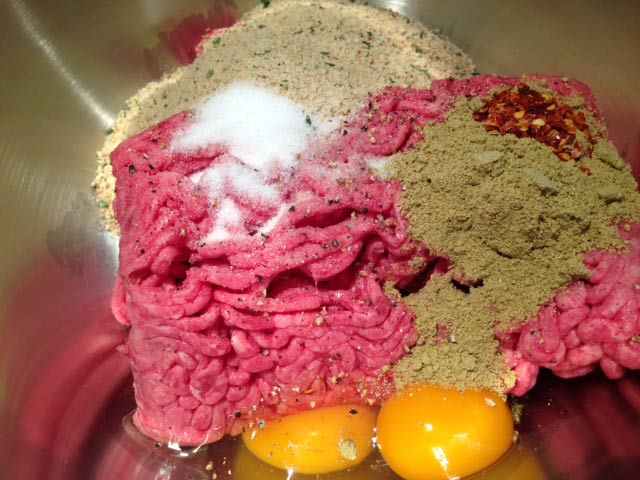 In a separate bowl combine the fresh ricotta, parsley, basil, fennel, red pepper flakes, oregano, garlic and parmesan cheese
Tip: doing this separate from the meat mixture will help avoid over-mixing the meat and getting hard meatballs.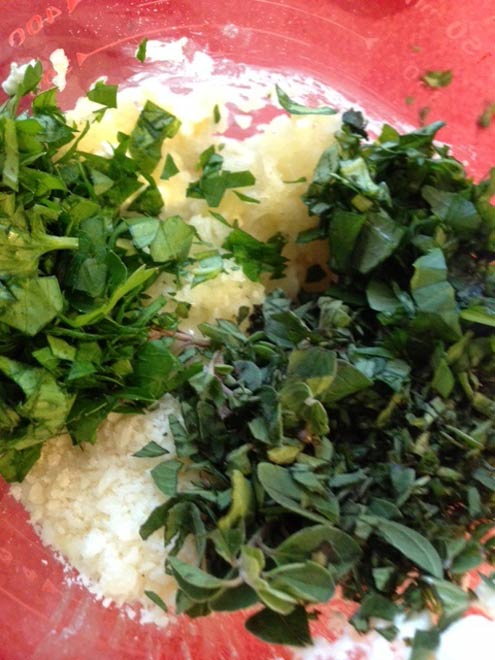 Look how awesome this Italian Glue looks! This is a work of art that you can eat! (see my post dedicated to Italian Glue)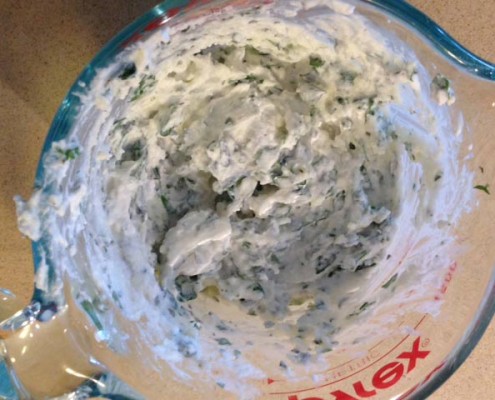 Now with love and enthusiasm combine the two bowls of ingredients. Mix all ingredients gently to make meatball happiness and a family meal that will be in everyone's memories!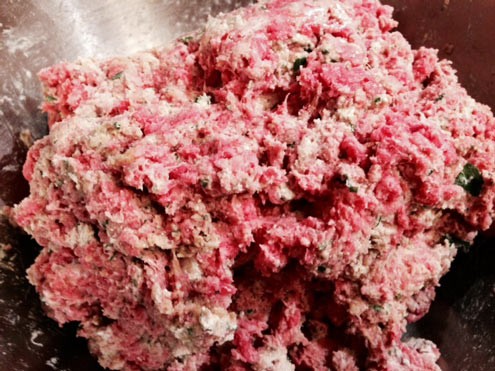 Roll the meatballs into golf size balls and roll with a little olive oil (sun tan lotion for the meatballs)
Place the meatballs on a baking dish next to each other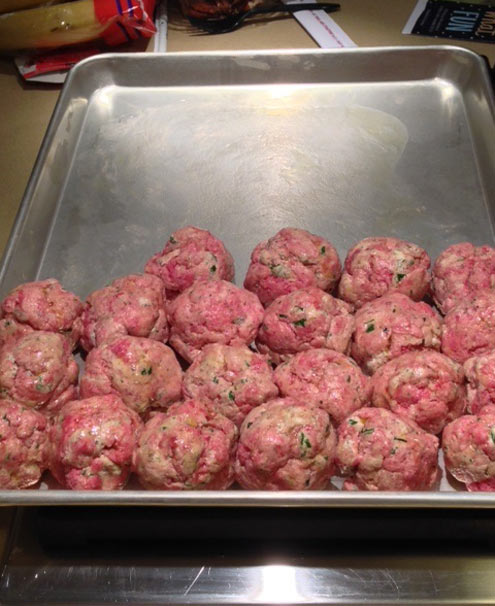 Bake these beauties for 20 minutes, then take out and drain the extra fat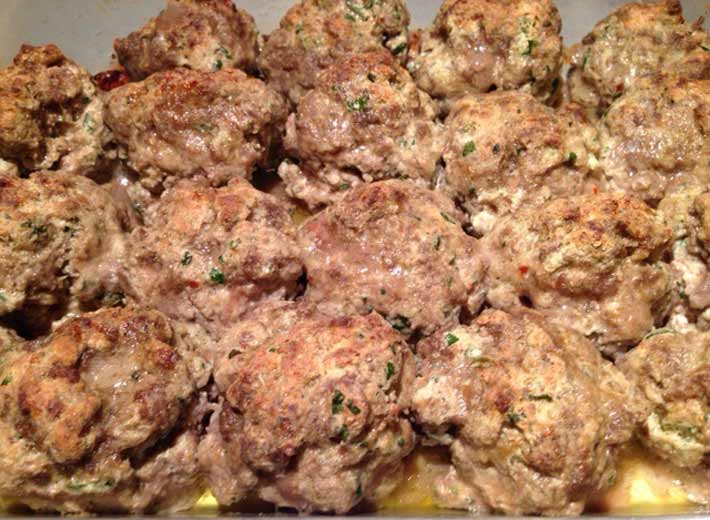 Spoon 1 tablespoon of your favorite marinara sauce on each meatball and bake for another 15 minutes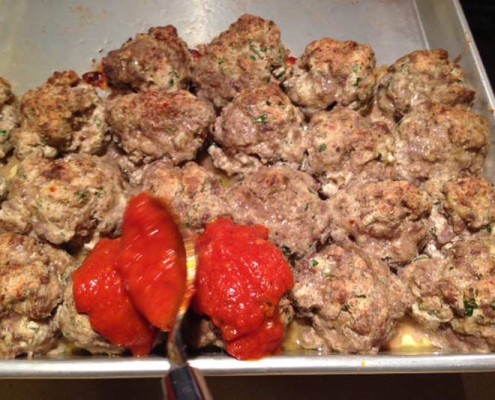 Look the meatballs are sleeping in a warm blanket of sauce. It looks so pretty!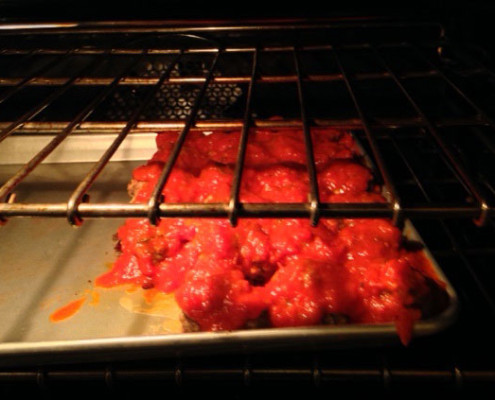 Now watch everyone ask for the recipe and think you are a meatball master!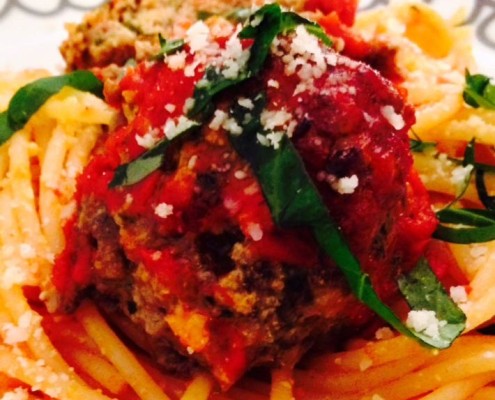 Other Easy Recipes:
---
This is my favorite thing to cook! Give it a try and share pictures of your tasty creation 🙂
With a grateful heart and a yummy meatball tummy – Jay
(Visited 30,351 times, 1 visits today)
Subscribe for tasty, free recipes!