I love pie but today is an extra special cheesy and saucy savory pie. It is my "make you smile" meatball pie. This is so perfect for a couple days of dinner! I make the pie on Sunday and eat leftovers Monday and Tuesday!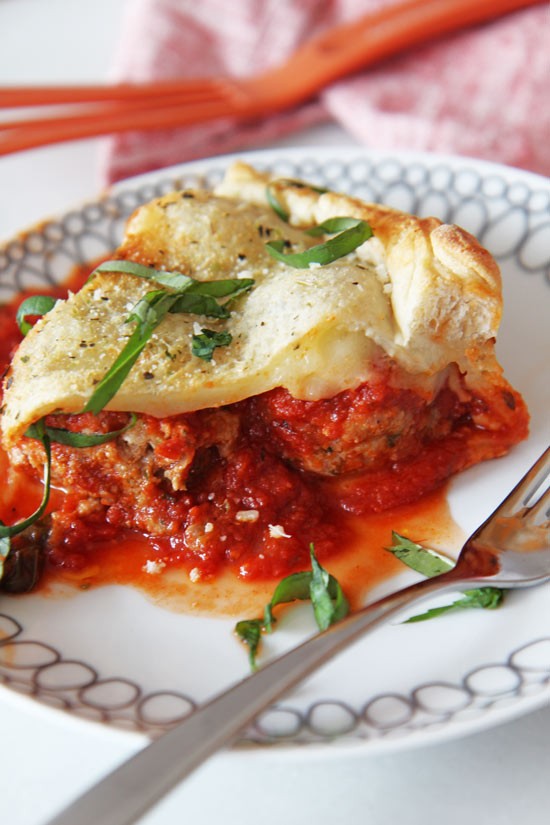 This recipe holds a special place in my heart. Years ago, Tom (my husband) entered me into a contest for Rachael Ray's TV show. The contest was to be the author of the "The Great American Cookbook." This is the meatball the recipe that took me all the way to the Top 10. Although I didn't win, it changed my life forever. It sparked my ambition to share my easy recipes with other busy home cooks like me. I am grateful everyday to cook for you and letting me live my dream. I hope your dreams become a reality! Sending you happy vibes.
You can make this extra fast if you buy store bought frozen meatballs. Just defrost and skip the meatball step. Also you can assemble whole pie and freeze it for later.  It was actually a rainy Sunday that I was bored (very rare for me especially living in NYC) and Tom was working and wanted to make him something special. I went to make the meatballs and then started craving deep dish pizza. I had pizza dough and provolone cheese so decided to make the meatballs into a pie. Ohhhhh myyyyy! This was like a birthday dinner combined with Sunday comfort food love. I hope you love this!
Cooking Tip For Busy People:
Make two Pies! Assemble both all the way to sealing the top of pie (see recipe or video).
Freeze one for another quick 30 minute meal (freezes 6 months). This is perfect for busy weeks you only have energy for turning on the oven.
Cook the other pie for today's dinner!
Here is a great spring form pan If you don't Have one! Click Here!
My Favorite Frozen Meatballs: Click Here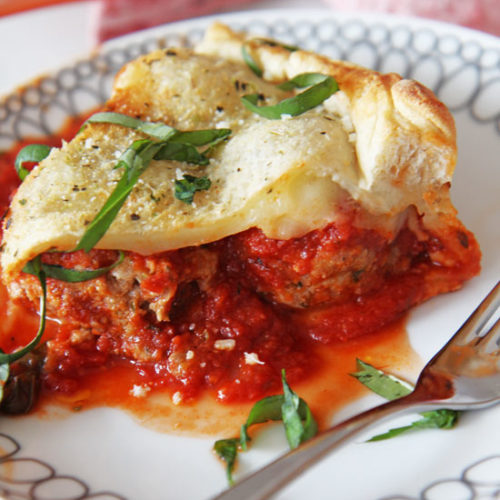 Meat Ball Pie Recipe
Ingredients
Meatballs Recipe (you can use pre-made frozen and skip this step)
2 pounds 80/20 ground beef
2 tespoons salt
1 teaspoon pepper
1 cup ricotta cheese
2 eggs
1/2 cup bread crumbs
2 tablespoons fresh parsley chopped (or 1 teaspoon dry)
2 tablspoons fresh oregano (or 1 teaspoon dry)
10 basil leaves chopped (or 1 teaspoon dry)
2 cloves garlic grated
1/4 teapoon red pepper flakes
1 jar favorite marinara sauce (save 1 cup)
Pie Ingredients:
1 pizza dough ball (divided in two) or 2 cans of pizza dough
8 slices provolone cheese
1 cup marinara sauce
3 tablespoons extra virgin olive oil
3 teaspoon garlic powder
3 teaspoons Italian seasoning
Instructions
Meatballs Recipe (you can use pre-made frozen meatballs and skip this step)
First, preheat the oven to 400 degrees.

Now mix ricotta cheese, parsley, oregano, basil, garlic, and red pepper flakes together.

Next add meat to a bowl and add salt and pepper. Lightly mix.

Now add the ricotta herb mixture to the beef plus the eggs and bread crumbs. Mix to combine.

Form meatballs the size of golf balls and place on a sheet tray.

Now cook the meatballs 20 minutes then take out and pour marinara on top and cook 15 minutes more.

Enjoy on its own or cool to make pie.
Pie Instructions:
First, using a spring form pan (link for what this looks like is above recipe) place 1/2 pizza dough on bottom and up the sides. Drizzle a little olive oil, garlic powder, and Italian seasoning on the dough.

Now, place in the oven for 10 minutes. This is to prevent soggy bottom.

Now take the pan out of the oven and layer the bottom and sides with provolone cheese. Next sprinkle more garlic powder and Italian seasoning on the cheese.

Then, add a layer of meatballs and pour sauce on top.

Now add one more layer of provolone cheese on top of the meatballs.

Top the pie with second 1/2 of pizza crust and seal edges (see video at top of page).

Now brush more olive oil on top and sprinkle garlic powder and Italian seasoning on the crust. Cut 3 small cuts on top of pie .

Now place it back in oven for 30 minutes.

Finally, enjoy this now or perfect reheat through out the week.
Check Out This Weeknight Simple Recipe:
I can't wait for you to try this recipe!!! Cheers to easy comfort food.  Happy Cooking!
QUICK NO BAKE DESSERT  FOOD RECIPE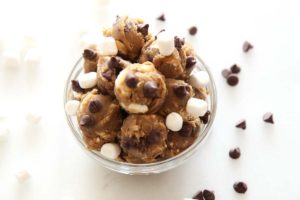 Your Dash Of Gratitude:
                                                                                                                                   
ANY QUESTIONS OR COMMENTS? COMMENT BELOW 🙂
With a grateful heart and an amazing tummy – Jay
This book changed my life and it is how I elevated my home cooking:

(Visited 4,070 times, 1 visits today)
Subscribe for tasty, free recipes!