Get ready for the easiest, juiciest, softest meatballs! These meatballs are my love note to cooking and actually are one of the things that inspired me to start Chop Happy.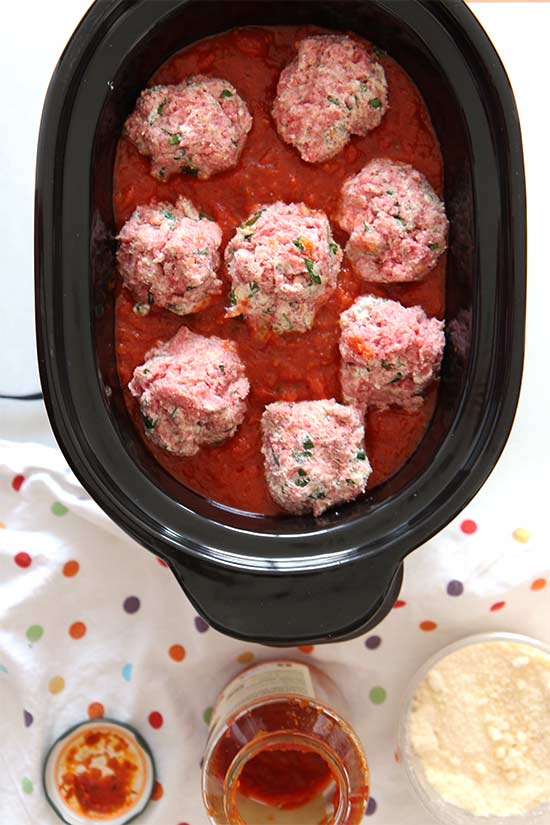 These are my good luck anything is possible slow cooker recipe. Years ago, Tom entered me into a contest for Rachael Ray's TV show. The contest was to be the author of the "The Great American Cookbook." This was the recipe that took me all the way to the Top 10. Although I didn't win, it changed my life forever. It sparked my ambition to share my easy comfort food recipes with other home cooks. The best part is the slow cooker makes dinner for you!
The secret to my meatballs (and my meatloaf ) is ricotta cheese. I used to get grossed out by the milk-soaked bread used in a lot of recipes, so I searched for an alternative. I was so excited when this worked. The other trick is using fresh herbs, not dried ones. With fresh herbs, I find that you get a subtle hint of familiar Italian flavors without overpowering the cheesy beefiness of the meatball.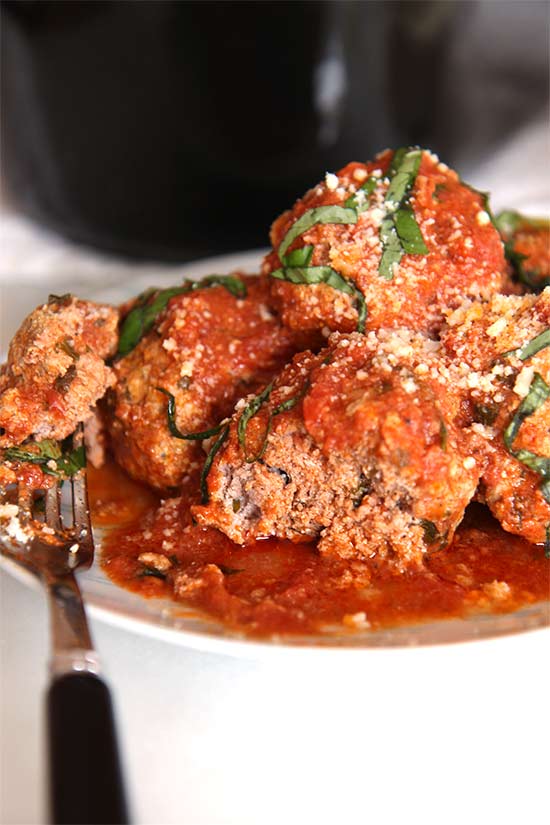 Originally this recipe was done in an oven, but I wanted to make this even easier and let your personal chef, aka the slow cooker, make this for you.
I love hearing from you! If you have any questions or comments, please write them below the post! I hope you Chop Happy, Eat Happy and Smile Happy!

Slow Cooker Cheesy Meatballs Recipe
Ingredients
2 lb ground beef (80/20)
1/2 cup ricotta chesse
2 eggs
salt
pepper
1/2 tsp red pepper flakes
2 cloves garlic (grated or finely chopped)
1 handful parsley (chopped)
10 leaves basil (chopped)
2 tbs oregano (chopped)
1/2 cup panko bread crumbs
2 bottles your favorite tomato sauce
4 tbsp Parmesan cheese
Instructions
First place the ricotta cheese, Parmesan cheese, eggs, a pinch of salt and pepper, red pepper flakes, garlic, and all the herbs in a bowl. Mix well to combine.

Next add the beef, a big pinch salt and pepper, and panko bread crumbs to the bowl.

Combine gently all the ingredients until mixed well.

Now roll into meatballs the size of golf balls and set aside.

Pour all of the first bottle of sauce in the slow cooker. Nestle as many meatballs as you can get next to each other in the sauce.

Next pour half of the second bottle of sauce over the meatballs.

Now layer the remaining meatballs on the sauce and then top with the remaining sauce.

Cover the slow cooker and cook on low for 4 hours

When done enjoy!
Notes
The meatballs freeze really well! They last 4-5 months in the freezer.
If make your own sauce, use 3-4 cups of tomato sauce.
A fun spin on this recipe would be to stuff meatballs with small chunk of mozzarella.
To serve add fresh parm, some basil and drizzle of extra virgin olive oil.
MAKE THIS WITH THE MEATBALLS: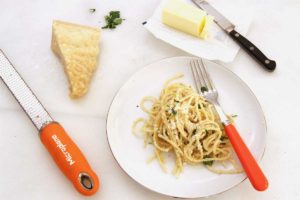 ANY QUESTIONS OR COMMENTS? COMMENT BELOW 🙂
With a grateful heart and an amazing tummy – Jay
(Visited 19,734 times, 1 visits today)
Subscribe for tasty, free recipes!