Sweet cheesy meatballs that are mini cute versions of eggplant Parmesan. All the indulgent flavor with less work then making eggplant parm! First of all, I have to admit I am obsessed with eggplant Parmesan. As a kid we had one night when we could order the most cheesiest thing I could eat. I always ordered something with the last name Parmesan. It was like having a birthday every week.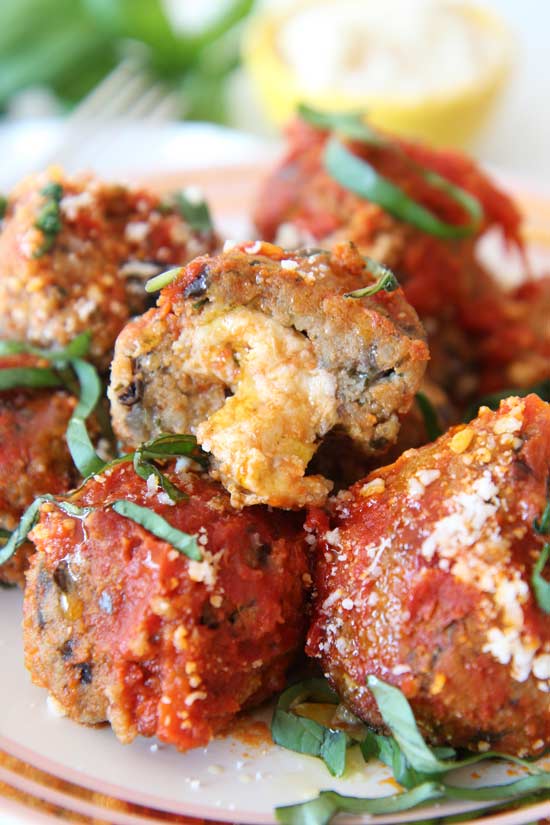 As an adult me and Tom order this cheesy dish all the time from this awesome restaurant Rubirosa (located in SOHO). It comes layered with sweet sauce, fried veggie layers and held together by perfect blend of cheesy saucy mozzarella and creamy ricotta! I am always inspired to make it but don't want to do all the work that goes into salting the eggplant, waiting for it, and then breading and frying. One day I dreamed of turning this Italian classic into a meatball. I thought if I throw all the ingredients into a food processor and baked it would be just as sweet, garlicky, and cheesy as the original. Also much less work. This is a true time saver changer!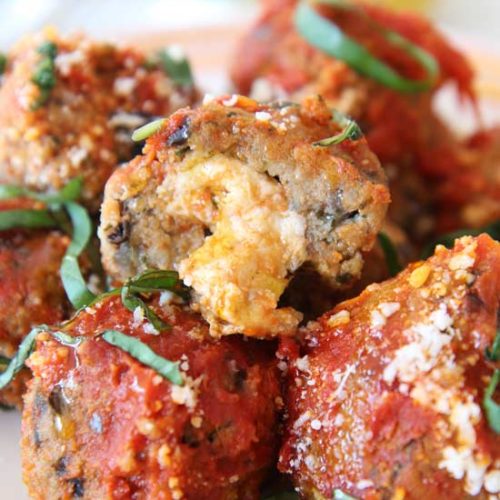 Eggplant Parmesan Meatballs
Ingredients
1 large eggplant (chopped in 1 inch chunks)
3 tablespoons extra virgin olive oil
1 teaspoon salt
1 teaspoon pepper
2 cloves garlic (left whole)
10 basil leaves (left whole)
1 teaspoon oregano (left whole)
1 handful parsley (left whole)
1/2 teaspoon red pepper flakes
1 egg
1/2 cup ricotta cheese
1/2 cup Parmesan cheese
2 cup bread crumbs
1 pound mozzarella cheese (cut in small cubes)
1 jar favorite jarred tomato sauce
Instructions
Preheat oven at 400 degrees.

First, add eggplant, salt and pepper to a pan on medium heat with olive oil. Stir for approximately 3 minutes until the eggplant is browned and soft. Then set aside to cool (approximately 10 minutes).

Next, add the eggplant, ricotta cheese, Parmesan, garlic, basil, parsley, oregano, red pepper flakes, egg, pinch of salt and bread crumbs to the food processor.

Now pulse until all is combined and mixed into a thick paste with small chunks of eggplant (see video above).

NOTE: The mixture will be thick but still wet. As long as you can form a ball it will harden up in the oven. If not able to form ball add more bread crumbs.

Next, scoop out 1 tablespoon of eggplant mixture and add mozzarella chunk in the middle. Roll to form a ball (If the mixture is too wet to hold a ball shape, add more bread crumbs to the mixture).

Place on a sheet tray with a coating of olive oil and roll the meatballs around to coat. Then line up next to each other.

Now, Place in the oven for 20 minutes on upper middle rack.

Next, take sheet tray out and top with tomato sauce and put back in the oven 15 minutes so the sauce can soak in the meatballs.

Finally, top with Parmesan and extra chopped basil and enjoy!
For more easy, happy comfort food recipes, check out our Pinterest Page
More Quick  Recipes:
I can't wait for you to try this recipe!!! Cheers to easy comfort food.  Happy Cooking!
QUICK NO BAKE DESSERT  FOOD RECIPE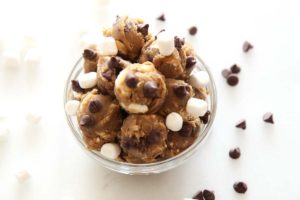 Your Dash Of Gratitude:
                                                                                                                                   
ANY QUESTIONS OR COMMENTS? COMMENT BELOW 🙂
With a grateful heart and an amazing tummy – Jay
This book changed my life and it is how I elevated my home cooking:

(Visited 7,999 times, 1 visits today)
Subscribe for tasty, free recipes!