It's a Taco Pasta Party! Not only is it super easy, the big bonus is that this recipe has lots of leftovers to make life just a little bit easier.
I love when we cook pasta dishes together because they always make you smile. The best part is if your like my friend Nancy (Hi Nance), you can make this gluten free! Just substitute the pasta in the recipe below for a gluten free pasta option.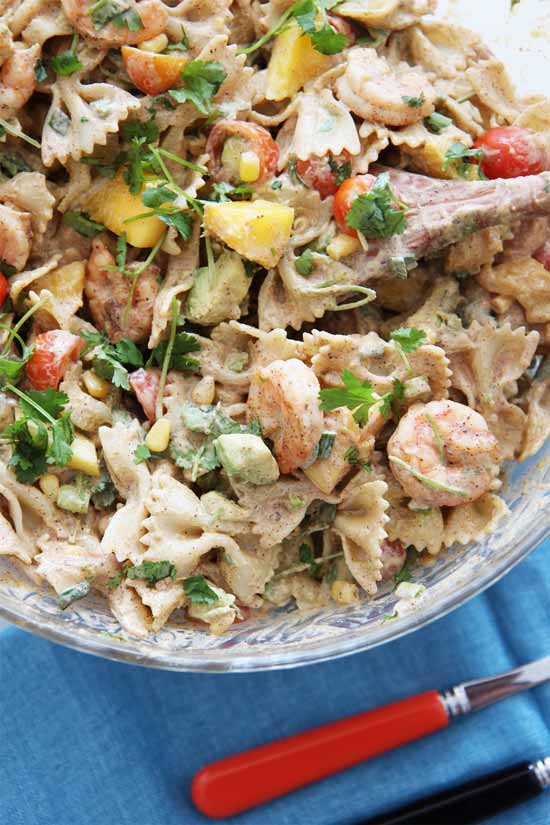 Another secret is that there are actually two recipes in this dish
1. This creamy smoky sauce is a 3-ingredient dressing that you can use on salads, potato salad, or as a fun southwestern dip. Here, we make it with store-bought chili seasoning that you might already have in your cabinet so it really helps cut down on prep time.
2. The pasta recipe, with its sweet shrimp and crunchy vegetables, makes for the perfect weeknight dinner or picnic treat. Follow the techniques you learn in the video below for fun tips on how to take shortcuts to make cooking more fun and stress-free.
Happy cooking, and I hope this recipe makes you smile and dance in the kitchen!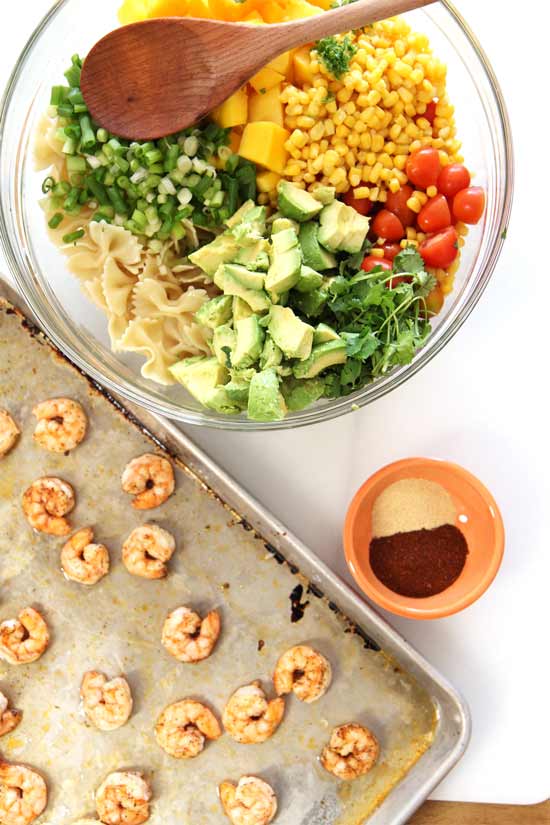 ---
Tips for Happy Pasta Making:
Salt the water to season the pasta. This is important because it is your one chance to season the pasta itself. Add 2 tablespoons of salt to boiling water for one pound of pasta.

Make it al dente! This means your pasta will be slightly chewy. Many restaurants make their pasta al detente, and it's why pasta often tastes so much better at the restaurant. But now you can recreate this in your own home. All you have to do is cook the pasta 1 minutes less than instructed. That's it!

Anytime a pasta recipe calls for a 1/2 pound of pasta, double the recipe and make a pound of pasta instead. This will give you more leftovers so you can cook less during the week.

As always, these recipes are part of my mission to provide you with 2 goals:

To make amazingly simple homemade comfort food.
To learn useful tips to make cooking fun.
---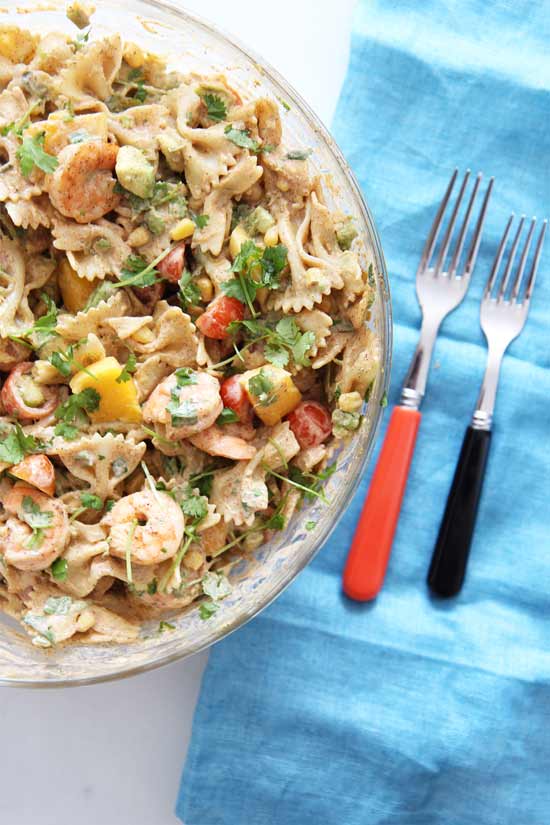 Shrimp Taco Pasta
Ingredients
Pasta Salad Ingredients
1 pint cherry tomatoes (cut in half)
2 mango (cut in small chuncks)
2 avocados (cut in small chuncks)
3 scallions (chopped)
2 limes (zest and juice)
1 cup corn
1 lb pasta (cooked)
1 handfull cilantro (chopped) you can replace cilantro with 1/2 mint and 1/2 parsley
1 tsp salt and pepper
Taco Ranch Dressing Ingredients
1 cup ranch dressing
2 tsp chili seasoning
1 tsp garlic powder
Roasted Shrimp Ingredients
1 lb shrimp (peeled and devained)
1 tsp chili seasoning
1 tsp salt and pepper
3 tsp extra virgin olive oil
Instructions
Taco Ranch Dressing Instructions
Mix all the ranch dressing ingredients in a bowl to combine.
Taco Pasta Instructions
Preheat the oven to 400 degrees.

First mix all the shrimp ingredients together. Spread the shrimp out on a baking sheet.

Cook for 8 minutes and then detach the tail from the shrimp and set aside.

Place all the taco pasta ingredients above and the cooked shrimp in a big bowl.

Next, add the taco ranch dressing. Mix all the ingredients in the bowl.

Enjoy this happy pasta salad.
Your Dash Of Gratitude:

ANY QUESTIONS OR COMMENTS? COMMENT BELOW 🙂
With a grateful heart and an amazing tummy – Jay
(Visited 2,385 times, 1 visits today)
Subscribe for tasty, free recipes!