We call this recipe the official meal of Chop Happy weekends!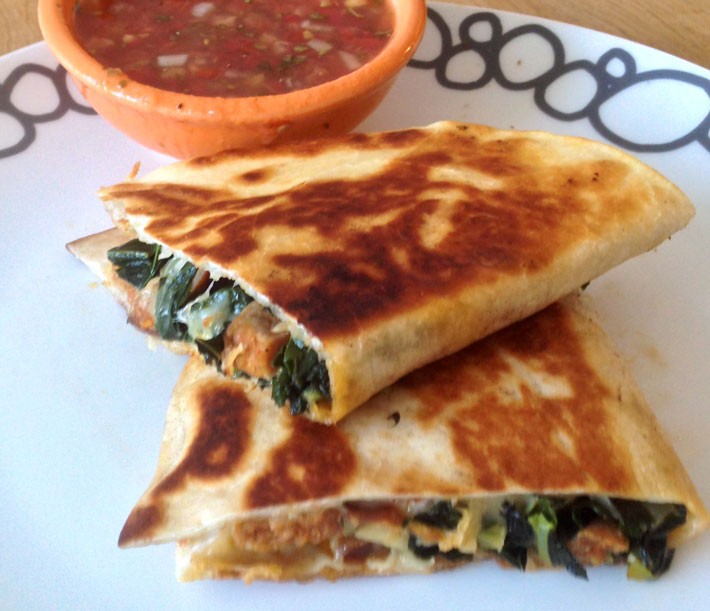 I love this because it is sooooo easy to make and small bill at the grocery store. When I bite into the quesadilla I hear the margarita maker and fun salsa music in my head and everything is right with the world. Lets Journey to Chop Happy Love affair with these taste bud exploding treats!
---
Chorizo and Kale Quesadillas Recipe
Ingredients
6 Soft Tortilla's (medium or large size)
1 Package (1 lb) of cooked Chorizo cut in half and then into moon shape pieces
8 oz of your favorite Salsa (if you like it hot go for it spicy)
1 Package (8 oz) Monterrey jack cheese
1 bunch of dinosaur Kale* cut into small strips
1 teaspoon olive oil
2 Tablespoons butter
*Lacinato Kale – aka dinosaur kale . Any Kale will do, but with this type you don't have to discard ribs. You just need to cut the steams.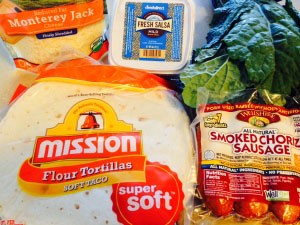 Ok Chop Happy Townspeople . . . hold on to your salsa . . .
---
Instructions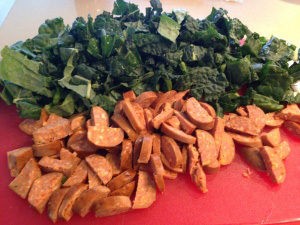 1 Tablespoon olive oil in pan over medium high heat
Add chopped chorizo and stir for 1 minute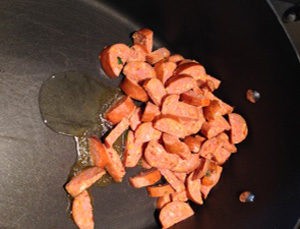 Add chopped kale and mix – combine until the kale wilts and most of the moister is out (about 3 minutes)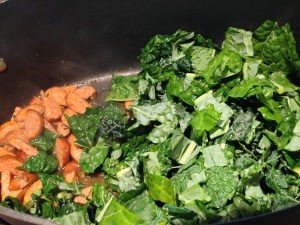 No seasoning is needed. The flavorful juices from the chorizo will bathe the kale into yumminess.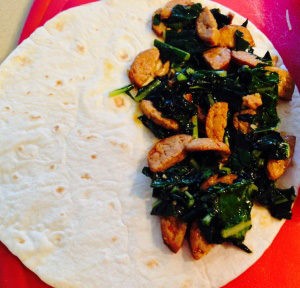 Spread the kale and chorizo masterpiece on one side of a tortilla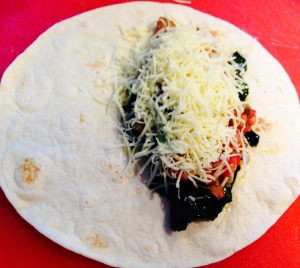 Get crazy now and add as much salsa and cheese as you want! Note: Only illegal in sad town 🙁 to add too much cheese! So go crazy – we are in Chop Happy Land!!
Fold other side across so it closes this delicious cheesy packet to be delivered to your mouth
BUTTER! BUTTER! BUTTER! That's my chant as I spread a couple of tablespoons of butter in a pan so the tortilla can take a butter bath and get a tan on both sides.  Make sure your pan is on medium so the chorizo jackets (tortillas) do not burn.
Sooo hungry and smells so good in here, maybe I will open a quesadilla stand LOL!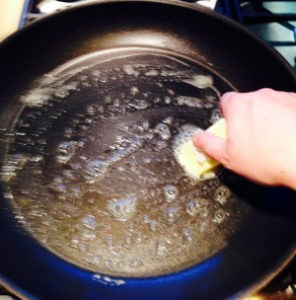 Leave in the pan 30 to 40 seconds on each side
Sizzle sizzle sizzle so excited I can twizzle!
Cut these beautiful foodie paradise quesadilla into two.
Plate with a small bowl of your favorite salsa
---
Now open your mouth and eat it fast because your family will fight you for the last one! Give it a try and share pictures of your tasty creation 🙂
With a grateful heart and a yummy tummy – Jay
(Visited 642 times, 1 visits today)
Subscribe for tasty, free recipes!