When pizza and fries combine magic happens at dinner time!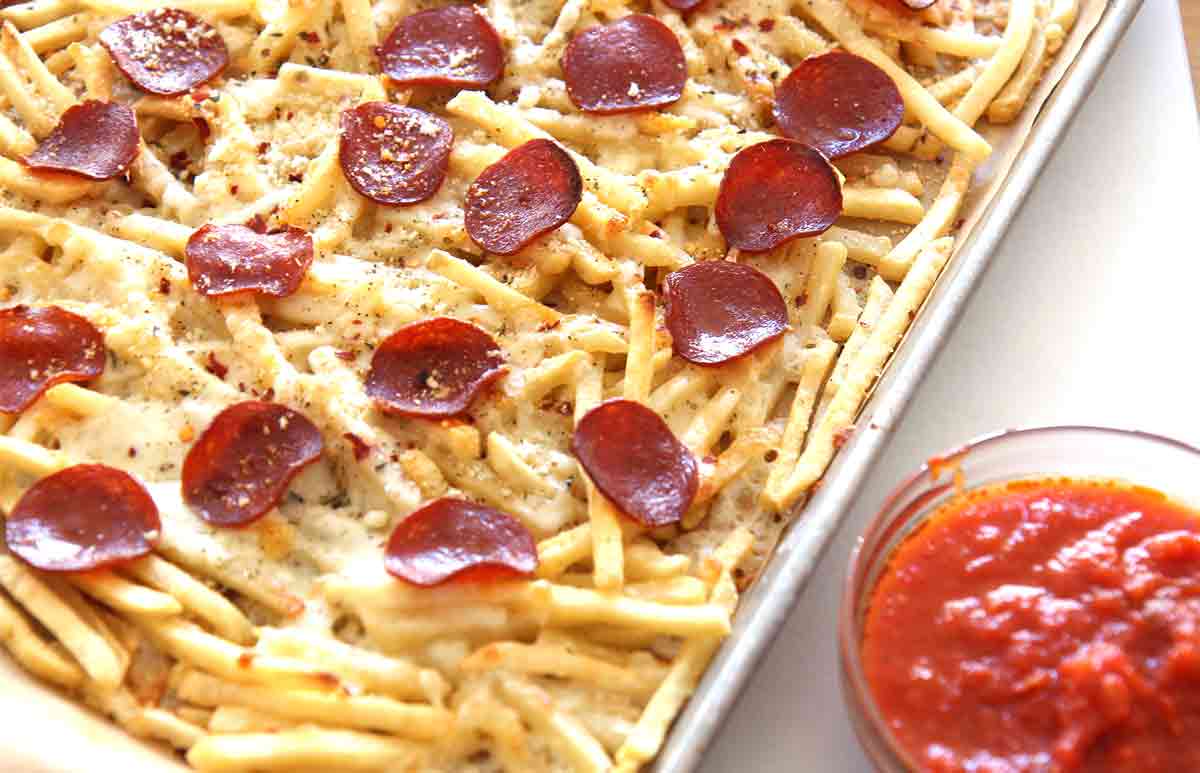 Nothing says party like Pizza Fries for dinner on a weeknight.
Also, your family will applaud you when you present a sheet tray of crispy salty fries topped with bubbling melted cheese and a discs of crispy pepperoni.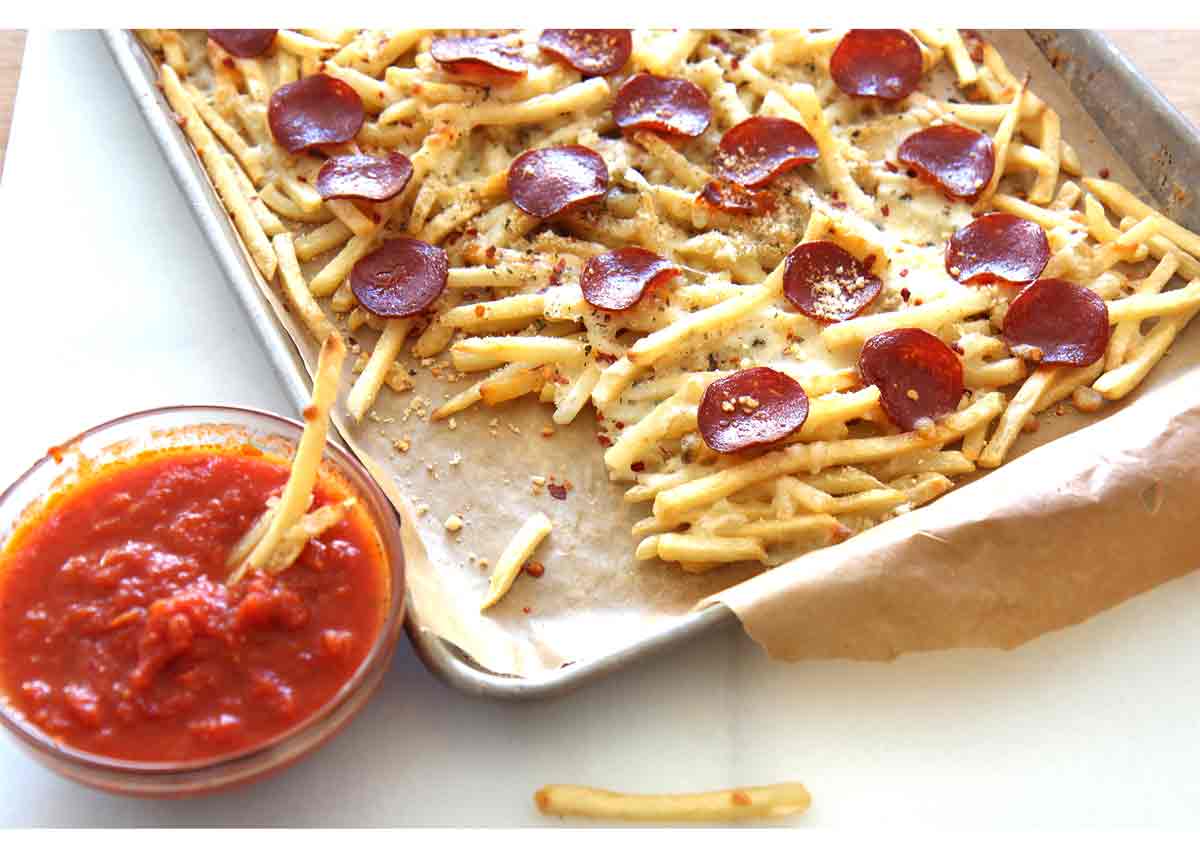 Shortcuts we took to make this even easier:
1. We used store-bought fries.One less step is nothing to be ashamed of; you are still doing all the work.
2. Simple seasonings. Just a couple of ingredients lets the ingredients shine!
3. Serve on the sheet tray so there are less dishes to do. Plus it looks more festive!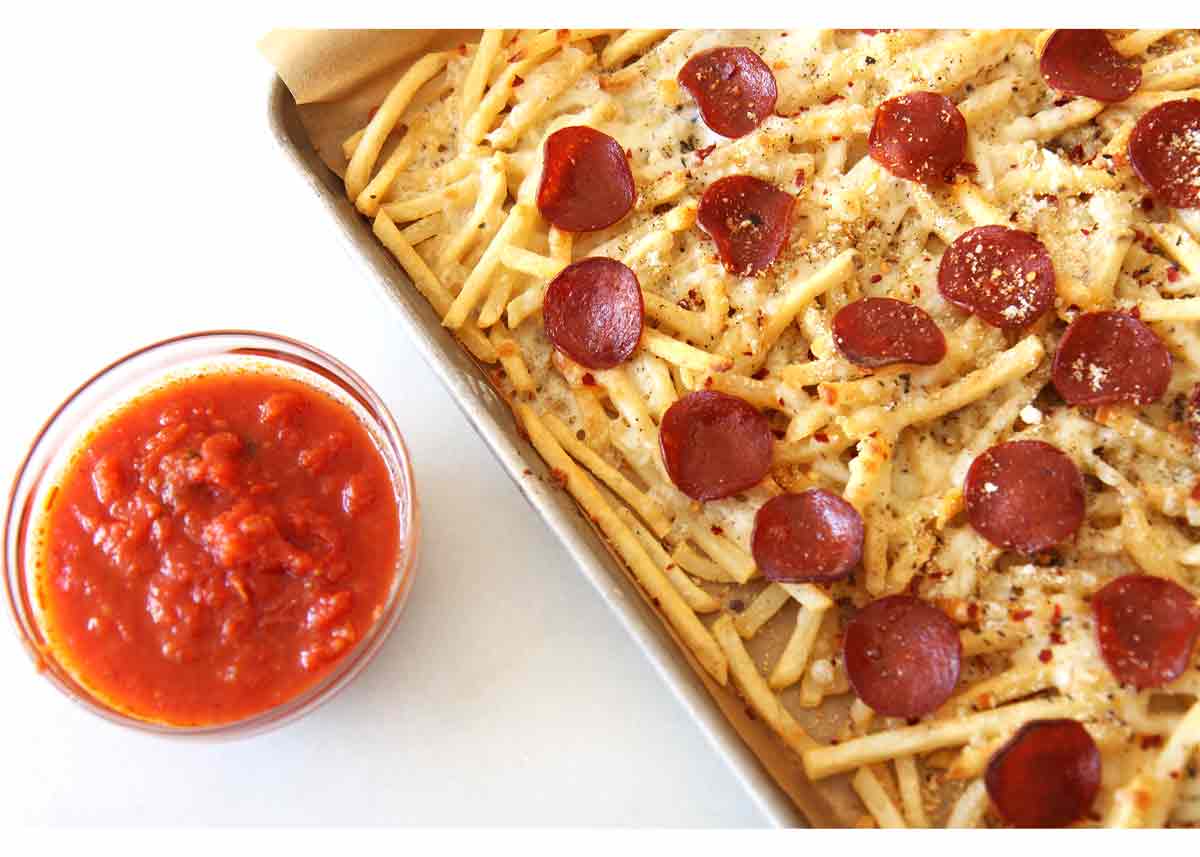 ---
YOUR DASH OF GRATITUDE:

Pizza Fries
This "Pizza Fries Recipe" is so easy and quick, it will make your weeknights feel like a party. We took some awesome short cuts to make this recipe even faster.
Ingredients
1 bag frozen fries
16 slices of pepperoni
1/2 cup parmesan cheese grated
1 tsp garlic powder
1 tsp dried oregano
1 pinch salt
1 pinch pepper
8 oz bag of mozzarella cheese shredded
1 cup tomato sauce for dipping
Instructions
First lay out the frozen fries on sheet tray. Heat the fries based on package instructions.

Now when the fries are done take out of oven.

Next even spread on top of the fries with mozzarella, parmesan, garlic powder, oregano, salt and pepper.

Now place the pepperoni on top of the fries and put back in the oven for 10 minutes (or until the cheese is bubbly and the pepperoni is crisp).

Finally pour tomato sauce on the side to dip and enjoy.
Other ways to dress up your Pizza Fries:
– Add leftover chicken or shrimp instead of pepperoni.
– Tear up proscutto and sprinkle arugula.
– Use tater tots or sweet potato fries.
ANY QUESTIONS OR COMMENTS? COMMENT BELOW 🙂
With a grateful heart and an amazing tummy – Jay
This book changed my life and it is how I elevated my home cooking:

(Visited 4,462 times, 1 visits today)
Subscribe for tasty, free recipes!