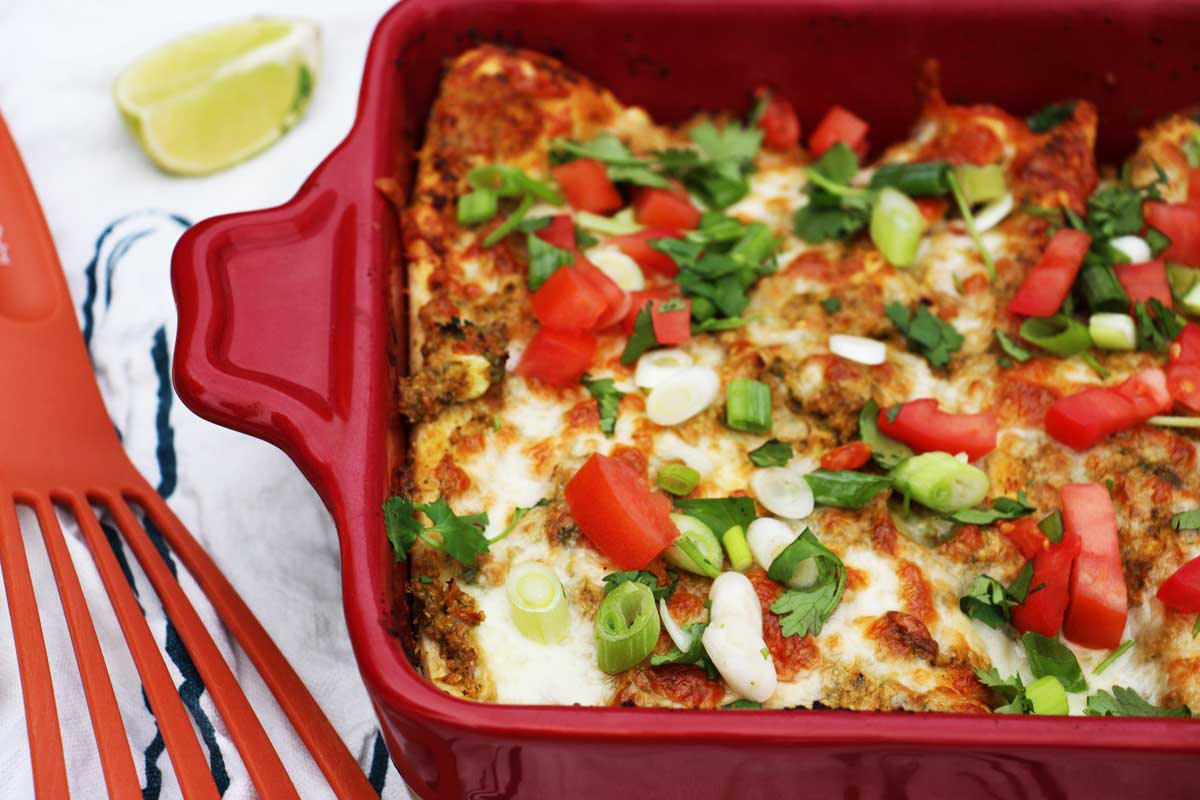 This is a one pan recipe with a creamy avocado twist on the enchilada. I really believe in my bacon heart that enchiladas are the perfect family meal for two reasons. First, this super easy one pan plan feeds a family of 12 🙂 because there is dinner for a couple nights. Secondly, you can add any kind of leftover veggies or meats into the tortilla and you have a leftover re-creation. 
I choose the buttery creamy avocado because it's healthy, but also when heated its natural citrus butter flavor intensifies and makes every bite a fun surprise. When you watch the video I use my Easy Pepita Seed Mexican Sauce as the enchilada sauce, but if you are crunched for time – jarred traditional pre-made sauce is good too. 
My test kitchen Tom (lol) is a meat lover "with a side a meat" and and even he craves these enchiladas after a long day! … so that tells me vegetarians and Meatless Monday Fans  – this is for you! 
I love this because it's family style – you can eat it for a couple days saving you precious time during a busy week.
Grab your ingredients and follow along with the video!
---
Cheesy Avocado Enchiladas Recipe
Serves 10-12 (family style)
Ingredients
Butter, to coat baking dish
4 avocados, cut into chunks
3-4 scallions, chopped (both white and green parts)
Handful fresh cilantro (or mint if you don't like cilantro)
1 lime, cut in half (juice and zest)
1 garlic clove, chopped or grated
Big pinches of salt and pepper
2 cups of my Easy Pepita Seed Mexican Sauce (or your favorite enchilada sauce)
10-12 flour tortillas
2 tablespoons salsa (mild, medium or spicy)
1/2 lb Monterey Jack cheese, grated
For Garnish
1 scallion (or any extra you have left), chopped
1 tomato, cut into small pieces
Small handful fresh cilantro (or any extra you have left)
1/2 lime juice
---
Instructions
Preheat oven to 350 degrees
In a large bowl, add avocados, scallions, cilantro, garlic, salsa, lime juice/zest and mix, season with salt and pepper and mix
Spread 1/2  of the enchilada sauce on bottom of buttered baking dish, dip tortillas into sauce to coat both sides and set aside for assembling
Fill each coated tortilla with 2 tablespoons of avocado mixture and small handful of grated cheese. Fold both sides the tortilla over the mixture and place seam side down into baking dish.  Continue to fill the baking dish with folded up filled tortillas.
Now it's time to finish up the dish!  Spread on top the rest of the Mexican sauce and sprinkle remaining cheese on top.
Bake 20 minutes on top of the oven and garnish with scallions, tomatoes, cilantro and a squeeze of lime
Enjoy the buttery enchiladas!
Two cooking tips to help make this recipe even easier!
---
What recipes would you like to see? Comment below! 🙂
With a grateful busy-home-cook heart and an amazing enchilada tummy – Jay
(Visited 1,008 times, 1 visits today)
Subscribe for tasty, free recipes!