Get ready for the slow cooker to amaze you on how yummy a lasagna can taste! I made this simpler by finding a way to skip boiling the noodles. Get ready to come home from a long day at work to this hot cheesy, saucy dinner.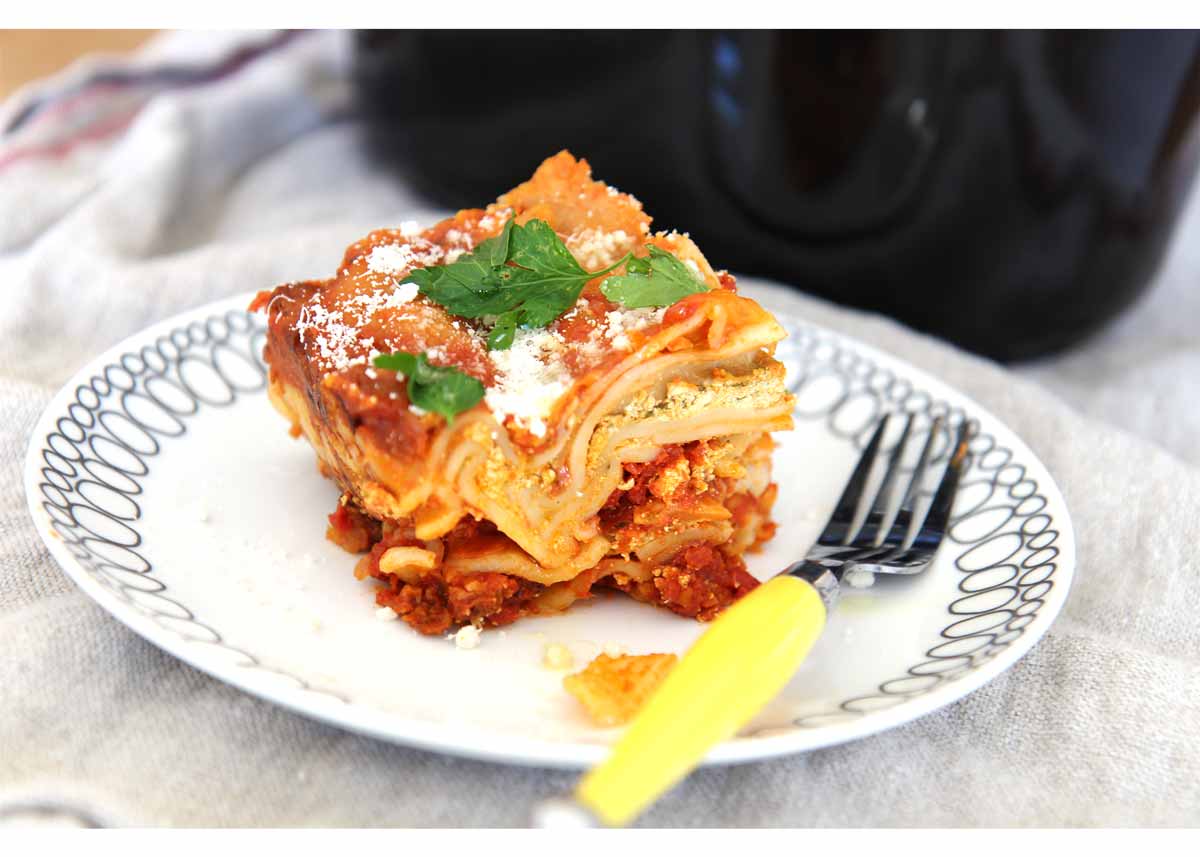 Just the name "Slow Cooker Pesto Lasagna" translates (in my world) to easy, delicious and quick after a long day. This is homemade cheesy goodness with almost no work. Just dump the ingredients in layers and press a button. I can't wait for you to try this because it a delicious oven-less lasagna. When I was a kid we would have one night were we had the cheesiest dinner we could find. This recipe brings back those fun memories. I love sitting by the TV with Tom and our frenchie Charlie and chow down on this pasta smiling dinner.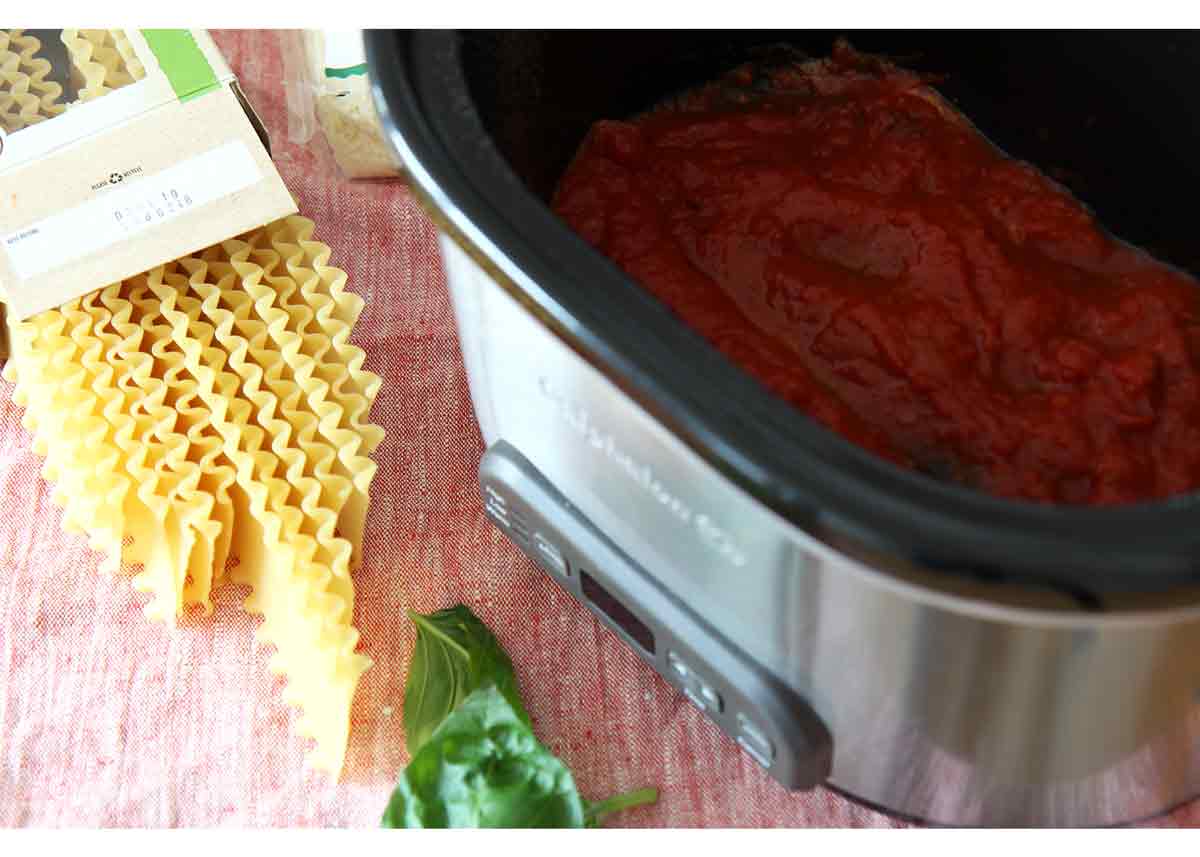 Slow Cooker Technique Tip:
If you must open the slow cooker (but please try not to), add 15 minutes to the cooking time. It takes about that length time to reheat and re-add the steam that escaped.
Prepare the dish the night before. Right before work turn on the slow cooker and come home to dinner already ready for you!
Make life easy and buy your favorite jarred sauce. I love Rao's! It is a NYC institution and taste most like homemade.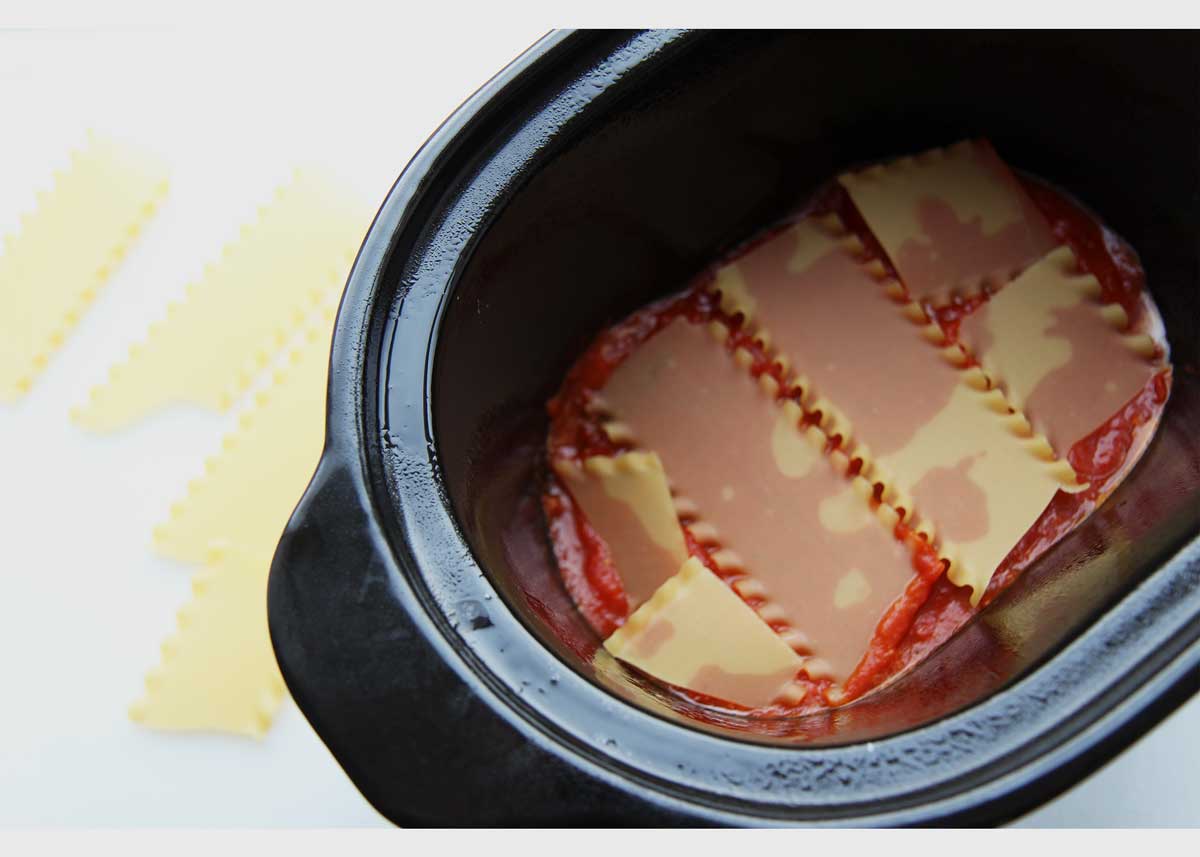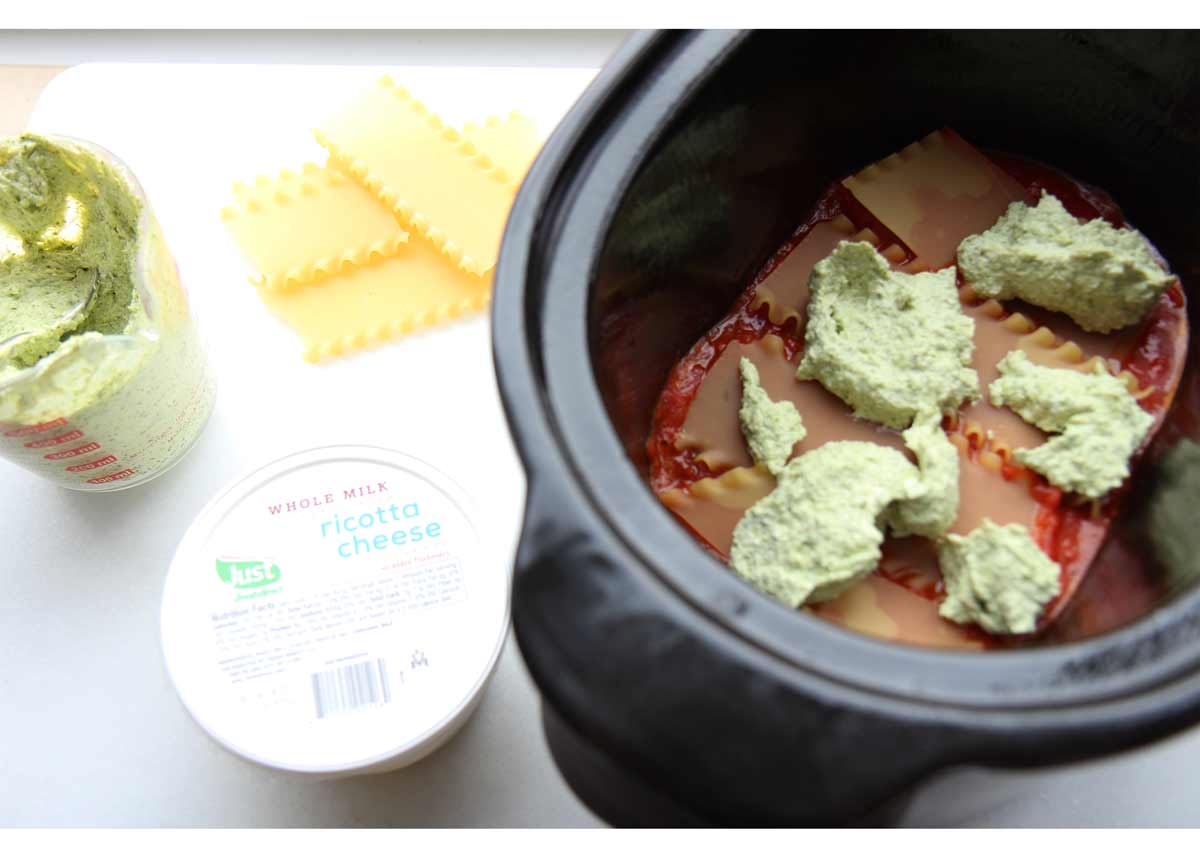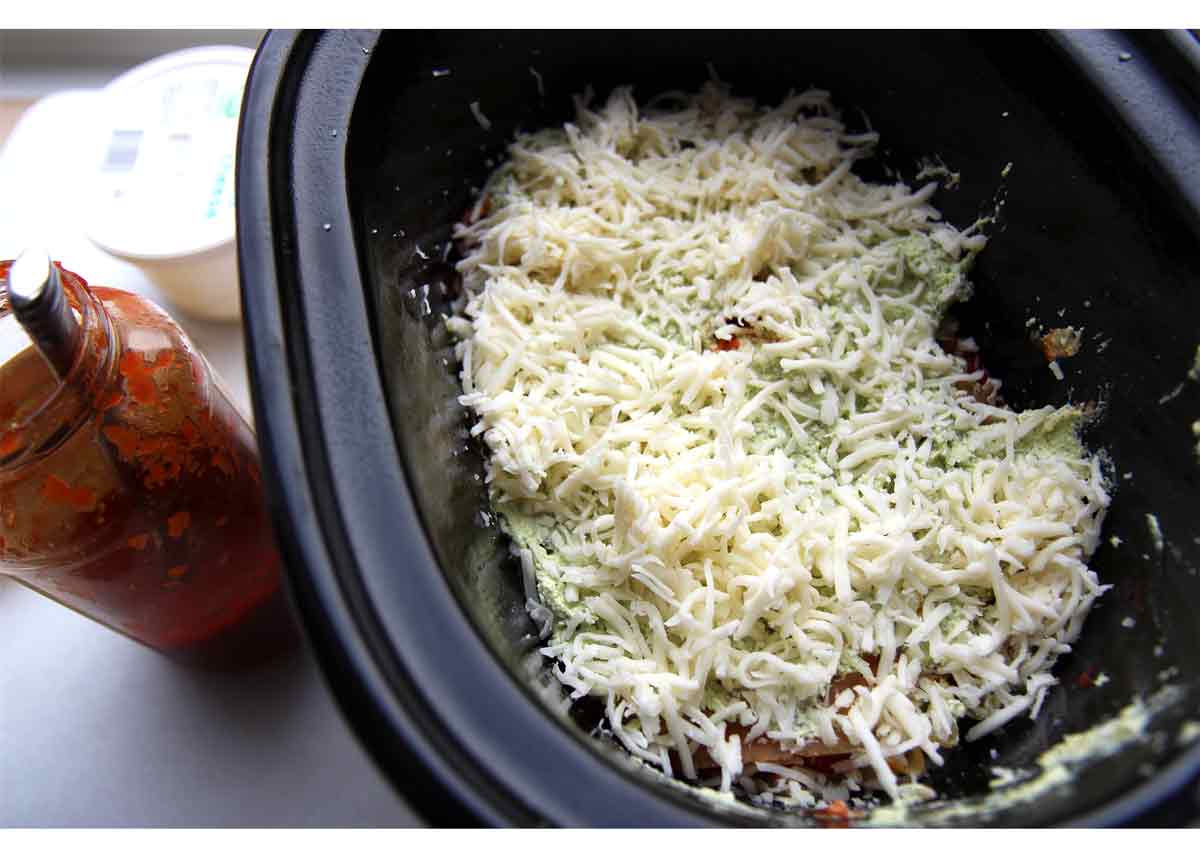 Here are the shortcuts to this recipe that make it so simple:
1. There is no need to boil the noodles. Break them up and pile them in layers. They cook while nestled in the slow cooker.
2. Just add dollops of ricotta with a spoon; there is no need to spread it out. As the slow cooker heats up, the ricotta spreads out all on its own.
3. Mix pesto and ricotta to add herbaceous flavor without buying and chopping extra herbs.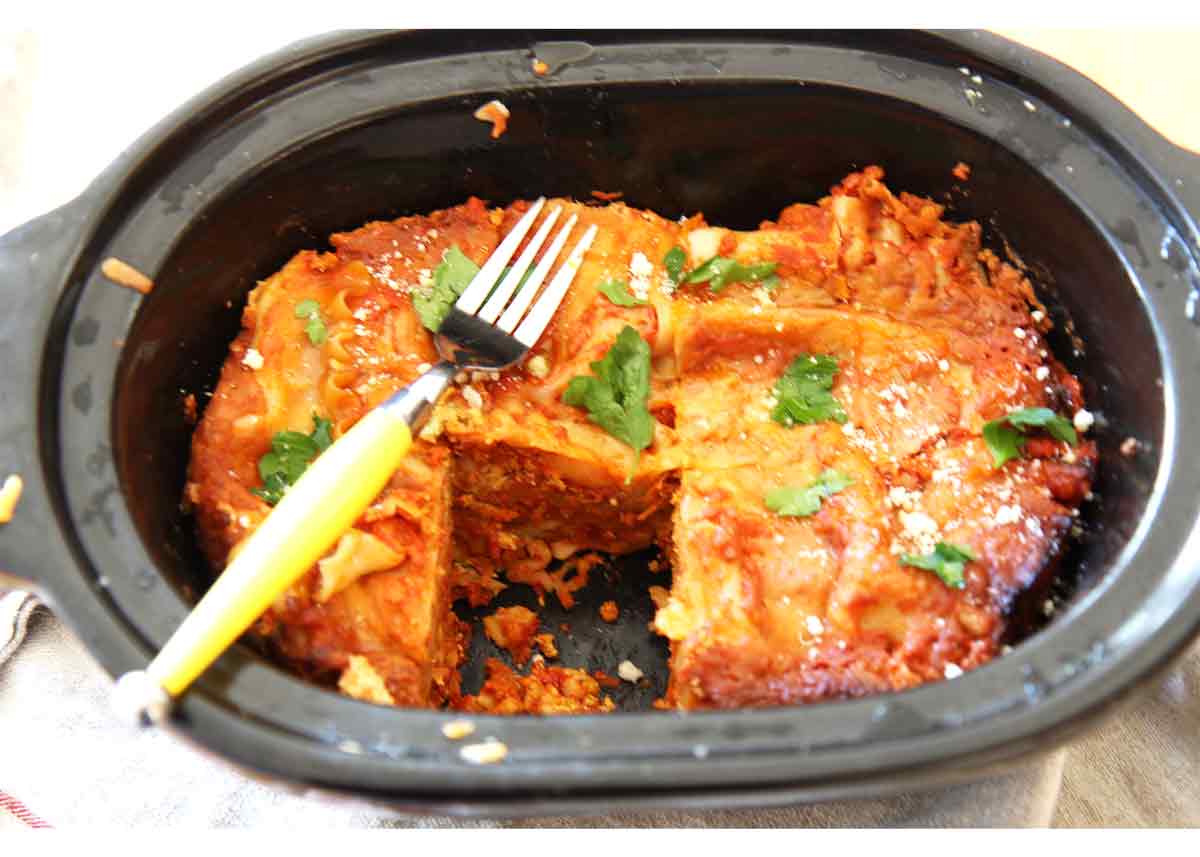 ---
YOUR DASH OF GRATITUDE:

Slow Cooker Pesto Lasagna
Just the name Slow Cooker Pesto Lasagna, translates (in my world) to "easy, delicious and quick after a long day." This is homemade cheesy goodness with almost no work.
Prep Time3 mins
Cook Time5 hrs
Total Time5 hrs 3 mins
Servings: 6 servings
Ingredients
1 box uncooked lasagana noodles broken into big pieces
2 jars favorite tomato sauce
1 cup pesto store bought or recipe below
16 oz ricotta chesse
8 oz shredded mozzarella cheese
1 cup grated Parmesan cheese
cooking spray to spray slow cooker
Instructions
First, liberally spray the inside of the slow cooker with cooking spray. Next, mix the pesto and ricotta cheese until well combined.

Now pour the tomato sauce to cover the bottom of the slow cooker (approximately 1/2 cup).

Next, top with enough broken lasagna noodles to cover the sauce.

Add 1/3 of the pesto and ricotta cheese mixture onto the noodles. There is no need to spread the mixture out with a spatula; it will do this naturally while it cooks.

Now add a handful of mozzarella and 1/4 of Parmesan cheese on top.

Repeat the above process 3 more times (tomato sauce, noodles, pesto and ricotta cheese mixture, mozzarella, and Parmesan cheese).

Now put the lid on. Cook on low for 5 hours or high for 3 hours.

When done, let it sit at room temperature for 20 to 30 minutes so the lasagna holds together when served.
Notes
Here is my "Easy Being Green Pesto" recipe that is so simply easy and fast.
Enjoy this easy recipe! Any questions please comment below. I am excited to help! 
ANY QUESTIONS OR COMMENTS? COMMENT BELOW 🙂
With a grateful heart and an amazing tummy – Jay
This book changed my life and it is how I elevated my home cooking:

(Visited 2,900 times, 1 visits today)
Subscribe for tasty, free recipes!