With only a few ingredients you probably already have, you can make this super quick (restaurant quality) tasty pasta.  This is so easy it should be a staple on your weeknight rotation.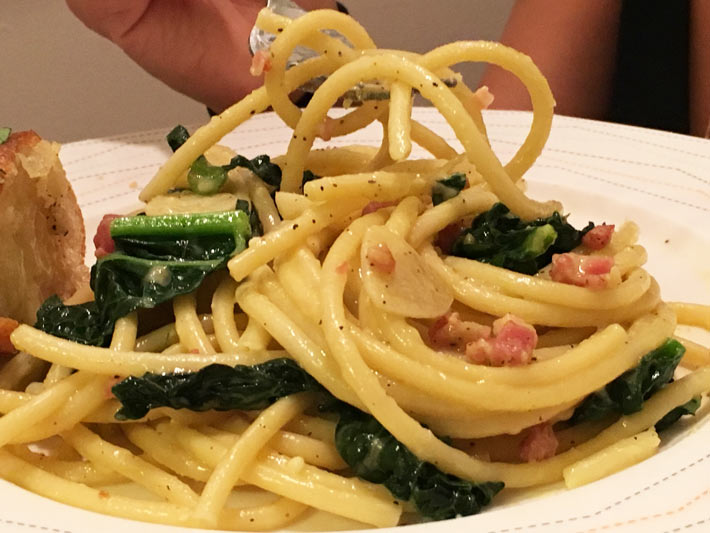 My friend Amy – who is in the video – said that she loves this pasta, but the egg always scrambles. She asked me to figure out a way to make that not happen. Watch how we make this pasta dish and reveal my simple change to the recipe that causes the eggs not to scramble and stay creamy and pasta amazing!
---
Kale and Bacon Carbonara Pasta Recipe
Ingredients
2 to 3 tablespoons of extra virgin olive oil
4 oz of pancetta chopped into small cubes
6 cloves of garlic sliced into nickel sized coins
Salt and pepper BFF! (best friends forever!)
Fresh bunch of dinosaur kale chopped into small pieces – be sure to cut off the stem's fibrous end
1 whole nutmeg (grated over the kale 6 grates)
2 large eggs
1 cup of grated parmesan cheese
---
Instructions
PASTA
Prepare 12 oz of bucatini pasta ahead of time and set aside
Save 1 to 2 cups of the pasta water
Tip: Take the pasta out of the boiling water 1 minute before it's done so it's nice and al dente.
---
CARBONARA (the sauce)
Preheat large cooking pot on medium-low heat
Add 2 to 3 swirls of extra virgin olive oil
Drop the smoky pancetta and garlic nickels into the pan and stir slowly for about 3 minutes. If it's sizzling too much! – drop the heat down a bit as you want it to render out the pancetta fat – making a yummy sauce
Season with one big 3-finger pinch of black pepper
Add the kale – followed by a big 3-finger pinches of both salt and pepper
Grate nutmeg (about 6 times) over the kale and mix all the ingredients together
In a separate bowl:

Add 2 eggs and mix them with a fork
Add a little pinch of salt and pepper!
Add the grated parmesan cheese and mix it up
If it's too dry – pour a little of the pasta water into the mixture while mixing

Cook stirring occasionally the dark green kale and pancetta as it slowly sizzles for 1 minute… ummm smells comfy good!
Add the cooked bucatini pasta and mix it in incorporating the pasta with the bacony greens in the pot! 🙂
Turn the heat on the stove off – it's important to remove the pan from the heat
Now the fun magic: drizzle in the egg and cheese mixture slowly and continue mixing (so egg does not scramble) it in with the pasta mixture, creating a yummy creamy rich sauce
If the mixture seems too dry – add a little of the pasta water and continue mixing
3 important tips to remember to make this perfect and not scramble!
1. Mix the egg and parmesan cheese together first before incorporating into the pasta (so the cheese can act as a barrier to not scramble the eggs)

2. Turn off the heat under the pan before adding the egg so not to hot when add the egg/cheese mixture

3. Stir constantly the pasta (and with your best dance moves) as you slowly mix the egg and the pasta
---
This is so easy and creamy delish your friends and family will think you are a cooking star! Give it a try and share pictures of your tasty creation 🙂
With a grateful heart and a creamy easy pasta tummy – Jay
(Visited 2,265 times, 1 visits today)
Subscribe for tasty, free recipes!