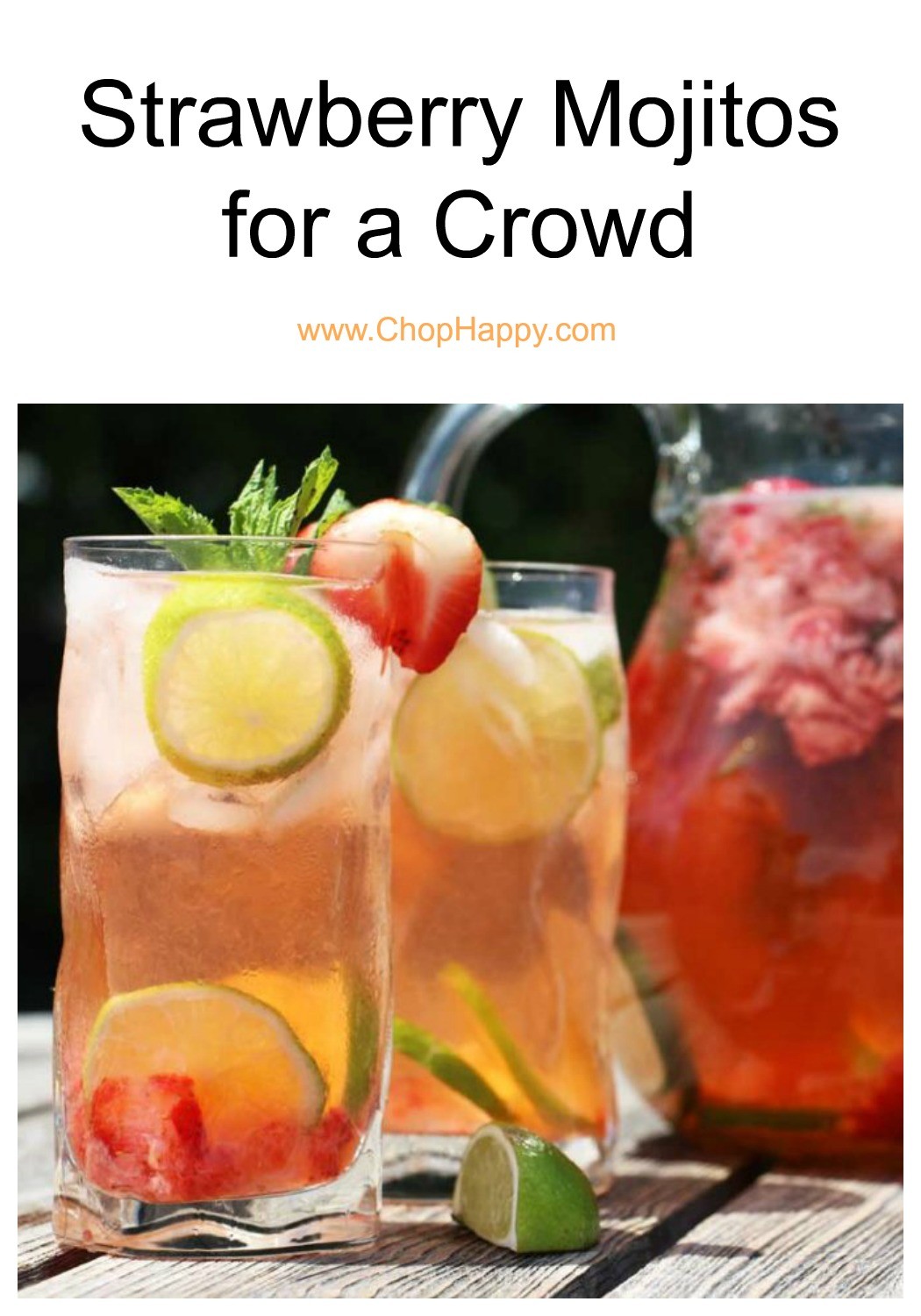 I love cocktails – especially when I'm hanging with friends on my NYC rooftop. What I don't want to do is miss all the fun gossip because I am pouring new drinks all the time. This strawberry mojito recipe rocks because it combines my love of a tropical fruity drink and is a bunch of cocktails in one. Now I won't miss any of the gossip. When you watch the video you will see lots of cool tricks to cut down on time and make mojitos even simpler. Also if you love this recipe we have its cousin, Jalapeño Mint Mojito on the blog too!
In true Chop Happy style this is quick, simple, and makes cocktail making put a smile on your face 🙂
Grab your ingredients and follow along with the video!
---
Strawberry Mojitos for a Crowd Recipe
Serves 8
Ingredients
16 oz fresh strawberries cut in quarters
3 fresh limes – 1 cut in half for juice, 2 cut into slices
Handful fresh mint
2 tablespoons superfine sugar
2 cups white rum
1 liter club soda
Ice to fill the glasses and keep the cocktails cold
---
Instructions
In a large pitcher add strawberries, sugar and juice of 1 lime; smash ingredients until they look like strawberry jam
Add mint, rum, club soda, sliced limes and mix
Pour into your favorite glass with ice – cheers!
Tip – before you add the mint – slap it a little bit to release the minty flavor
---
Give it a try and share pictures of your tasty creation 🙂
With a grateful strawberry heart and an amazing mojito tummy – Jay
(Visited 2,844 times, 1 visits today)
Subscribe for tasty, free recipes!