Cheers to easy fun mojito recipe cocktails with friends. Watch me and Drew "The Great" make this spicy and minty drink in the Hamptons. This drink sends me to fun times with friends at our fav yummy steak house BLT Prime. They always have a spicy drink that I must order and I always think – "I can make this"! I think we can take on this fancy steakhouse drink and make it into a hotdog backyard grilling dream. Now when with friends we always cheers it up and spice it up.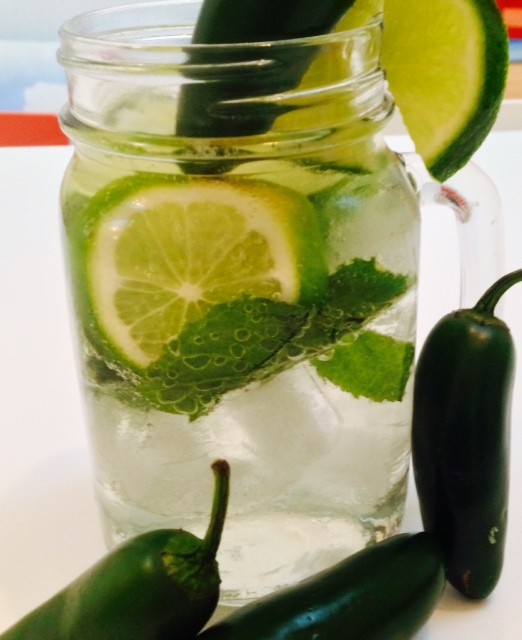 Drew is my best friend Kristi's husband. He is so much fun that the running joke is we love him more (Kristi knows we love them both equally). They went on one date yearsss ago in college and then he transferred colleges. We all always told Kristi that he was the one all the time, but they did not see each other for years. Approximately 10 years later he looked up her number (apparently he thought she was the one all these years), called her, and the rest is marriage and baby carriage history. I love that story of love because it shows the power of the heart.
I'm a huge fan of easy recipes that put a grateful smile on your face when done and make your tummy dance with yummy joy. This drink does that. The awesome part of this drink is that the spicy jalapeno and the refreshing mint counterbalance themselves so it's fun for everyone. I hope you enjoy this fun drink and cheers to all my Chop Happy friends out there!
What is your favorite cocktail to cheers with friends? Let me know in the comment section and maybe I will be toasting a new video with my version of your cocktail!
---
Jalapeno Mojito (Serves 4 Drinks)
NOTE: If you don't have a shaker just put the fun stuff in a large cup and use saran wrap to cover to shake carefully. Also replace a muddler with wooden spoon or your favorite sauce stirring spoon!
Ingredients
3 chunky slices of green spicy jalapeno (leave seeds b/c in the mint will chill it out)
1 lime: 1/2 cut into chunks to muddle and 1/2 to squeeze the juice into the drink)
Handful of fresh mint
1/2 cup of white rum (I recommend Bacardi Silver)
Lots of ice for the shaking and the cup
2 cans of lemon lime soda
Use extra mint and lime wedges for garnish 🙂
A bunch of friends to cheers to life and happiness (See video to see how much fun this is with friends)
---
Instructions
In a cocktail shaker or a large cup add the chunks of citrus love limes, the refreshing mint, green spicy jalapeno, juice of half of lime and muddle with muddler or back of wooden spoon.
Here comes the mojito dance! Add lots of ice and the rum. Now shake it like a fiesta is going thru your house. (If you do not have a shaker put another cup or saran wrap on top and shake carefully). We dance on the video above, but that's just me even in an elevator lol!
Evenly pour the yummy mix of spicy and minty liquid in 4 cups.
This is my save a step smile trick. Forget the simple syrup just use lemon lime soda to get the bubbly and the sweet! Pour the lemon lime soda over each drink and stir your new masterpiece!
To be as festive as the party decorations add a slice of lime and mint to the drink.
Have fun and cheers to all my Chop Happy friends and remember to drink responsibly!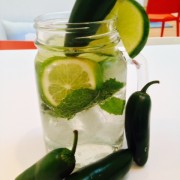 ---
Hope you love this spicy and minty yummy! Give it a try and share your favorite cocktails to drink with friends in the comments below 🙂
With A Grateful Heart And A Spicy Cocktail Tummy – Jay
(Visited 2,702 times, 1 visits today)
Subscribe for tasty, free recipes!