Sweet caramelized onions dancing with dollops of tangy creamy brie on a French onion soup pizza.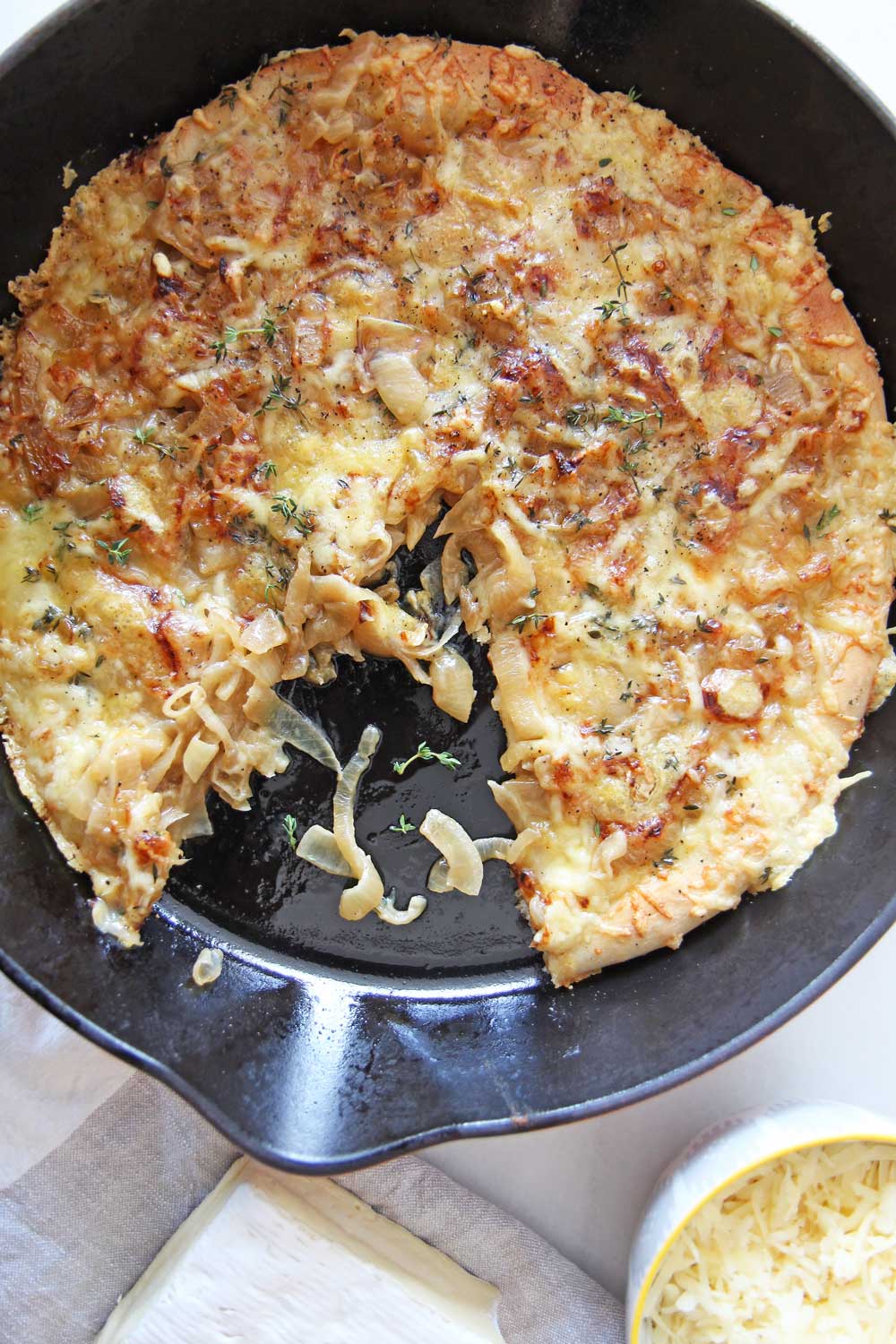 This recipe is dedicated to my dad! His favorite thing to eat was French onion soup. When he went to Paris with my mom he ordered it breakfast lunch and dinner. Every time I make a recipe for a spin on French Onion soup I think of him and cheers to him! I hope this makes him proud and he is smiling down on me. 
I ams so grateful that
The French Cheese Board in NYC
contacted me to make a pizza with their cheese. The theme was National Pizza Day and I knew French onions soup pizza was a great way to honor my dad. The cheese shop is so cool. It is nestled in a fun part of SOHO and everyone there is so nice. Plus when you walk in you get transformed to a cheese shop in Paris! When in NYC check it out! 
Brie: Creamy rich tangy cheese that adds a hint of buttery cheesy yum to the pizza.
Beaufort: This is a cousin to Gruyere. Its nutty easy to grate and fabulous melting cheese.
Emmental: Very much like a Swiss cheese. Mild, easy to grate, with slight tangy smooth taste.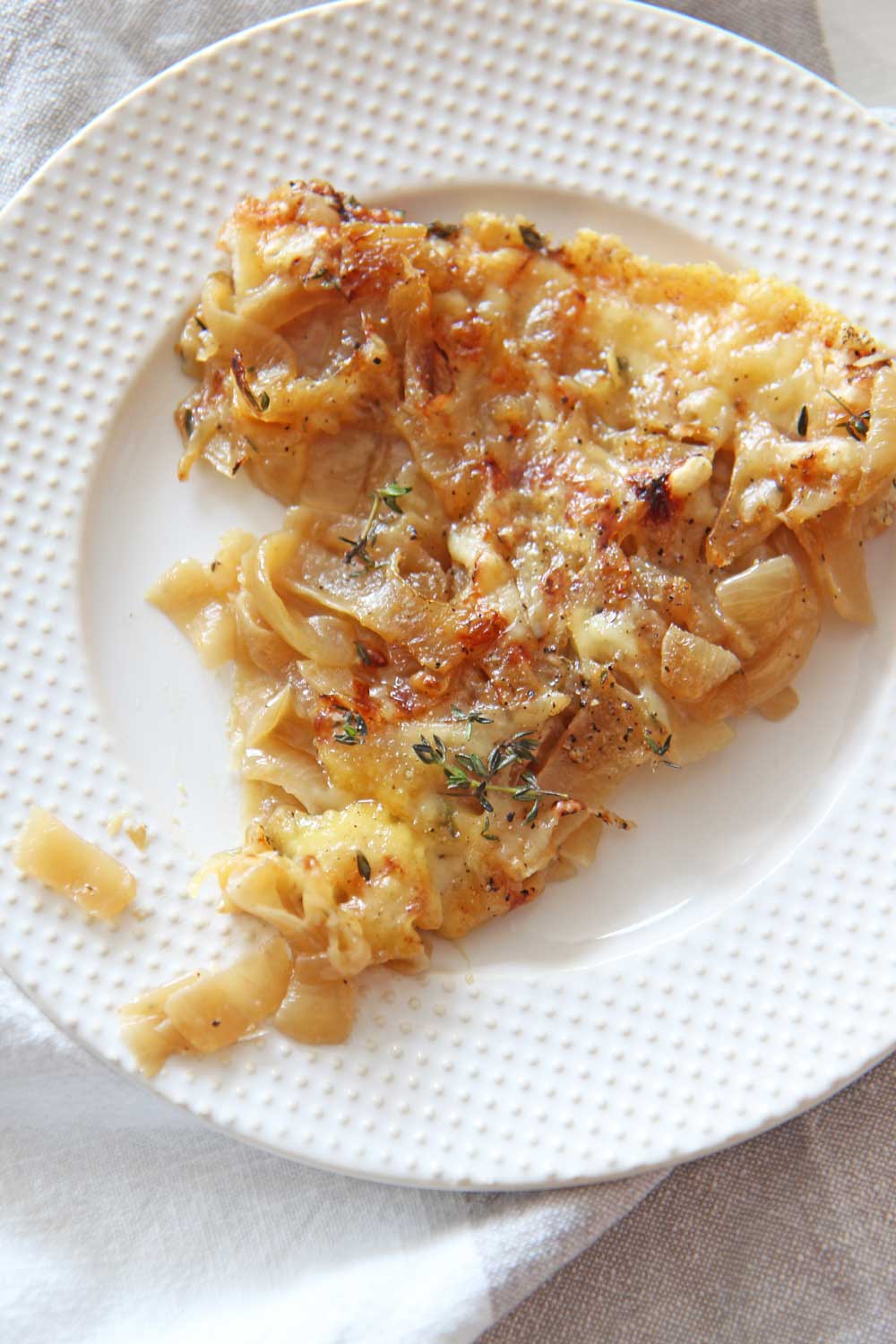 Dash Of Gratitude Tip While You Cook:
My mission with Chop Happy is to create easy recipe for busy people with a dash of gratitude! Since we all have to be in the kitchen at some point in our day lets use that time to zen out and gain more gratitude.
For the 10 minutes while the tostada is cooking visualize your dreams as if it is already here. Working on you does not have to be a long drawn out process. It can be as simple as making agreements with yourself. The perfect book to read to learn more about finding calmness and purpose is
The Four Agreements
Read some pages while the house fills with cheesy joy. Hope this helps you find joy in a crazy day and I am so grateful for you!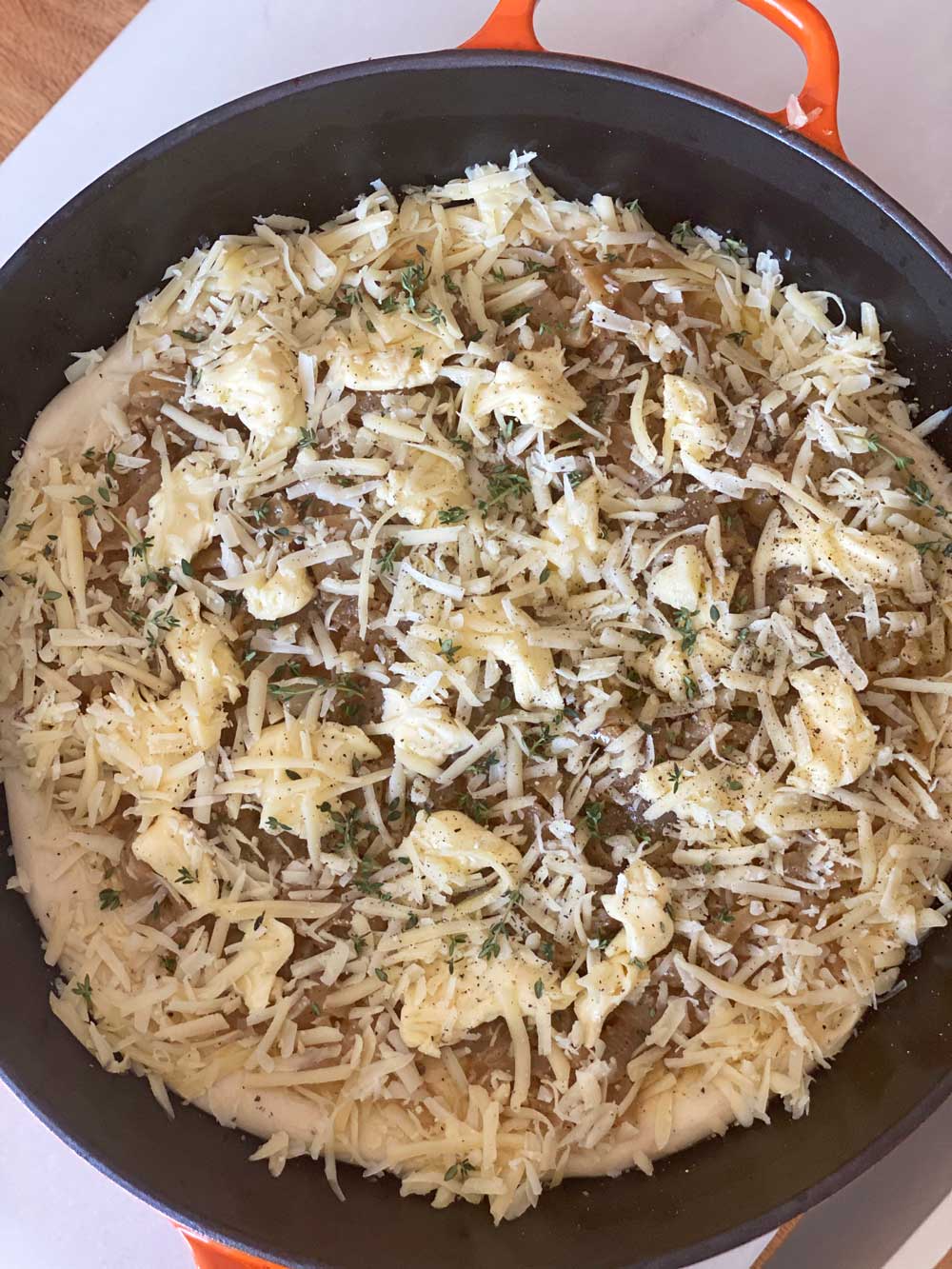 Recipe Hack / Cooking Tips:
Pizza Dough: Support local pizza shops and get dough from them. They will definitely sell it to you and it makes cooking so much easier. 
Grate Your Own Cheese: Pre-grated cheese has chemicals to keep its shredded shape. This prevents it from melting well. Also tastes fresher. Freeze the cheese for 30 minutes and it grated easy. 
Gratitude While Stirring: Use the kitchen as a place for self care. As you stir or chop say what you are grateful for. I do this all the time so that cooking can be a time to recharge.
How To Make French Onion Soup Pizza:
French Onion Soup Pizza
Ingredients
Caramelized Onions Ingredients:
3 onions (sliced)
3 tablespoons olive oil
3 tablespoons butter
2 tablespoons fresh thyme (chopped)
1 tablespoon Worcestershire sauce
1 teaspoon apple cider vinegar
2 teaspoons salt
Pizza Ingredients
1 pizza dough (raw)
1 tablespoon Dijon Mustard
1/2 pound brie cheese
1 cup Beaufort (or Gruyere cheese) grated
1 cup Emmental (or swiss cheese) grated
1 teaspoon fresh thyme (chopped)
1 teaspoon black pepper
Instructions
Caramelized Onions:
First, place all the carmailzed onion ingredients (except salt and vinegar) in a pan and cook slowly on medium low heat for 30-40 minutes.

Next, after 30 minutes add salt, vinegar and mix with onions. The vinegar will help scrape up the bits on bottom of the pan. Set aside
Pizza Instructions:
First, preheat the oven to 500 degrees and leave the pizza dough out on a surface with oilve oil (to prevent sticking) for 30 minutes.

Next, roll out dough by pushing with fingers from center out. Then let gravity strech it more by holding up and turning.

Now, place the pizza dough on an oiled cast iron pan and push out to cover the pan.

Next, smear mustard all over the dough.

Now, add the carmalized onions and top with dollops of brie, and then lots of cheese.

Next, sprinkle fresh thyme and pepper ontop and put in middle rack for 10 minutes.

Finally, enjoy!
Other Easy Recipes:
Any question comment below or email! I love helping change the recipe!
(Visited 684 times, 1 visits today)
Subscribe for tasty, free recipes!