Picture a hot spring/summer day and you crave a cold refreshing salad to go with your perfect summer dinner on the porch or in my case, Central Park. What's better than oranges and avocado dancing on a plate? Seeing those two friends together makes me want to sing.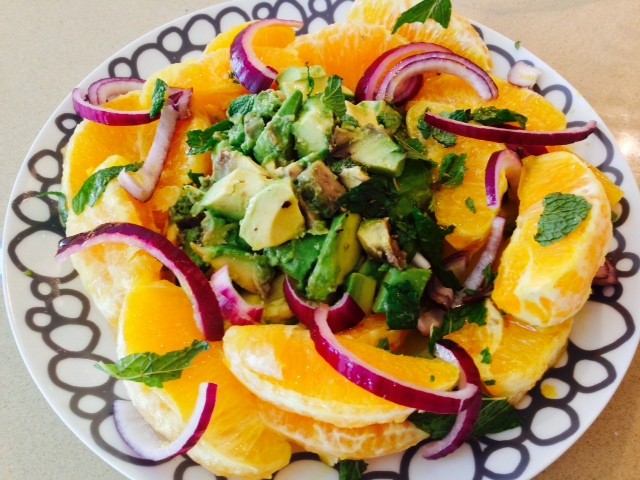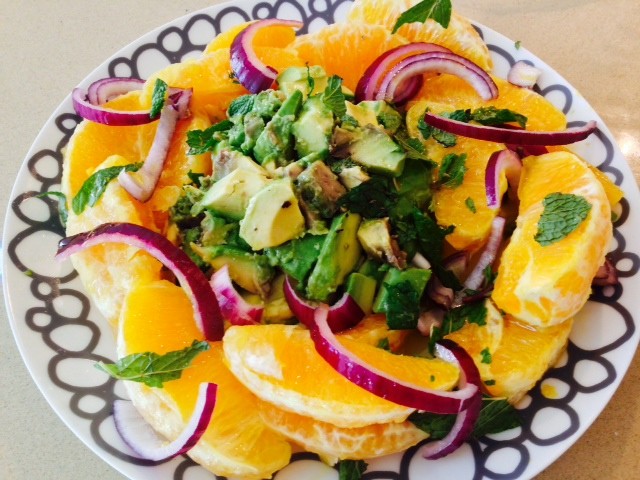 The best part is novice chefs will look like valedictorian of the culinary world and mostly you arrange things on a plate. As most of you know my philosophy is easy meals that make your smile. The symphony of the colors on this dish make you take a deep breath and say wow life is great.
---
Sunshine Smiles and Citrus Salad Dreams!
Ingredients
2 large seedless oranges cut into segments
2 fresh avocados cut into chucks ( immediately mix with lime juice and big pinch salt and pepper)
1/2 cup fresh mint hand torn
1/2 red onion cut in moon shapes.
1/2 lime (for the avocado)
1/2 of lemon or whole lemon if not super juicy for vinaigrette plus the zest of the whole lemon
1 teaspoon of dijon mustard
1 garlic clove chopped finely (optional to add to vinaigrette)
1/4 cup great extra virgin olive oil
Best Friends Forever:  Big kiss of Salt and Pepper
---
Instructions
Mix the avocado gently so not to break up chunks with a big kiss salt and pepper. Also a big squeeze of 1/2 of lime. Place the avocado in the center of the plate like the creamy star it should be.
In a circle of fun, place the orange segments around the avocado and sprinkle the red colorful onions on top. Add a small pinch salt and pepper around the oranges too.
Now mix the fruity olive oil, with the dijon mustard, (minced garlic if choose too add), tart lemon juice plus the zest, and a pinch of good friends salt and pepper. Mix till all combined to form vinaigrette to the stars (lol).
Pour on the magic delicious dressing over the bright like sun oranges and green like summer grass avocado. Now like party confetti sprinkle the mint all over the dish.
Hope this makes you smile and cheer for tummy joy on how easy and fun this was to make!
---
Soo excited to hear about the smiles on your guests faces! Subscribe To My Blog For Fun Recipes & A Dash of Gratitude 🙂
With A Grateful Heart and A Sunshine Salad Amazing Tummy – Jay
(Visited 605 times, 1 visits today)
Subscribe for tasty, free recipes!