Heaven on a plate can't describe how yummy these crispy/crunchy oven fries are. The saltiness from the parm, the woodsy flavor from the rosemary, and garlic taste on the tongue is a party in the mouth. French fries are like a great pair of jeans, they go with everything.
This recipe was inspired by my fav restaurant in Cali, Bottega (a restaurant in Yountesville California). They have such awesome Parmigiana French fries piled high to the sky with gooey salty perfection. It's like staring at the culinary Mona Lisa.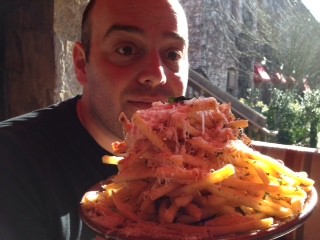 The awesome part of this recipe is it is all done in the oven so no greasy mess. The key to oven baked fries achieving the signature crunch is in the high temperature of the oven to cook the fry from the outside in.
Attention Chop Happy Townspeople! Get your chompers ready set eat!
---
After watching the video the inspiration will set you off cooking!
Crispy Cheesy Fabulous Over Fries Recipe
Ingredients
2 Russet Potatoes
2 Garlic Cloves chopped
1 Tablespoon of Rosemary chopped
3 tablespoons of olive oil
Best Friends Forever: Large Pinch of salt and 8 Grinds of pepper (1/2 teaspoon)
Lots and Lots Grated Parmigiana Reggiano Cheese (Handful)
---
Instructions
Preheat oven 450 for 30 min (flip at 15 min).
Take the bum off the potato small slice off bottom so potato does not roll around when cutting.
Cut 1/4 inch slices long way. Then cut strips 1/2 inch thick (See Video above).
Put on baking sheet. Add olive oil, rosemary, garlic salt and pepper.
Now mix and get all the oily. Then put garlic on top.
Put in Olivia the Oven for 30 min (15 min in flip the fries over for even brownness.
Add Tons of beautiful Parmigiana Cheese on top Now open your chompers Chop Happy Townspeople and crunch.
---
I hope you loved my video and fries as much as I love making it for you! Give it a try and share pictures of your tasty creation 🙂
With A Grateful Heart and a French Fry Fabulousness Amazing Tummy – Jay
(Visited 635 times, 1 visits today)
Subscribe for tasty, free recipes!