Nothing better then a hot, roasted, salty, garlicky, asparagus treat! OMG is this so easy and will make a new cook look like an all-star. The key tip to great roasted anything is, a very hot day in the oven.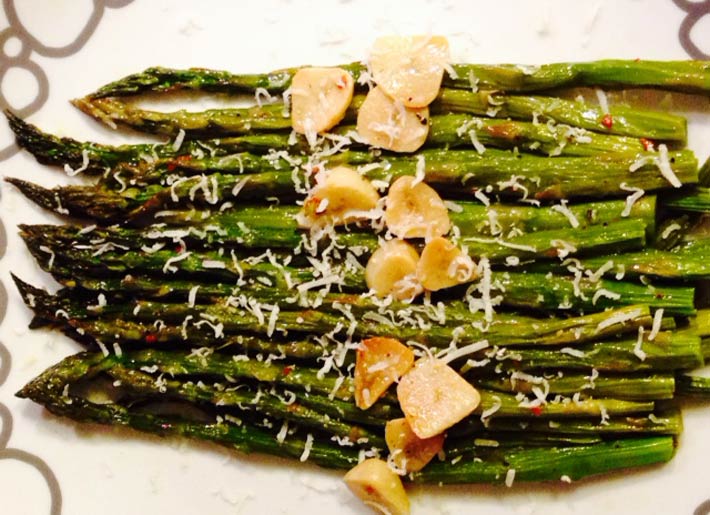 Sometimes the simplest things taste the best. Throw it on a pan mix and in the oven it goes.
Watch this amazingly fun video and you will cook like a champion on Asparagus Island's "Best Cook Contest".
---
Roasted Garlicky Cheesy Asparagus Recipe
Ingredients
1 Bunch of Asparagus (Nature's Green Fries)
4 cloves of garlic cut into 1/2 inch discs
3 tablespoons of extra virgin olive oil
BFF's: Big Pinch Salt and Pepper
Pinch red pepper flakes
Lots of grated parm cheese
Splash of white wine vinegar at the end
---
Instructions
Preheat Oven 400 and cook for 25-30 minutes
Mix all the star ingredients together except the garlic, parm and vinegar on sheet pan.
Lay the garlic flavor wonders on top of the asparagus.
Cook for 25-30 minutes till little crispy!
Now splash the vinger on the hot yummy asparagus
Let it snow with lots of parm cheese.
Congrats Cooks you have won Asparagus Island Cooking Contest for Yumminess
---
This is the perfect recipe for a cooking challenged friend to be a star in the kitchen! Give it a try and share pictures of your tasty creation 🙂
With a Grateful Heart and A Green Fry/Asparagus Amazing Tummy – Jay
(Visited 748 times, 1 visits today)
Subscribe for tasty, free recipes!