My Grateful Strawberry Heart!
An amazing dessert for the sweet chef challenged.
Strawberry Hearts will surely make your love smile. What an amazing gift as your husband, wife, or partner comes home from a long day, to see a plate of strawberries on top of creamy mounds of whipped cream, with chocolate chips dancing around the plate.
For Valentines Day, someone's birthday, or just because you are GRATEFUL! I love this one because baking/desserts are not my thing but you would never know with how fun and creative this looks.
---
Strawberry Heart Dessert Recipe
Ingredients
A handful of strawberries
Whipped cream – I use the can whipped cream
1/4 cup semi-sweet chocolate chips
Love and gratitude!
---
Instructions
To Make The Hearts
Cut the lovely red strawberry in half from top to bottom.
Cut a "v" shape in the top of the strawberry.
Now it's Time to be Picasso
Make the plate fun and with love! Put mounds of whipped cream on the plate.
Gently lay or stand up the strawberry hearts on top of the whipped cream.
Place the chocolate chips around the plate as if it was raining chocolate.
Watch your someone special smile and be soooo happy you made them feel appreciated!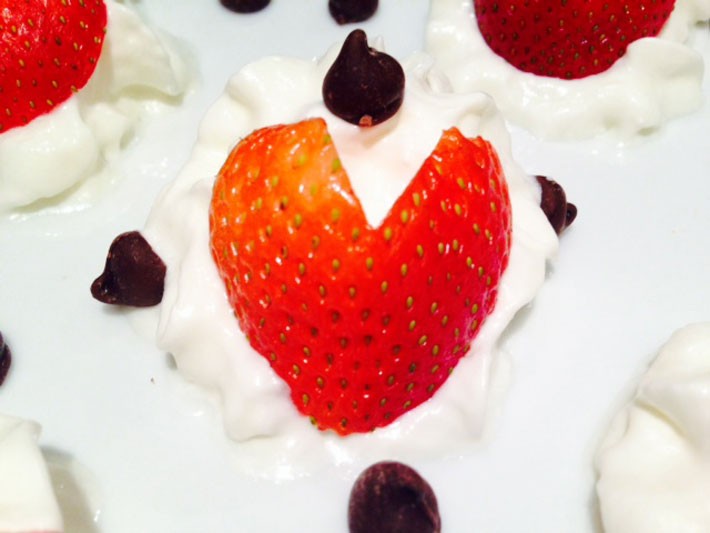 ---
Surprise someone you love with this yummy easy treat! Give it a try and share pictures of your tasty creation 🙂
With a grateful strawberry heart and yummy gratitute tummy – Jay
(Visited 487 times, 1 visits today)
Subscribe for tasty, free recipes!