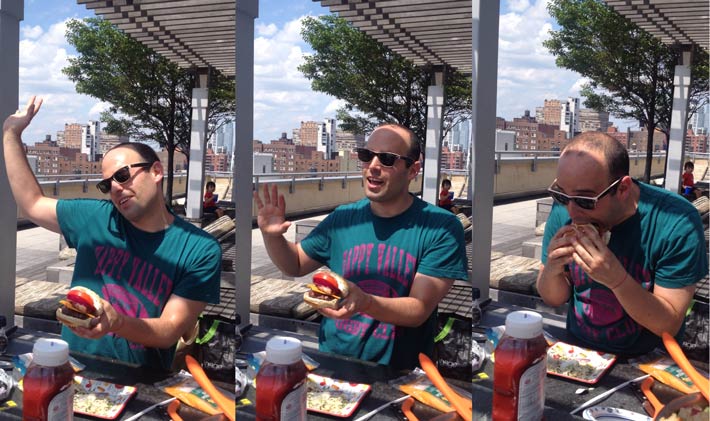 Ready for our 2 most popular burger recipes. Perfect for busy home cooks looking for a yummy recipe!
 There is nothing in the summer like a juicy burger coming off the grill, kissed by cheese, and hugged by a toasted bun.  Every bite, juicy and creamy summer bliss.
Okay, I had a burger moment.  I picked Tom and my two favorite burger recipes for you!  My famous "Roasted Garlic-Infused Burger", where you mix blended bacon and roasted garlic with the beef to make umami flavors between a bun, and "Jalapeño Popper Burger" with a creamy, spicy cream cheese-stuffed patty.
When we're in NYC, we do this in our apartment, but when we're in the "Hamps" (what my friend Bill calls the Hamptons), we sit by the pool and barbecue our stress away from the week.
Whichever burger you make, let me know what you think!
What burgers do you make for your family?
Are you Team Burger, Hotdog, or Steak when you grill?
First Fun Burger Making Tips:
I love making the patties a day ahead to make my barbecue life stress-free.  Just make sure that 30 minutes before cooking them, you let them rest to come to room temperature.
Make patties 1 inch bigger than the size of the bun.  Burgers shrink on the grill.  You want every bite to be perfect burger-bun-yumtastic.
Set up a condiments bar.  Make life easy on yourself.  Have a bunch of different burger toppers, so your family or guests can make it their own way.
Once it's on the grill, don't touch the burger until it's time to flip.  This will allow the burger to get a deep, rich crust that makes it so delish.

(See video for these tips in action.)
---
The first one, "Bacon and Garlic-Infused Burger", I actually got to cook in Times Square on "Good Morning America".  It was a dream of a lifetime and I am so grateful.  But most importantly, I get to cook this burger for my friends when we go to the Hamptons.  I love feeding friends and family and hope this easy burger recipe rocks your barbecue world.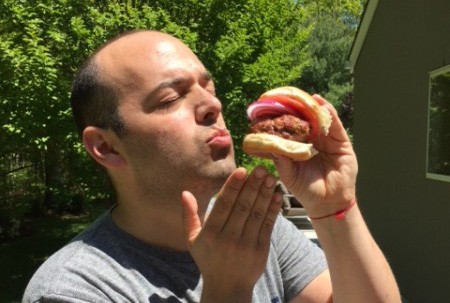 ---
I love mashups of two indulgent things into a super easy, juicy burger.  This is another great make-ahead burger recipe.  Also, you get to see my fun way of stuffing a burger for maximum cheesiness.
One of my favorite appetizers is the crunchy, spicy, cheesy jalapeño poppers.  I see lots of fun recipes for this in a burger version.  I wanted to make the recipe easier and add lots of gooey, cheesy, spicy flavor with not a lot of work.  This recipe totally achieves that.  Plus, adding chopped jalapeños to the burger meat and cheesy mixture adds awesome flavor all over the burger.  Hope you like this and let me know how it turns out.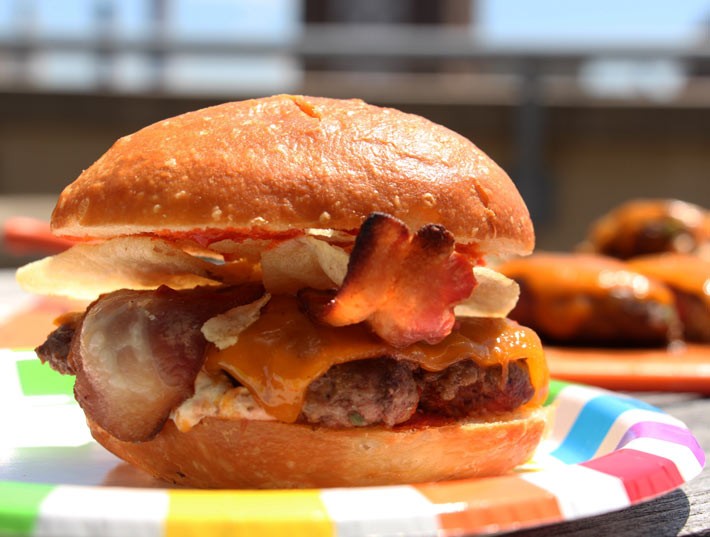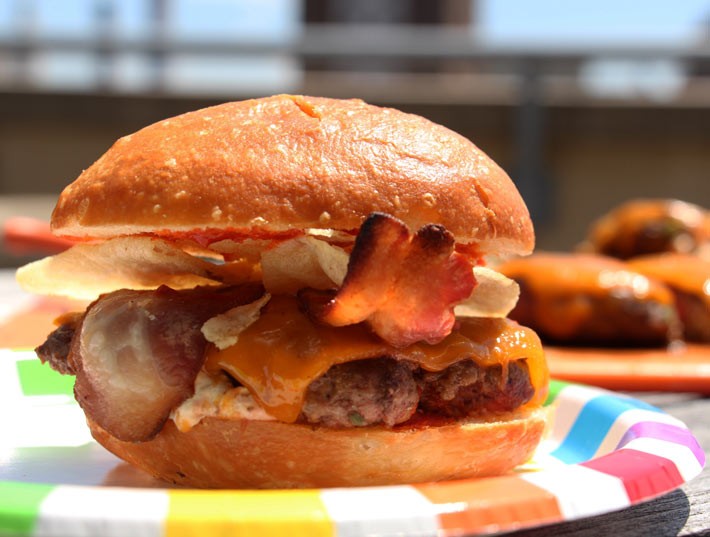 ---
Need Help?: I am so excited to hear what you think and if you have any questions about these burgers!
I am here to help. Just comment below and we can work on your recipes together!
---
Here is Your Dash of Gratitude:

---
I am so Grateful for you and hope you are doing awesome today 🙂
With a grateful heart – Jay
---
(Visited 479 times, 1 visits today)
Subscribe for tasty, free recipes!