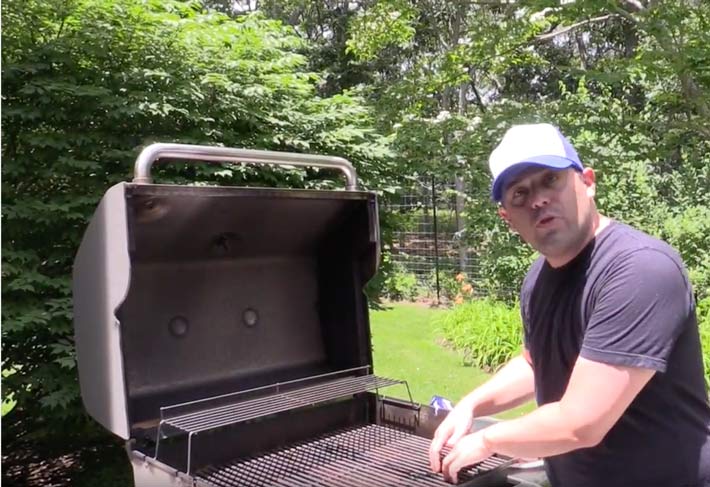 I am not a fancy grill master. In fact, I once set the grill on fire and the fire department had to come. But since then, I have really been into grilling, and as with my other recipes, I try to make things as easy and stress-free as possible.
These tips will make you love the grill and want to grill more often. I hope you use these hacks this summer, and please share below your fun tips so we can all grill happy.
Check out all these tips, and if you need any modifications feel free to comment on the post so I can help you.
---
1. Trick To Grill Small Things with Ease: 
I learned this tip from watching my favorite cooking show The Chew! No more worrying about small veggies falling through the grates. The best part, this tip allows for less dirty kitchen tools to wash (Tom loves this tip because it gives him less things to clean).
---
 2. Try Grilling Your Lemons:
This is such a fun tip and it is so easy to do. While you are grilling up your favorite Chop Happy burger, fish or steak recipe you can so do this with the leftover space on the grill. Where ever you have room on the grill, the lemons will go. This will intensify and juice-ify the flavor of the lemony love. You can keep these all week long and use in vinaigrettes, over fish, on your weeknight veggies, and anyway you can elevate your meal with lemon.
This is such a bbq master tip that your friends will think you are a culinary genius when they see these bright yellow bursts of sunshine on the grill or the fabulous grill marks like a stamp of yummy pride on the lemons juicy flesh.
---
 3. How To Grill Potatoes (smokey magic taste)
The star ingredient of your favorite potato salad just got better. Its such an easy extra step that has magical effects on your tastebuds. I do this for potato salad and instead of roasted potatoes. I am so excited to share this awesome tip with you guys!  Your friends are going to think you're Bobby Flay with this grilling trick ?
---
Need Help?: I am so excited to hear what you think and if you have any questions about these tips,
I am here to help. Just comment below and we can work on your recipes together!
---
Here is Your Dash of Gratitude:

---
I am so Grateful for you and hope you are doing awesome today 🙂
With a grateful heart – Jay
---
(Visited 687 times, 1 visits today)
Subscribe for tasty, free recipes!