If you are a busy Mom, Dad, student or professional  – you will want to make and eat this yummy hot dog so you have more precious time to chill. This recipe is one part salad and one part comfort food that is so fast to make – it will be the next New York City hot thing!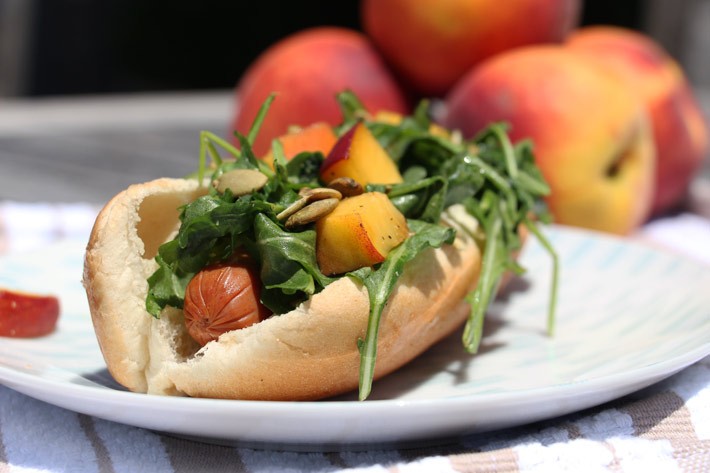 New York City hot dog vendors this one is dedicated to you 🙂
My inspiration for this tasty twist is my own hometown. New York City is known for its hot dog vendors on the street (we call it dirty water dogs).  Every time I pass by I want to give them new ideas for toppings since the food truck craze has hit NYC and there's a lot of competition on the street now. Tom knows I will talk to anyone! – and sometimes the vendors are so surprised by my helpful enthusiasm, Tom pulls me away when we pass by lol.
LET'S COOK TOGETHER – grab your ingredients and follow along with the video!
---
Summer Salad Hot Dog Recipe
Per serving
Ingredients
Handful fresh arugula
1 peach cut into small chunks
Pinch salt and small pinch pepper
Small drizzle of olive oil
Handful pepita seeds
1 hot dog and bun
---
Instructions
In a bowl add arugula, peach, season with salt and pepper, drizzle olive oil, add pepita seeds and mix thoroughly
Top off your hot dog with this amazing "spa day" delight – enjoy!
---
Give it a try and let me know if you have any questions – please comment below – I love talking with you guys 🙂 Have a comfort food smiley day and remember to enjoy each bite!
With a grateful hot dog heart and an amazing peachy tummy – Jay
(Visited 722 times, 1 visits today)
Subscribe for tasty, free recipes!