Parsley Pesto will rock your pasta world!
It all started with a cloudy brain and a wish to make pesto. I thought I bought basil, but when I opened the bag the basil was not there (insert sad face). Also, no pine nuts in the bag (don't cry for me Argentina). This turned out to be a "great" mistake. At home there was leftover walnuts and parsley … and a pesto making we went. With traditional pesto, basil is the star, but parsley is the new kid in town. You will love this twist on a classic pesto recipe. After making this parsley pesto perfection, you will pass basil in the supermarket (as if you are fighting you run to your new love basil).
---
Parsely Walnut Pesto Recipe
Ingredients
2 cups of parsley
2 garlic cloves
2/3 cup extra virgin olive oil
1/2 cup pecorino romano cheese
1/2 teaspoon lemon zest
1/2 cup walnuts
1 fresh lemon (1/2 teaspoon of lemon zest and 1 1/2 Tablespoons of lemon juice)
1 teaspoon of Salt and Pepper (Best Friends Forever)
---
 Instructions
Toast walnuts in a dry pan over very low heat – they are don't once you can smell their aroma.
Crush garlic cloves
Put all ingredients into the food processor – except the cheese and olive oil (they will join the party later).
Add pinch of salt and pepper
Zest lemon into mixture
Cut lemon in half and squeeze into mixture
Pulse until the mixture looks like green garlicky grass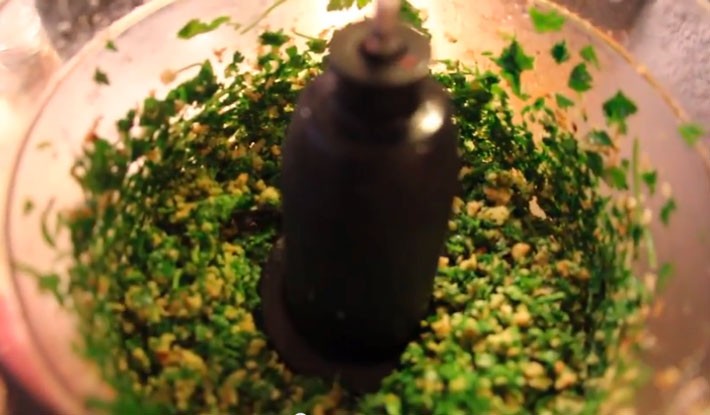 Add cheese
Mix for about a minute to incorporate the cheese into the mixture
Slowly drizzle (I live in NYC, so slow is hard for me 🙂 in olive oil while the food processor is running on low until the mixture becomes more liquid like.
 TIP – Do not heat up the pesto – add the hot pasta to bowl with cold pesto.
Fun Things to Mix with Pesto
Pasta – to make a pesto pasta love connection
Grilled shrimp to pesto shrimp
As salad dressing substitute to wow your lettuces
Mix two tablespoons with chicken salad and start a gourmet sandwich place in your kitchen LOL!
Freeze in ice cube tray to use later because waste not want not
---
I am sooo excited to share this inventive and fun dish! Give it a try and share pictures of your tasty creation 🙂

With a grateful heart and a yummy pesto tummy – Jay
(Visited 483 times, 1 visits today)
Subscribe for tasty, free recipes!