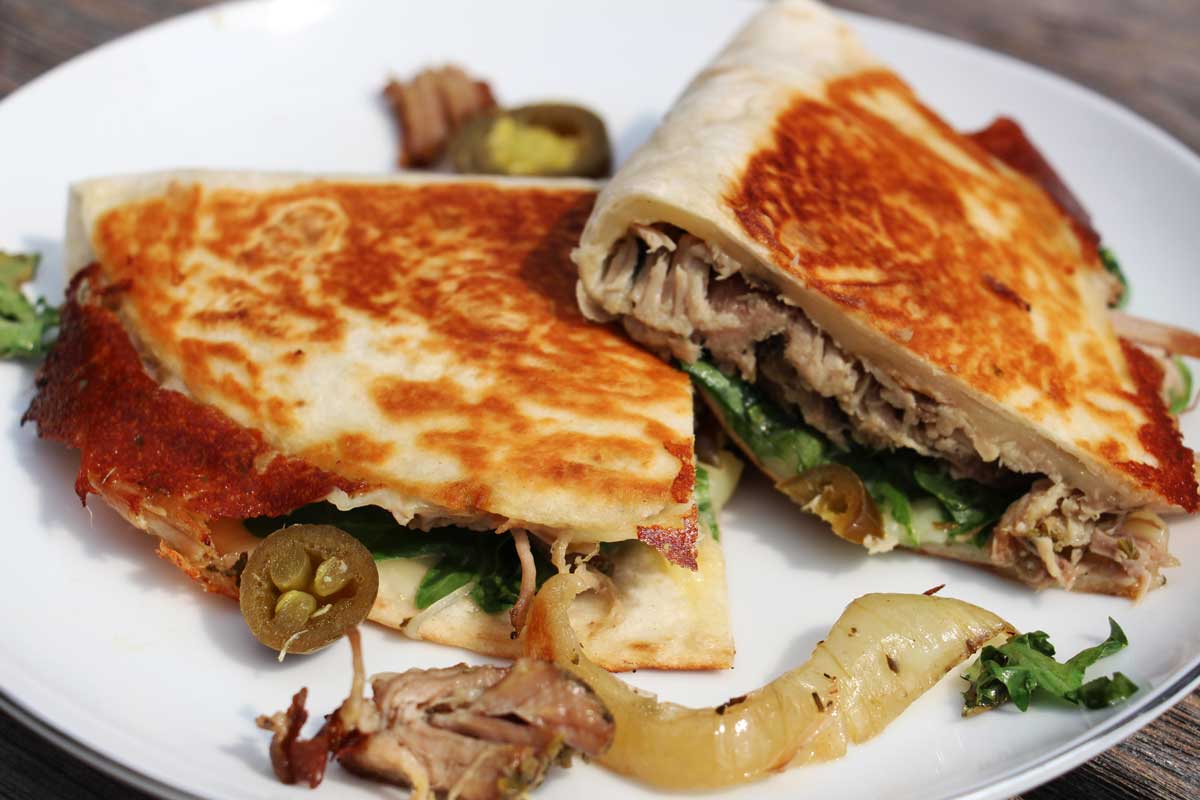 The new definition of a quesadilla should be cheesy creation that is quick, gives leftovers a new fresh life and makes the whole family smile. This quesadilla recipe meets all those criteria and uses leftovers from my favorite slow cooker recipe!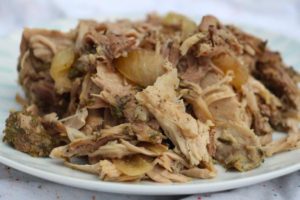 This recipes is inspired by my favorite pork sandwich from Fedoroff's Roast Pork at Smorgasburg in Williamsburg, Brooklyn. Now I made it into a quesadilla and you can have it in your kitchen. David's creation has sweet juicy slow roasted pork on a sesame bread (I substituted the bread for tortilla), a spicy long pepper that runs along the pork like a crown (I used jarred  pickled jalapeños), creamy provolone cheese (That I use too) and tasty bitter broccoli rabe (I use arugula so less cooking) to balance out the spicy. Get your quick recipe hat on and start eating.
This is family friendly and a busy home cook's best friend. I can't wait to hear how much you like it!
Grab your ingredients and follow along with the video!
---
Pulled Pork Quesadilla Recipe
Per quesadilla
Ingredients
4 Flour tortilla
18 slices Italian provolone cheese (6 per quesadilla)
 2 cup pulled pork or more* (1/2 cup per quesidilla)
5-6 pickled jalapeño pepper per quesadilla
Small handful fresh arugula per quesadilla
1 tablespoon butter
 *Try my Simple Slow Cooker Pulled Pork –  this is my favorite version of pulled pork and tastes so good in the quesadilla! Pile it on 🙂
---
Instructions
Layer half of the tortilla with 2 slices of cheese, pulled pork, jalapeño pepper, arugula, topping it off with 4 slices of cheese – fold in half
Heat pan on medium – melt butter to coat the pan and add the quesadilla
Cook 2 minutes – flip – cook an additional 2 minutes (should be golden brown)
Plate and enjoy the cheesy goodness!
---
Give it a try and share pictures of your tasty creation 🙂
With a grateful quesadilla heart and an amazing pulled pork tummy – Jay
(Visited 929 times, 1 visits today)
Subscribe for tasty, free recipes!