Yes, it's avocado in potato salad! The creamy citrusy avocado hugs the starchy salty potato for this epic side dish! I am obsessed with potato salad, and this avocado cream adds a fun twist to this summer staple.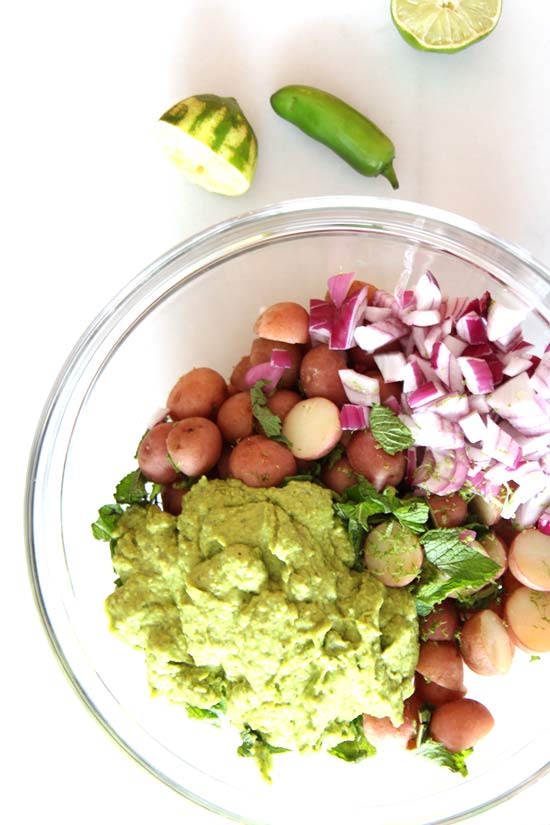 This recipe is so fun because it's a 2-in-1 recipe. There's the potato salad, and then there's also the avocado cream that can be mixed with pasta or zoodles. Your guests are going to think you're a star chef when you bring this out. Watch the video because there are some awesome cooking techniques to help you love cooking even more.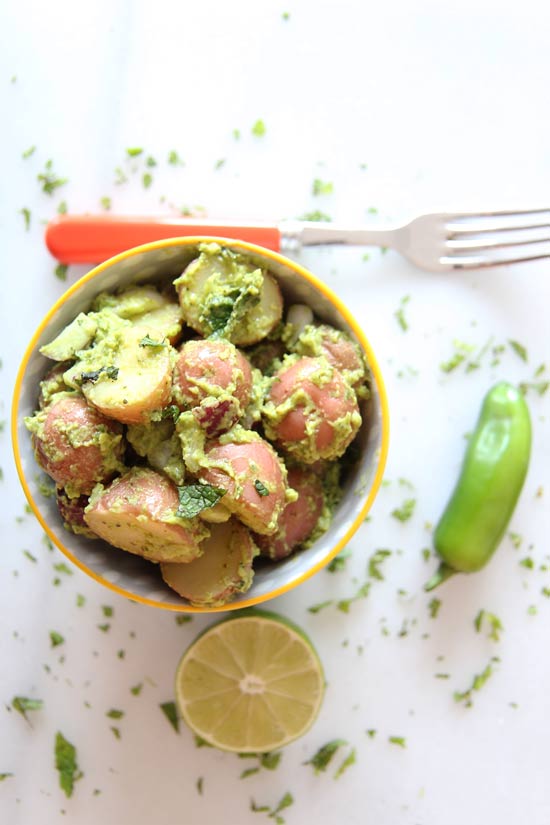 ---
Tips for Amazing Potatoes:
Boil your potatoes in chicken stock (or veggie stock, if vegetarian) instead of water. It will infuse more flavor into your potatoes, guaranteeing a yummy potato inside and out.

When making potato salad, use yukon gold or small red potatoes. They have a creamier consistancy and hold up well to dressing.

As always, these recipes are part of my mission to provide you with 2 goals:

To make amazingly simple homemade comfort food.
To learn useful tips to make cooking fun.
---
Avocado Potato Salad Recipe
The creamy citrusy avocado hugs the starchy salty potato for this epic side dish! Its like guacamole and potato salad got married. Try this creamy recipe.
Ingredients
Avocado Cream Ingredients:
2 avocados
1 jalapeño chopped (de-seeded and take ribs out)
1 handful mint
2 cloves garlic
1 tsp dijon mustard
1 lime (zest and juice)
1/2 cup olive oil
1 tap pepper
1 tsp salt
Potato Salad Ingredients:
2 1/2 lb small red potatoes (cut in half)
3 cups chicken broth
1 red onion (chopped)
1 handful mint (rough chopped)
Instructions
Avocado Cream:
First lets make the avocado cream.

Add all the avocado cream ingredients in a blender and pulse till you get a creamy consistency.

Make sure there are no chunks. Now set aside to use as dressing for the potato salad.
Potato Salad:
Place the potatoes in a pot and cover with chicken broth (or vegetable broth).

Turn the heat to medium high. When the chicken broth boils start the timer for 10 minutes.

After 10 minutes drain and let potatoes cool.

Next add the potatoes, onions, mint, and avocado cream to a large bowl and mix gently so you do not breakup the potatoes.

When mixed completely its done and time to chow down.
Notes
You can use the avocado cream for many things:
Mix with zoodles for fun gluten free pasta dish
Top the cream on chicken or steak for fun twist
As a fun dip with chips.
Your Dash Of Gratitude:

ANY QUESTIONS OR COMMENTS? COMMENT BELOW 🙂
With a grateful heart and an amazing tummy – Jay
(Visited 1,660 times, 1 visits today)
Subscribe for tasty, free recipes!