Bacon Gruyere Mashed Potato Casserole – This is a decadent and easy make-ahead dish. Grab some potatoes, butter, cheese, and bacon, and let's get this party started!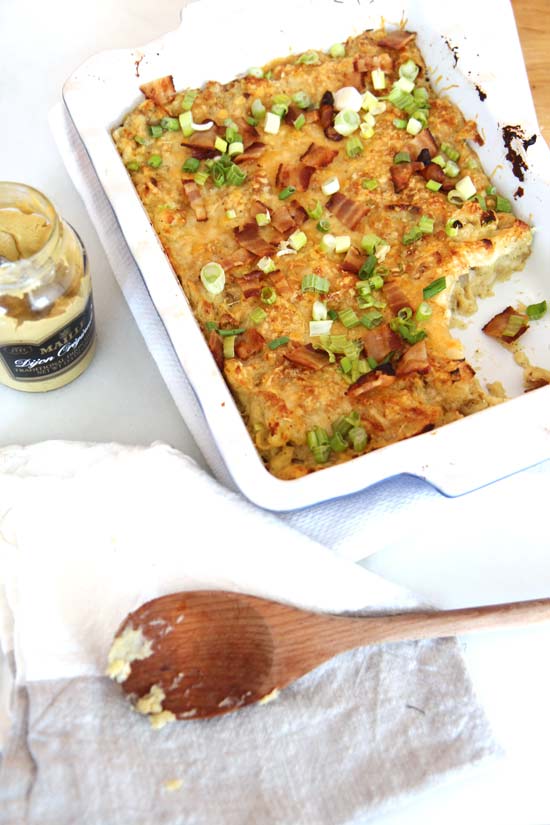 If I had to choose my favorite veggies, bacon and cheese would be at the top of my list! Now add fluffy, buttery potatoes for the extra comfort factor in this recipe.
I am always in charge of mashed potatoes on the holidays, and I try to outdo this potato recipe each year. This one has 2 cups of nutty cheese, rich cream, and the king of comfort food: butter.
Mashed Potato Tip: Boil the potatoes in chicken stock to add extra flavor. Also make sure to heat the potatoes and the stock together to help prevent gummy potatoes. 
I hope you love this easier mashed potato recipe and that it makes your comfort food world smile with tasty yums!
For more easy, happy comfort food recipes, check out our Pinterest Page!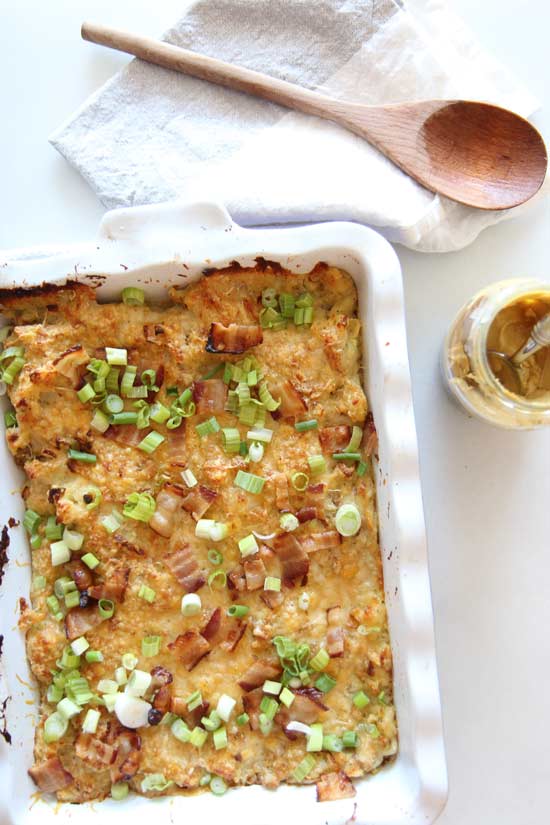 Happy eating, and I am always so grateful to cook with you!
Bacon Gruyere Mashed Potato Casserole Recipe
Bacon Gruyere Mashed Potato Casserole Recipe - is a super decadently, easy, make ahead comfort food recipe. Grab potatoes, butter, cheese, and bacon. Its time for big comfort food hugs!
Ingredients
3 lbs yukon gold potatoes (cut in small chunks)
5 cloves garlic (smashed)
4 cups chicken stock
2 tbsp salt
1 tsp dijon mustard
1 tsp back pepper
1/2 cup cream
2 tbs butter
2 cups grated gruyere (1 cup for mash/1cup to top)
5 scallions (chopped)
4 strips cooked bacon (chopped)
Instructions
Preheat the oven to 425.

First, add potatoes, salt, and chicken stock to a pot.

Now turn the heat to medium high.

When the stock boils, cook for 15 minutes and drain.

Return the potatoes to the pot and add mustard, black pepper, and cream.

Now mash until creamy consistency.

Next add the 1 cup of gruyere, half the scallions, and mix.

Add mashed potatoes to a buttered baking dish.

(NOTE: If you want to make ahead, stop here. Cover and put in the refridge until ready to use.)

Next top the potatoes with the remaining cheese. Put on top rack in oven, and cook for about 5 minutes or until the cheese browns slightly.

Finally top with bacon and remaining scallions and enjoy!
MAKE THIS WITH THE MAC AND CHEESE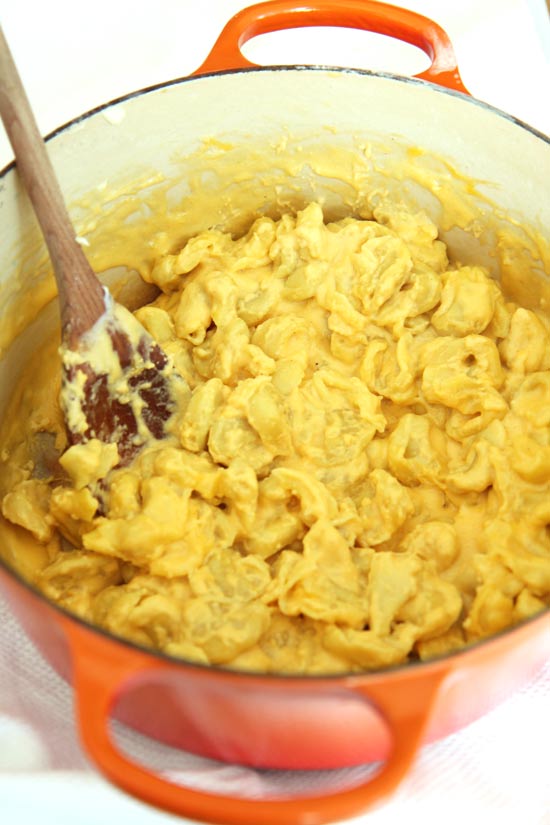 Your Dash Of Gratitude:

ANY QUESTIONS OR COMMENTS? COMMENT BELOW 🙂
With a grateful heart and an amazing tummy – Jay
(Visited 2,040 times, 1 visits today)
Subscribe for tasty, free recipes!