What is more classic than the romantic pair of champagne and strawberries?  This drink is as easy as smash the strawberries and dump them into the champagne with a few extra friends. This cocktail is perfect for those of you who don't make mixed drinks on your own. It can be your go-to drink when people come over. With just a few ingredients people will be very impressed.
This cocktail is for when it's time to celebrate you! … or you have a special date … or even Valentine's Day. Any time really when you want to get to drinking quickly so you can stare into each other's eyes.
---
Date Night Champagne Cocktail Recipe
Ingredients
2 servings
10 to 12 fresh strawberries with their tops cut off. Then cut in half and half again to create small wedges.
2 tablespoons of super fine sugar
2 tablespoons of orange liquor – so citrusy sweet ummm
1 bottle of your favorite bubbly champagne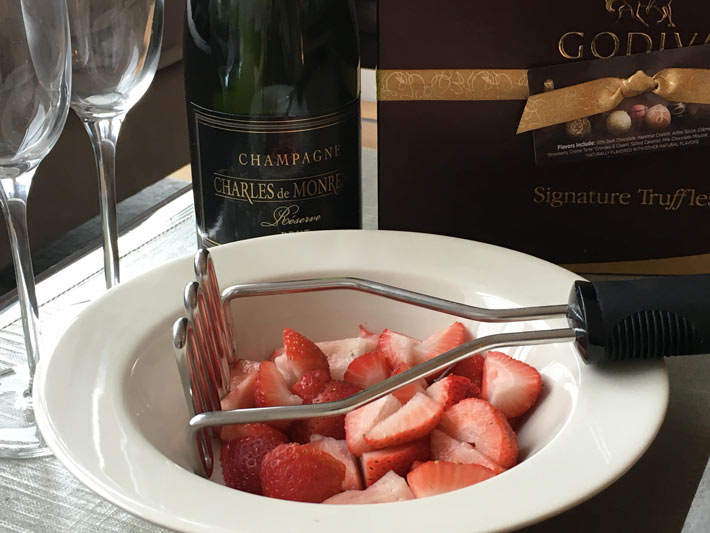 ---
Instructions
Put strawberries, sugar and orange liquor into a bowl and mash them together to release the rich ruby red juices (this can even be done the day before!)
Spoon in half of the mashed strawberries into each champagne glass (or  you can go crazy with any glass you like) 🙂
Now slowly pour in the bubbly champagne – it'll take a couple times because of the bubbles, so be prepared to slurp if it overflows 🙂
Garnish the side of the glass with a whole strawberry split in the middle
Mash Tip! I like to use a potato masher or the back of a spoon.  You can also use a food processor if that's more your thing.
---
Celebrate You! Happy Valentine's Day! Happy Mother's Day! Happy Day! Happy Date!
This is a winner – surprise someone you love with this love-infused bubbly cocktail.
With a loving heart and a strawberry yummy tummy – Jay
(Visited 1,240 times, 1 visits today)
Subscribe for tasty, free recipes!