A non-dairy 3 ingredient ice cream that is so sinfully sweet and silky you'll want it for dessert every day! In true NYC Comfort Food Style – I cut out all the steps because time is precious (no more freezing and scraping here).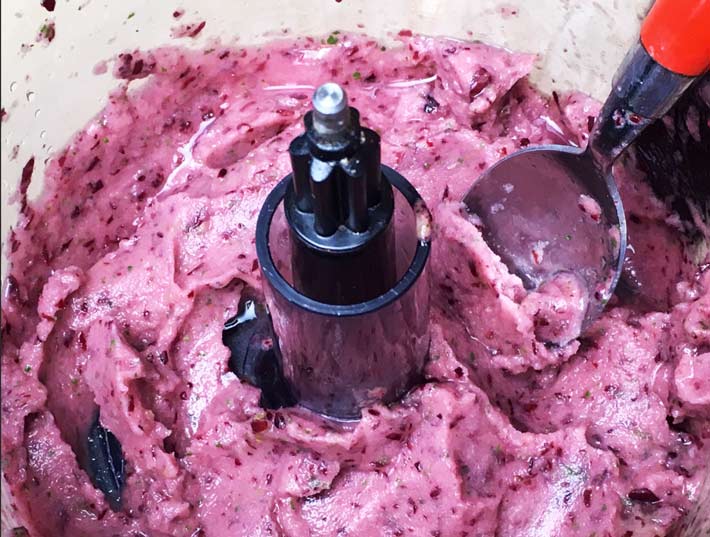 If you follow my blog you probably guessed I love dessert, but I am notoriously dessert challenged. Any dessert recipe I make can be made by a kid, but will taste like a hot new dessert place on the lower east side!  (P.S., Prohibition Cupcakes are on the LES and are boozed up cupcakes! If you're visiting NYC totally check it out!).
So all you fellow non-dessert makers here's your dessert you can make and not pretend a store bought one was your creation lol (I may or may not have done that ;).
Grab your ingredients and follow along with the video!
---
Dessert Hack: 3 Ingredient Grape Ice Cream Recipe
Ingredients
2 cups frozen seedless grapes (red or green)
1 lime (zest)
Handful fresh mint
Optional ~ 1/4 cup water if needed with blending
---
Instructions
Freeze grapes (day before)
Add grapes in blender, pulse until grapes are chopped into small pieces
Add mint, lime zest and water, blend for 2 minutes or until smooth like ice cream
---
Give it a try and share pictures of your tasty creation 🙂
With a grateful grape heart and an amazing granita tummy – Jay
(Visited 1,950 times, 1 visits today)
Subscribe for tasty, free recipes!