Imagine the smiles as you walk out to the pool with a platter of beautiful dessert dreams. This recipe idea came because I always have extra hamburger buns left after grilling and wanted to find a new incentive way to use them! Then I thought what about an ice cream sandwich where the bread was slathered with gooey peanut butter and Nutella? My taste buds hailed a cab and me and Tom started testing lol.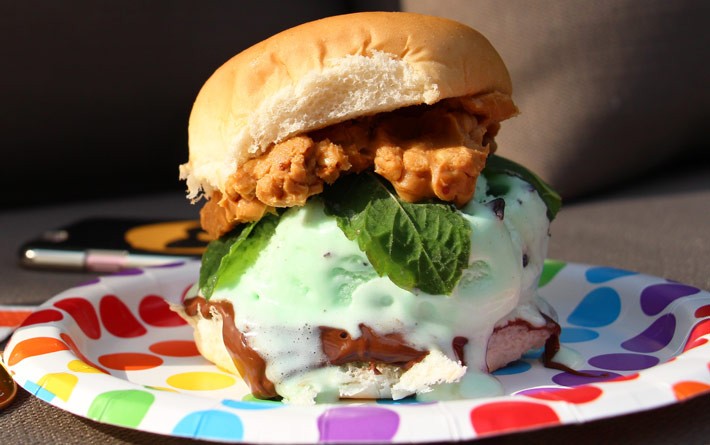 I wish I took a picture of Tom's face as we stood leaning over the counter scarfing down the ice cream evidence. Tom was so happy he did all the dishes lol (note to self have ice cream sandwiches on hand so I don't have to do chores).
Have fun and change up the ice cream, the sweet spreads and even the bread – and have a slider party with your friends and family. 
---
---
Summertime Ice Cream Slider Recipe
Per serving
Ingredients
Slider bun
2 – 3 tablespoons Nutella
2 – 3 tablespoons chunky peanut butter
1 scoop favorite ice cream
5 leaves fresh mint (chiffonade or torn)
---
Instructions
Spread Nutella  and peanut butter on separate sides of bun, add ice cream and mint and put the slider together!
YUM!
---
What crazy combo would you do? Comment below – I can't wait to hear! 🙂
With a grateful heart and an amazing tummy – Jay
(Visited 881 times, 1 visits today)
Subscribe for tasty, free recipes!