This super easy short rib recipe is perfect to make for the time crunched or beginner cook and is THE perfect recipe for a cold wintery Sunday dinner. It is actually super super simple with almost no fuss and with less ingredients than meatloaf. And the best part of this recipe ? … the process is the same for any short rib recipe, pot roast or any low and slow meat dish.  So watch and learn the technique and you can cook so many amazing dishes!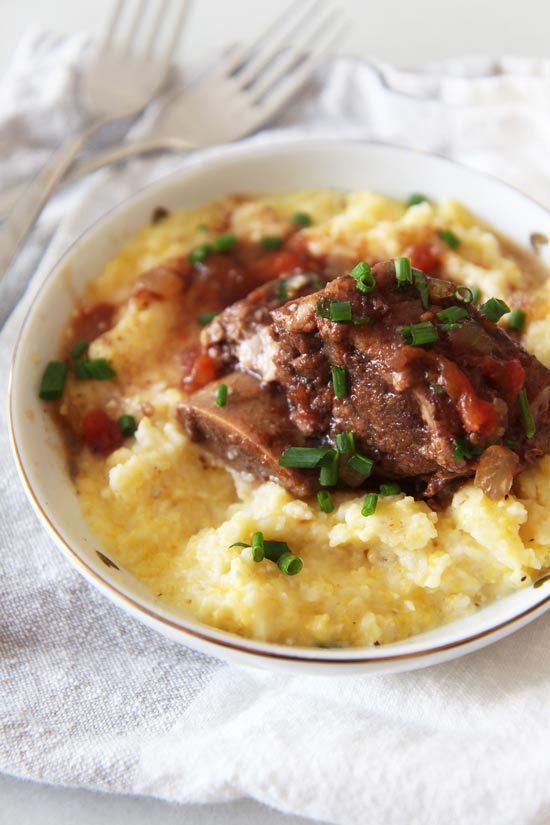 The smell and taste of these smokey, slightly spicy ribs will warm your heart and make a cold day so comforting. Living in NYC – my neighbors love it when I cook these short ribs. The yummy deep rich smokiness smells in the hallway always has them saying OMG who is cooking that!?! lol 🙂
I hope this gives you super hero cooking confidence. I'm excited to hear what you think in the comment section.
---
Chipotle Short Ribs Recipe
Serves 4-6 -You can even make this the day before and it'll even taste better!
Ingredients
3 pounds of Beef short ribs (about 1/2 pound per person is a good general rule)
Salt and Pepper
3 to 4 tablespoons of Extra Virgin Olive Oil
2 white onions cut into half-moon shapes or big chunks
4 stalks of celery chopped into small chunks
5 cloves of garlic – leave them whole and mash them a bit with your hands to break them up
1/4 cup of tomato paste
1 – 28 oz can of crushed tomatoes
1 – 14 oz can of beef broth
1 – 7 oz can of Chipotle and Pepper in Adobe Sauce (I use a 1 tablespoon of just the sauce to add some smokiness and heat.)
3 swirls around the pot of honey
1 tablespoon of white wine vinegar (you can use any kind of vinegar)
For garnish I like to use fresh celery leaves and fresh parsley chopped into small pieces
---
Instructions
Tip: 30 minutes prior to cooking take beef ribs out of the refrigerator to rest, aggressively season both sides of the ribs with salt and pepper and prepare all the veggies
Heat a pot on medium high and add 3 swirling around in the pan of extra virgin olive oil
Place the ribs into the pan (the sizzle it makes is beef music to a cook's ears) and arrange them with plenty of space – do not crowd the ribs! (I recommend you do this in 2 batches so you don't crowd the ribs – check out how I do it in the video.) Leave them without touching or moving them on the meaty sides for 3 minutes and the boney sides for 1 minute – and set aside the ribs on a plate
Leave all the lovely oil in the hot pan and add the onions, celery and whole cloves of garlic.  Add a big 3-finger pinches of salt and pepper – mix with the veggies and let it cook for about 2 minutes – stirring occasionally as it sizzles away!
Add tomato paste (it adds a deep richness to the dish) and mix it into veggies for 30 seconds
Add the crushed tomatoes, beef broth and then add a tablespoon of just the sauce of the Chipotles & Adobo Sauce and mix it all together. (If you really like heat you can add a little more – but I'm warning you this is SPICY!) Swirl in some honey (to help balance out the spice) and stir to combine.
Now add all the seared short ribs to the bath so they can soak in the flavor as they cook (they do not need to be submerged!)
Turn the heat up to medium high (just to give the liquid a push to hurry up the process) and as soon as you start seeing bubbles cover the pan with a lid – turn the heat down to LOW and let it cook for 2 hours and 45 minutes.    … it's time for a good book and some hot chocolate!
When done the meat just falls off the bone you won't even need to use a knife 🙂
 Before taking out of the pot add the vinegar to the mixture and stir it in (Any slow cooked meal gets freshen up by vinegar.)
Plate up the ribs over rice or polenta and pour that extra sauce over and enjoy.
Remember these 3 simple steps for any short rib recipe, pot roast or low and slow meat dish:

Sear the meat
Mix in the veggies
Add liquid, meat and cook on low
---
Give it a try and share pictures of your tasty creation 🙂
With a grateful heart and a "Sunday comfy" tummy – Jay
(Visited 917 times, 1 visits today)
Subscribe for tasty, free recipes!