This pumpkin pasta is one of those recipes too easy to taste this good. We cut out the step of  boiling pasta by throwing the frozen tortellini right in the cheesy mixture and let it cook while it bakes. Grab a bowl and mix the sweet pumpkin, red pepper flakes for a kick and all its friends and you have a great weeknight meal.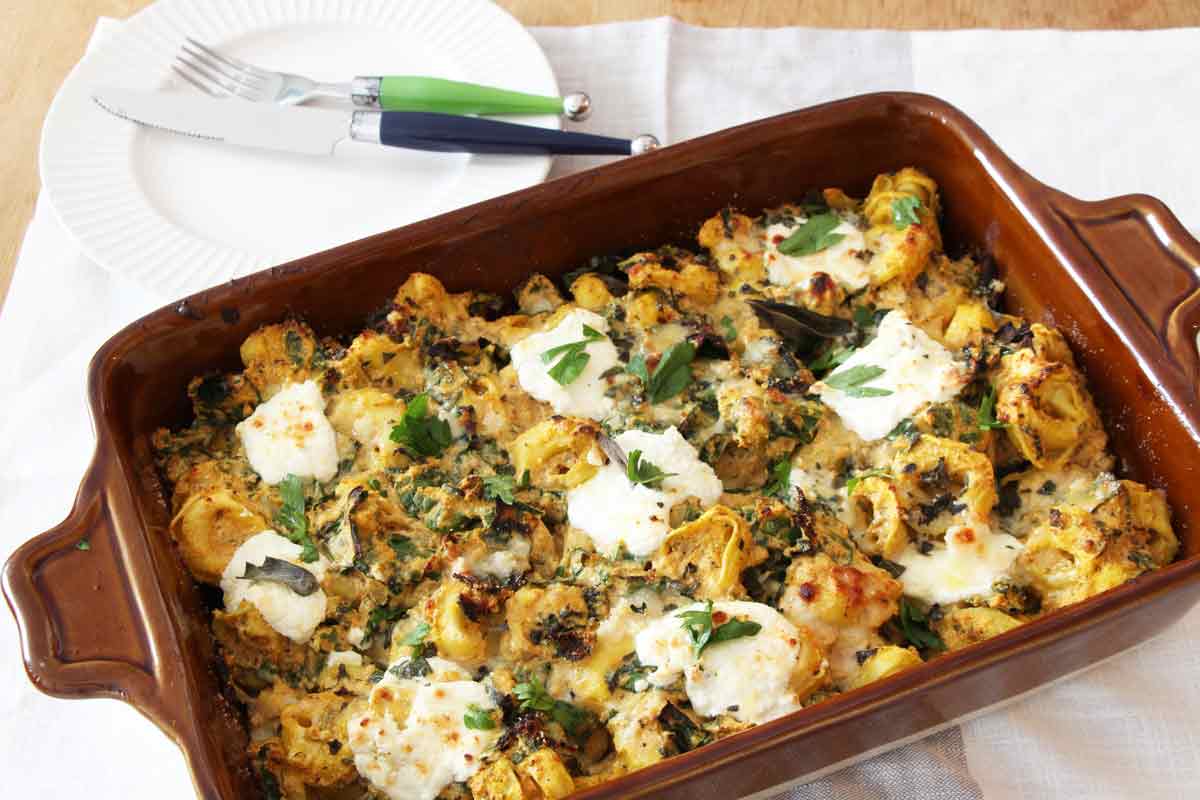 I was so excited when making this because out of that baking dish comes a lot of food. Me and Tom eat this for 3 days and then gave to my taste test department (my friends and they eat with leftovers).
This dish made me so excited because not only is it simple cooking with quick prep and less stuff to clean up, but also it lasted a couple of days. The next day all you need to do is reheat and pour myself a Moscow Mule! I also have a confession on my motivation for this recipe. I actually don't like turkey and always try to make a Thanksgiving friendly pasta to bring so that I can skip the turkey. This one is definitely a great holiday main dish!
So excited for you to make this and to get your pumpkin pasta on.
Creamy Pumpkin Pasta Bake
This pumpkin pasta bake is so easy. Just grab a bowl - mix the sweet pumpkin, red pepper flakes (for a kick), add a few other ingredients for a great meal.
Ingredients
2 (14oz pkg) frozen tortellini
1 (15oz can) pumpkin puree
3 cloves garlic chopped finely or grated
1 bunch kale chopped (I used dark kale in the video)
1 cup ricotta cheese (plus 5 tbsp for the top of the pasta)
1 tsp red pepper flakes
1 handful fresh sage chopped
1/4 tsp nutmeg (if using microplane count to 6)
1 tsp salt (big pinch)
1 tsp pepper (big pinch)
1 cup parmesan cheese grated (plus a little extra for sprinkling on top)
2 tbsp olive oil extra virgin
1 tbsp butter (to grease baking dish)
Instructions
Preheat oven to 350 degrees, butter baking dish

In a large bowl add pumpkin puree, ricotta cheese, salt, pepper, red pepper flakes, sage, garlic, parmesan cheese, olive oil and mix until all ingredients thoroughly so you get even seasoning

Add tortellini, kale, nutmeg and mix until all ingredients are incorporated

Add mixture to buttered baked dish; sprinkle extra parmesan cheese on top and add spoonfuls of ricotta cheese on top

Bake for 30-35 min (just until the top is bubbly) - enjoy!
Ask all your awesome  questions in the comment section or request for other recipes you want to see on Chop Happy!
With a grateful pumpkin heart and an amazing pasta tummy – Jay
(Visited 1,404 times, 1 visits today)
Subscribe for tasty, free recipes!