A spectacular way to chew into the New York! Your guests will get a culinary gift to start the year off yummy and AMAZING!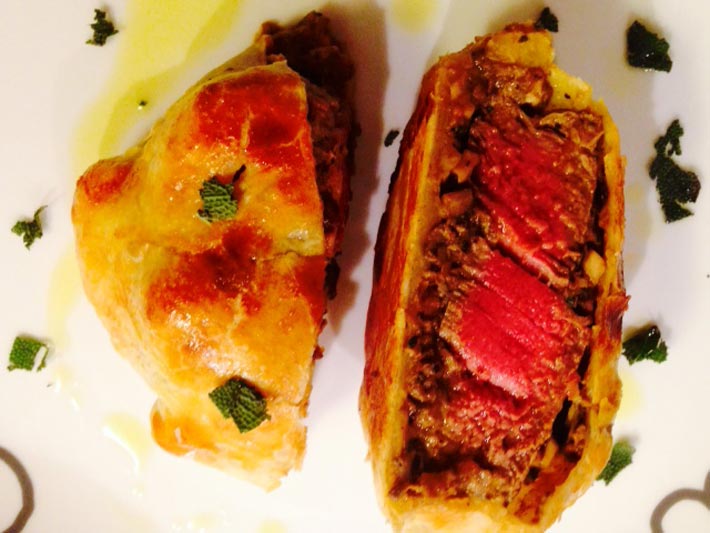 New Years is coming, so get out the shot glasses, and the bubbly! I will be drinking my fav drink a ginger pow, Moscow mule! Now as you get dressed to impress, let's make your New Years dinner FABULOUS!!
Steak says "I love you" (that should be a T-Shirt)! Smeared in spicy mustard, topped with garlicky-salty mushrooms, and wrapped in flaky puff pastry, how awesome does 2015 have to be!!
This looks super complicated – but it's easy and tells your guest they are your besties!!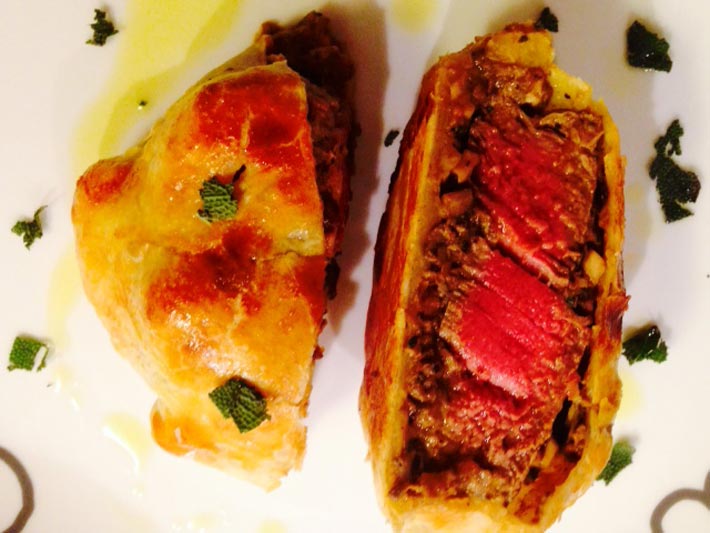 Beef Wellington
Ingredients
4 filet mijon steaks (1 inch thick)
4 tablespoons Dijon Musturd
1 shallot (quartered)
4 garlic cloves (3 for mushroom stuffing and 1 to rub on steak)
1 tablespoon tomato paste
6 sage leaves (chopped)
3 tablespoons butter
16 oz cremini mushrooms
1 sheet of puff pastry (follow instructions to defrost)
1 teaspoon salt
1 teaspoon pepper
Instructions
Pre-heat oven to 400 degrees

Pat down the steaks to dry. This makes a great sear when you cook.

Now take half of the garlic clove (slightly crushed) and rub the garlic on the steak.

Put lots of salt and pepper (approximately 1 tsp) on both sides. More is better because it adds lots of flavor.

Put the whole mushrooms, 3 garlic cloves, sage, and the shallot into a food processor. Blend until it looks like beautiful small chunky-rocky sand. Set aside the mixture

Now put the steaks in a medium high pan with three tablespoons of oil. Don't touch or move the steaks. Sear 2 minutes per side. Then set aside to cool.

Place the blended mushroom mixture in a pan with 2 tablespoons olive oil and the 4 tbsp butter. Add big pinch of salt and pepper.

Cook for approximately 3-4 minutes stirring occasionally to get moister out and to get a dark brownish. Set aside to cool.

Roll out puff pastry on floured board until it has increased an extra 2-3 inches. Then using a sharp knife cut into four pieces.

Now place a teaspoon of mustard and brush on the pastry leaving inch frame on edges. Add 1/2 the mushroom mixture to center on square of pastry.

Brush a tablespoon of Dijon mustard all over each of the steaks.

Next place steak on top mushroom mound and place a tablespoon more of mushroom mixture on top of each steak.

Brush all edges of puff pastry with egg and fold up to wrap and pinch to seal in the pastry over the steak.

Place wrapped side (seamed side down) on non-stick foil wrapped baking sheet.

Using a knife poke a couple of holes on top so steam can escape.

Egg wash the top of pastry and sprinkle salt.

Bake for 20 to 25 minutes on the bottom rack

Plate and enjoy!
Hope you love this easy fun recipe! This is also a perfect make ahead and freeze recipe. After you wrap the beef in the puff You can make this recipe and before you cook it, wrap it up and store in freezer for later cooking fun. So much fun! Happy cooking!
With a grateful heart and a flaky beef wrapped yummy tummy – Jay
This book changed my life and it is how I elevated my home cooking:



(Visited 4,040 times, 1 visits today)
Subscribe for tasty, free recipes!