Yes the title is correct -and yes it is guaranteed to make you mashed potato smile 🙂 ! Mashed Potato Lasagna is a comfort food big hug.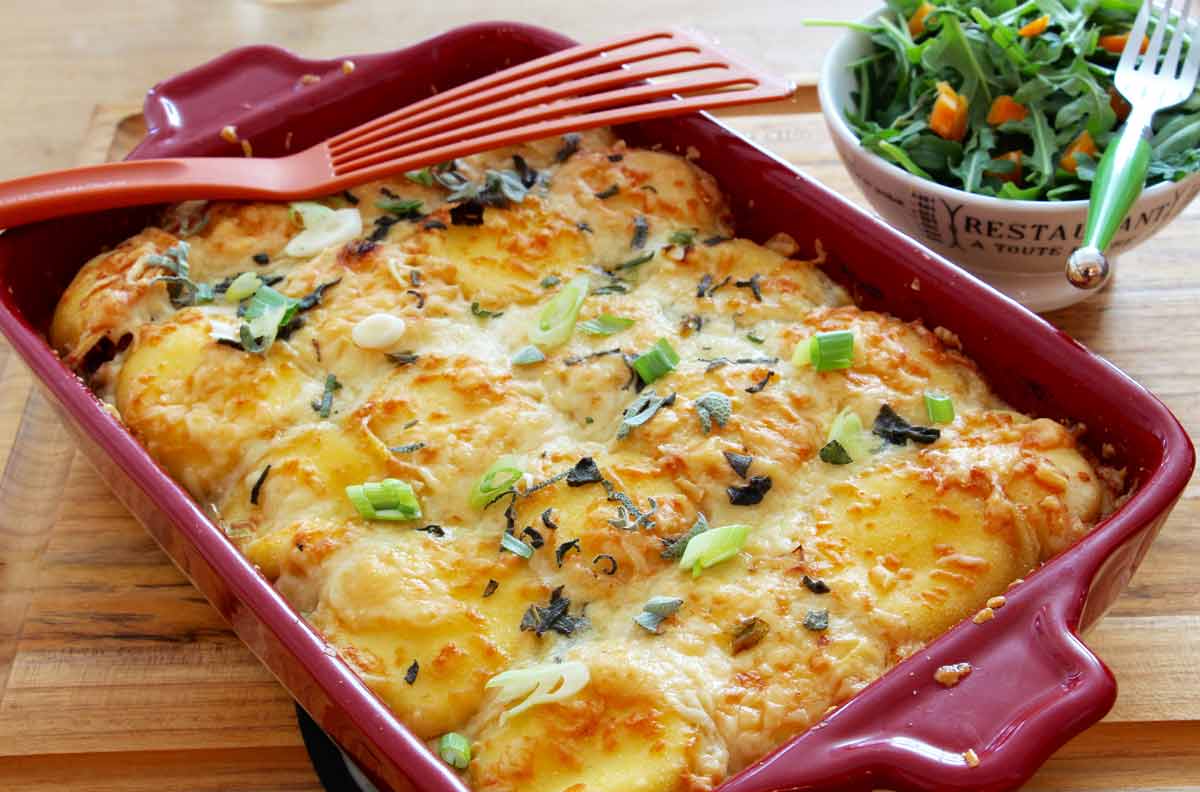 The creamy potato layered with cheese melts in your mouth with a touch of tang as a standing ovation at the end from topping the lasagna with sour cream. There is also a fun time savor in the noodle portion of this recipe masterpiece that will make you love this recipe even more. 
I definitely feel like a meal is not complete with out a potato on my plate and this is like a potato casserole.
Grab your ingredients and follow along with the video!
---
Mashed Potato Lasagna Recipe
Serves 6-8
Ingredients
Butter to grease baking dish
2 (13oz) bags frozen cheese raviolis (approximately 24 raviolis)
4 cups mashed potatoes (you can use leftovers or one of my favorite recipes Brown Butter Mashed Potatoes)
3 onions, sliced and sautéd with butter on medium-low for 15 min
4-5 scallions, chopped into small pieces
Handful fresh sage, roughly chopped
3/4 lb Gruyere cheese, shredded
Extra virgin olive oil, for drizzling
Extra toppings: leftover chopped scallions and sage, dollop sour cream to finish
---
Instructions
Preheat oven 350 degrees
In a buttered baking dish, place frozen raviolis on the bottom of the dish side by side as many as will fit.
Next add mashed potatoes on top of raviolis.
Now spread over the raviolis onions, scallions, and sage. Sprinkle half of the Gruyere cheese over the top.
Add another layer of frozen raviolis, then a layer of Gruyere cheese and sage on top the raviolis.
Drizzle with olive oil to help the lasagna brown in the oven.
Bake 30 minutes. Check to make sure it doesn't burn on top, it should be nice and bubbly.
Rest for 20 minutes (keeps it beautiful when you cut it)
Garnish with scallions, and sour cream
---
What do you feel is a must-have side? Watch the video, bake it and any question or comments, please comment below.
With a grateful lasagna heart and an amazing mashed potato tummy – Jay
(Visited 4,490 times, 1 visits today)
Subscribe for tasty, free recipes!