Are you ready to win pasta salad of the year award? This is a fabulous pasta makeover of flavorific proportions. The best part is the longer you leave in the refrigerator the taster it gets.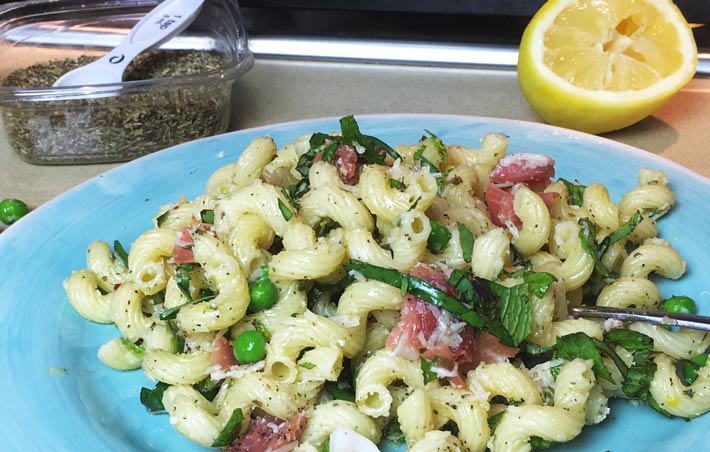 Make this one day and you can have it the rest of the week. I also love this recipe because there is no mayonnaise so it can stay out in the sun for fun picnics in the park. I love bringing this to Sheep Meadow – a fun part of Central Park were people lay out and hang in the summer.  My friends and family love it on a hot sunny day!
---
Prosciutto Pea Pasta Salad Recipe
Serves 8
Ingredients
1 pound cavatappi macaroni (or elbow macaroni)
3/4 cup of extra virgin olive oil
2 garlic cloves grated
Big pinches of salt and pepper
1 teaspoon of dried oregano
1 lemon (zest and juice of the whole lemon)
2 tablespoons of white wine vinegar
1/4 teaspoon red pepper flakes
16 oz bag frozen peas (thawed)
4 oz prosciutto cut into chunks
Handful fresh mint chopped
10 basil leaves chopped
1 cup parmesan cheese
---
Instructions
Prepare pasta and set aside
In a bowl mix in olive oil, garlic, salt, pepper, oregano, lemon juice, vinegar and red pepper flakes
Pour sauce over warm pasta and thoroughly mix to coat
Mix in peas, prosciutto, lemon zest, mint, basil, parmesan cheese. Finish it off by seasoning with additional salt and pepper as you combine all ingredients.
Plate and enjoy right away or store in the refrigerator for later!
Helpful Tips Used in This Recipe
---
I hope you love this pasta fun as much as I do and cheers to pasta love! Give it a try and share pictures of your tasty creation 🙂
With a grateful heart and an amazing tummy – Jay
(Visited 1,686 times, 1 visits today)
Subscribe for tasty, free recipes!