Get ready to not miss the meat! Not only is this quick and easy, it's almost not even a recipe it's so simple. Usually my version of a meatless meal is called potato chips LOL! Then my life changed when I had a roasted cauliflower steak. It's so hearty, smokey and so satisfying for dinner.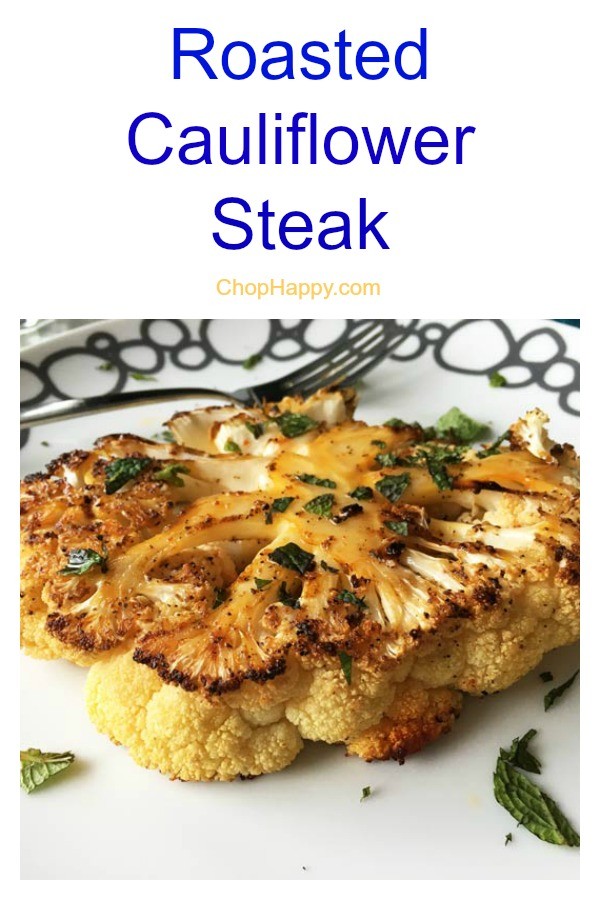 If you are in my hood (Manhattan), there is an awesome vegetarian restaurant you should check out.  It's called Dirt Candy in NYC's lower east side. It is so good that even a meat eater like me feels satisfied after dinner.
---
Roasted Cauliflower Steak Recipe
Ingredients
1 medium to large cauliflower (cut from top to bottom into 4 thick chunks)
1/4 cup extra virgin olive oil
2 tablespoon Sherry Vinegar (or your fave vinegar)
Big pinches of salt and pepper
1 tablespoon paprika
1/2 cup chopped fresh mint for garnish (or feta cheese)
Instructions
Pre-heat oven to 400 degrees
Cut off cauliflower's green leaves leaving core, cut into big thick slices
On foil-covered baking sheet, season both sides of slices with salt and pepper (tip below)
In a bowl combine olive oil, sherry vinegar and big three-finger pinches of salt and pepper
Brush olive oil mixture excessively on both sides (optional – sprinkle paprika to add smokiness)
Bake (top rack) 20 minutes, flip steaks, bake additional 20 minutes
Serve bottom-side down, garnish with mint and olive oil – enjoy!
Cooking Tips

Season up high! Check out my tip on How to Season Your Meat – this applies to veggies too 🙂
Want to cut out a few steps?  Just use Italian Dressing instead of the olive oil mixture.
Side Dishes that Taste Great With Cauliflower Steaks
---
I promise your friends and family will beg you to make this all the time. Give it a try and share pictures of your tasty creation 🙂
With a grateful heart and an amazing tummy – Jay
(Visited 3,162 times, 1 visits today)
Subscribe for tasty, free recipes!