Spaghetti squash gets an Italian makeover! First of all, this is a healthier take on normal parmigiana recipes. Secondly, it's so fun when everyone gets a boat-like vegetable topped with bubbly cheese covering the sweet and garlicky party that is the spaghetti squash. Most importantly, this is an easy make-ahead and reheats fabulously!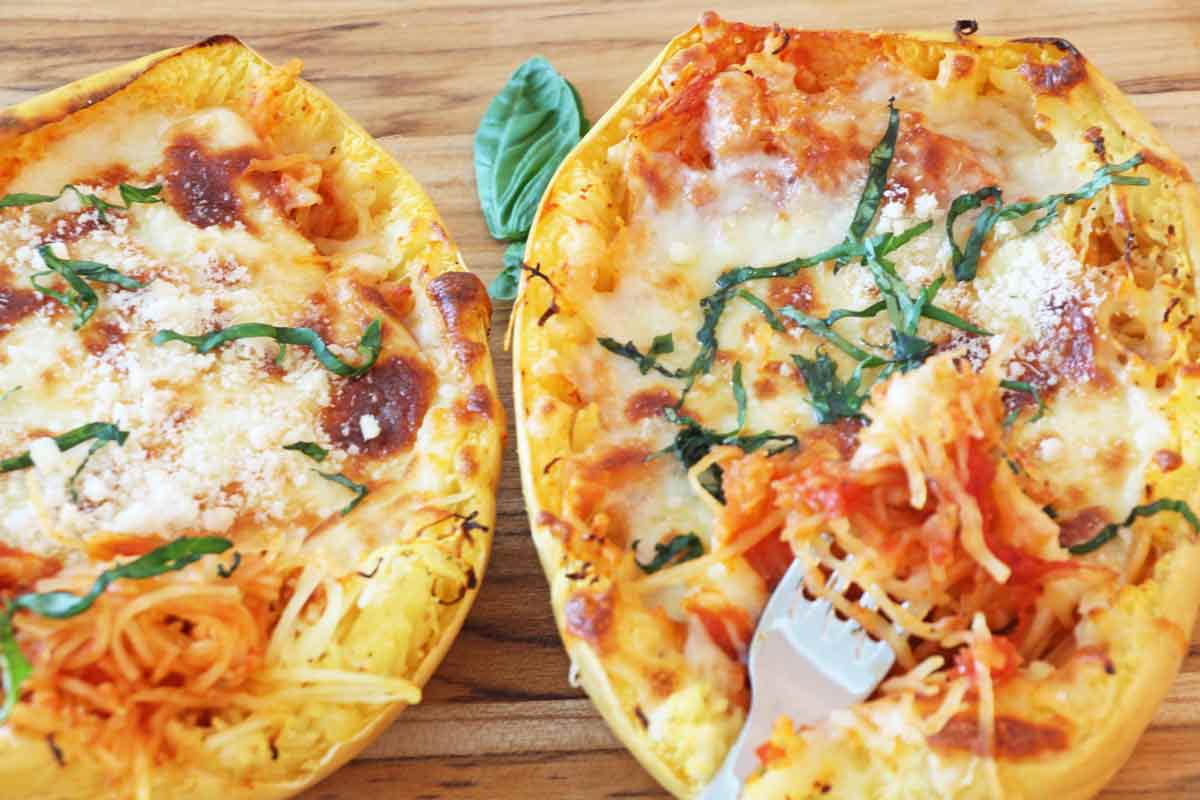 You can make this spaghetti squash recipe vegan. Just use vegan parm and mozzarella cheese. I saw an awesome recipe on ABC's The Chew were they make homemade vegan parm. I am so excited for you to watch the video and be inspired to cook this for your family.
---
Making the Noodles of Spaghetti Squash More Flavorful: How many times have you made a spaghetti squash recipes and noticed no matter how much sauce you add, the strands of squash are bland? The number one complaint about spaghetti squash is that it doesn't absorb flavor as well as regular spaghetti. I found a easy solution! This tip will win your flavor heart. First season the strands of spaghetti squash with salt, pepper, and garlic powder while they are still hot to add more flavor to the squash. Do this before mixing in any sauce or cheese in your recipe. This will give the strands more flavor and feel that the strands are just as yummy as the rest of the recipe. My friend Amy, our taste tester, will be so happy about this tip! (Hi, Amy!!!)
---
Spaghetti Squash Parmesan
Spaghetti squash gets an Italian makeover! This is a healthier take on normal parmigiana recipes.
Ingredients
1 Spaghetti Squash
1 cup tomato sauce
1 tsp salt and pepper
1 tsp garlic
2 cups mozzarella cheese shredded
1/2 cup parmasean cheese grated
3-4 basil leaves chopped
2 tbsp extra virgin olive oil
Instructions
First cook the spaghetti squash. Preheat the oven at 375. Next poke a couple of holes in the squash. Place in the oven for an hour. Let it cool and cut in half, de-seed, and using a fork scrape to form spaghetti like strands.

Preheat the oven to 400 degrees. (turn oven on while you prep your ingredients so by the time you are done the oven is hot enough)

Next add the salt, pepper and garlic powder to each squash and mix with squash strands.

Now add 1/4 cup of tomato sauce (you can eye ball this) to one half of the squash and a 1/4 cup to the other half and mix to incorporate all through out.

Add another 1/4 cup of tomato sauce to each half of squash. This time just spread on top of the squash.

Finally add a big handful of mozzarella cheese to the top of each half. Also add a couple of swirls of oil to help the browning. Cook for 10 to 15 minutes till the top browns.

Right out of the oven (while its still hot) add the Parmesan and basil on top of mozzarella cheese. Happy eating!
Notes
To make this vegan replace cheeses with a vegan alternative.  
ANOTHER AWESOME SQUASH RECIPE: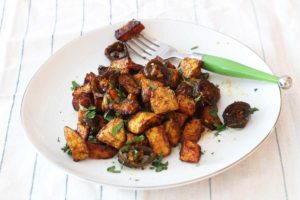 YOUR DASH OF GRATITUDE:
"Be you! You are awesome and have a lot of love to give!"
ANY QUESTIONS OR COMMENTS? COMMENT BELOW 🙂
With a grateful heart and an amazing tummy – JaY
This book changed my life and it is how I elevated my home cooking:

(Visited 6,114 times, 1 visits today)
Subscribe for tasty, free recipes!