Anytime I need a vacation – but only have time for a stay-cation – I close my eyes as I eat this grilled cheese sandwich and it brings me back to when me and Tom went to Greece. All the hustle and bustle of NYC just melts away. The great part is it is faster to make than finding a cab and boom you're eating. A winner every dinner!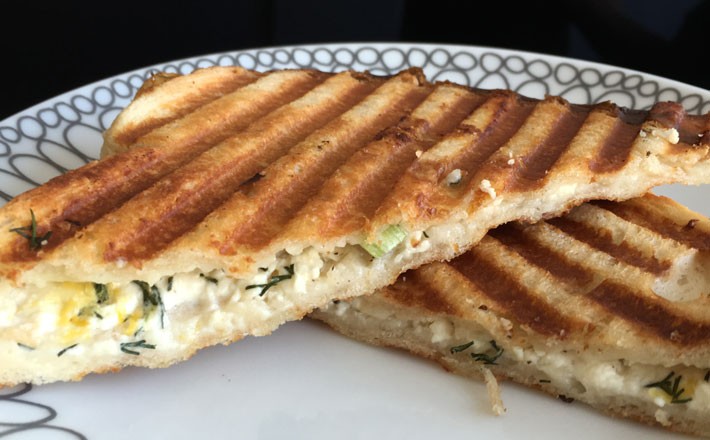 ---
Greek Grilled Cheese Sandwich Recipe
Ingredients
Serves 2
Small block of feta cheese cut into 4 thin slices
1 lemon (use the zest and cut lemon in half for small squeeze of juice)
Pinch of black pepper
1 small handful chopped fresh dill
2 scallions chopped finely
4 slices bread
4 – 5 tablespoons mayonnaise
---
Instructions
Remove feta cheese from brine, cut into thin slices
Zest lemon over the feta slices, cut and squeeze a little lemon juice, add the black pepper, dill and scallions
Spread ~1 tablespoon of mayo on each side of all the pieces of bread, layer on cheese so it covers the bread and top with other slice
Heat panini press on medium, toast sandwiches for 3 minutes, remove and rest for 2 minutes
Cut and enjoy!
Cooking Tips:

Keep any leftover feta in the brine so it stays nice and soft.
If you don't have a panini press – you can use a pan heated on medium, cook the sandwiches 2 minutes per side
---
This is a winner ! Give it a try and share pictures of your tasty creation 🙂
With a grateful Greek heart and an amazing tummy – Jay
(Visited 1,469 times, 1 visits today)
Subscribe for tasty, free recipes!