I am obsessed with making creamy mashed potatoes. Its become one of my jobs to make these creamy, buttery mashed potatoes for the Holidays. My family is expecting from their culinary blogger great mashed potatoes and they will tell me if not up to par. This is family approved.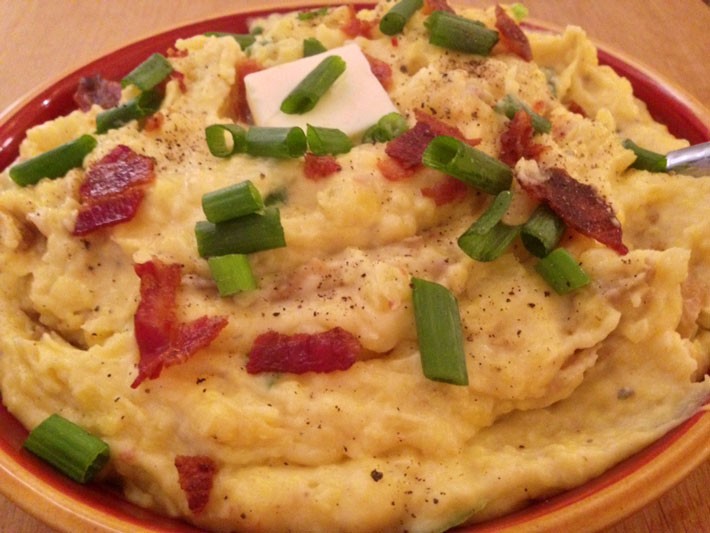 Please call the fabulous police!!! Bacon, sour cream, cheddar cheese, and heavy cream need I say more? This is not part of a daily well-balanced breakfast unless its the day after Thanksgiving LOL. Here are step-by-step instructions on how to make this.
The Best Loaded Mashed Potatoes
Ingredients
3 pounds Yukon Gold Potatoes (quatered)
1 cup heavy cream
1/4 teaspoon nutmeg
4 scallions chopped
2 tablespoon sour cream
1 cup cheddar cheese (grated)
2 tablespoons butter
1 teaspoon salt
1 teapoon pepper
4 strips Bacon (cooked and chopped)
3 tablespoons salt (to boil water)
Instructions
First, place potatoes in a pot with 3 tablespoons of salt (Taste the water and if tastes salty its good. If not add more salt until it is salty).

Now bring to boil. Once at boil reduce heat to medium and cook 15 minutes.

Next drain and return potatoes to hot pot.

Now add heavy cream, butter and mash the potatoes.

Next add sour cream, nutmeg, cheddar cheese, scallions bacon, 1 teaspoon salt, and 1 teaspoon pepper. Mix gently to incorporate all ingredients.

Finally enjoy this yummy recipe.
To see how to make the perfect bacon check out my culinary hero Ina Gartens Recipe!
With a grateful heart and a yummy tummy – Jay
(Visited 1,670 times, 1 visits today)
Subscribe for tasty, free recipes!