To me mashed potatoes are the ultimate side – and I think some recipes get so complicated and have way too many steps!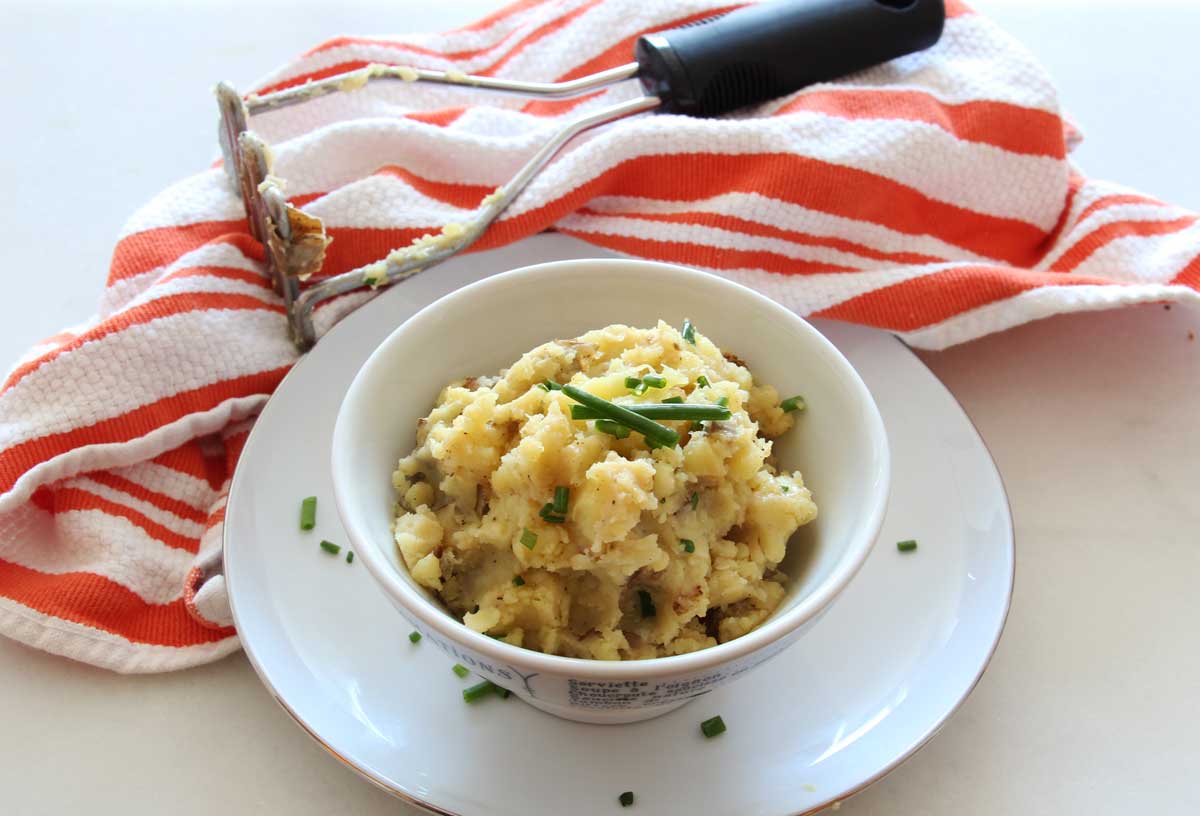 So just like my obsession with making the perfect meatball (Best Baked Meatballs Ever! recipe) I went on a spiritual mashed potato recipe quest to make mashed potatoes that are super easy with very little steps. This recipe was the result of lots of mashing. So what makes this different from its friends? 
First, when asked what would be the best go-to potato for cooking, my answer is almost always the Yukon gold potato! They are packed with buttery fluffy flavor and texture that is hard to mess up. Second, because we are using Yukon gold potatoes there is no peeling required. I know 🙂 … sooo exciting because that takes so much time, but now you have saved that time. Finally the butter is the key. I use brown butter (do not worry this is super easy to make and involves only 1 ingredient – butter). This adds a deep rich nutty flavor that makes every bite a wow experience. 
There are helpful potato tips in this video – I sooo can't wait for you to try this recipe 🙂
Grab your ingredients and follow along with the video!
---
Brown Butter Mashed Potato Recipe
Serves 4-6
Ingredients
2 1/2 lbs Yukon gold potatoes, washed and quartered
6 cloves garlic, smashed
Salt and pepper for seasoning
32 oz chicken stock
1 stick brown butter (Easy Cooking Tip: How to Make Brown Butter)
1/2 cup grated parmesan cheese
Small handful fresh chives, chopped to garnish
---
Instructions
In a big pot – add potatoes, chicken stock, big pinch salt; on medium-high heat bring to a boil. When it comes to a boil cook for 15 minutes; then drain
With potatoes still in the pot – add small pinch salt and a big pinch of pepper, Parmesan cheese, and brown butter
Smash everything together; stir in chives and enjoy!
---
What would you serve with these potatoes?
With a grateful brown butter heart and an amazing potato tummy – Jay
(Visited 1,219 times, 1 visits today)
Subscribe for tasty, free recipes!