Hearty, sweet, and peppery kale salad that will make people ask for seconds.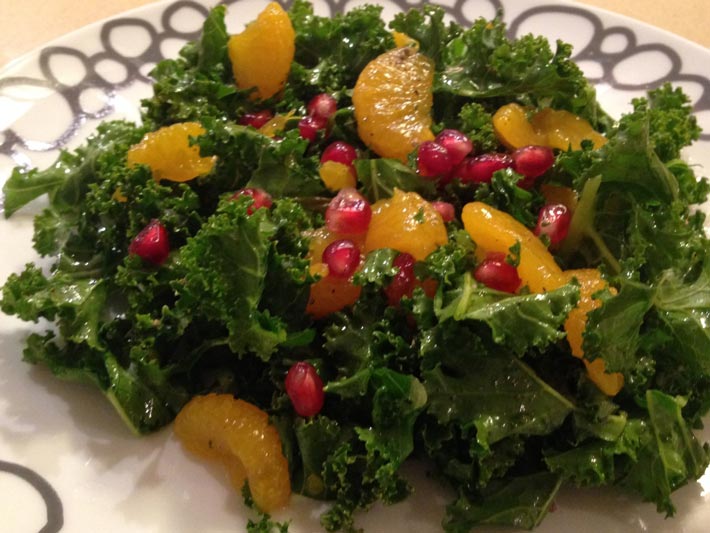 I dont usually eat kale salad and crave it but this one is special. It is sooo easy to make and fills you up with joy. I bring this to my families Thanksgiving every year. Also eat this on a quick weeknight sinner with leftover chicken.
It just takes one brave family member who is not labeled by all as the "official dieter of the family" to try it in order to be credible to its delish status.
They will let out a big yummm or mmmmm and say "this is super-tastic" to start a domino effect of family members with the green stuff in their mouth in a family chew off. The secret is the kale stays firm and chewy with a punch of citrusy lemon, "KAPOW" pepper and wonderful garlic. Nestled in with the green goodness is a jewel of pomegranate and a orange crescent of mandarin to juice up the bite.
---
Citrus Kale and Pomegranate Salad Recipe
Ingredients
1 bunch of regular kale
1 lemon – juiced
1/4 cup extra virgin olive oil
1 glove garlic – grated
1 cup pomegranate seeds
1 15 oz can of mandarin orange slices – drained
Pinch of salt and pepper (Best Friends Forever)
---
 Instructions
Stem and chop the kale finely and place in large bowl
Cut lemon in half and squeeze both halves over the kale (watch out for the seeds)
Sprinkle pinch of salt and pinch of pepper
Grate garlic over olive oil
Next mix and pour over kale
Mix the kale and ingredients using your hands
Now add drained mandarin orange slices
Add pomegranate seeds
Mix ingredients using your hands
Sprinkle pinch of salt and a couple pinches of pepper (to taste)
Mix and plate – yum!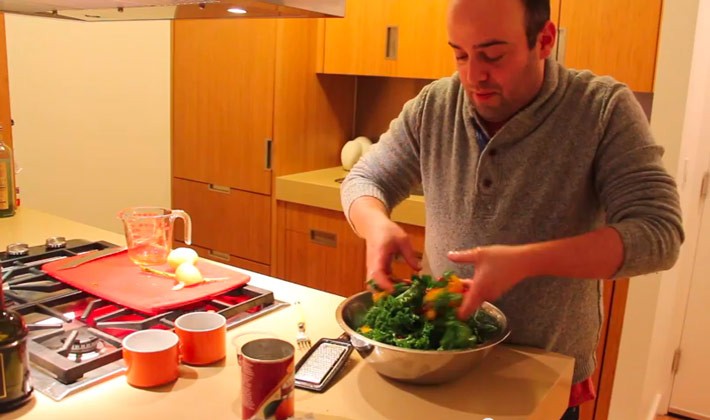 *TIP – after you have prepared the salad, give it a taste and add more salt if needed.
Make this the day before as it gets even better the next day.
---
You will not be the healthy boring one – you will be the King of greens forever! Give it a try and share pictures of your tasty creation 🙂

With a grateful heart and a yummy kale-massaged tummy – Jay
(Visited 863 times, 1 visits today)
Subscribe for tasty, free recipes!