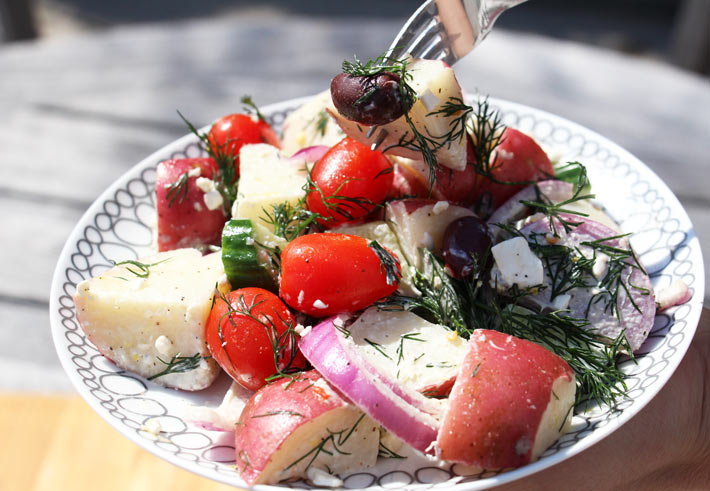 I call this my Mediterranean vacation in a bowl! Make-ahead potato salad that is so simple your friends and family should totally send you to Greece. I love potatoes anytime and this one adds crunchy veggies, salty cheese and lemony yumminess. What I love most is how little work goes into such huge flavor reward. Even Tom,  my awesome taste tester, loved this recipe on my first try. What I love most is how little work goes into such huge flavor reward. We went to Greece for our honeymoon and it was the most beautiful place we had ever been. We were on a cliff over looking the ocean. Every morning I would have a Frape (greek coffee) and the amazing veggies that they pulled from the earth to table. This recipe includes some of my favorite flavors form the food we eat. Did I mention its sooooo easy to make.
Tips For Stress-Free Potato Salad Fun:
Boil the potatoes in chicken stock instead of water. This will ensure amazing flavor throughout the potato.

All the recipes below are multipurpose. The dressing you mix with the potatoes can be used in salads, like dressing for cold pasta salad or marinade for chicken.

Cooking Yoga: Before you cook anything, go down the list of ingredients so you can cut and measure everything. This will make cooking fun because you won't be running around while trying to chop and stir.

Potato salads are great for families short on time because you can make it a couple of days in advance, and you can always make an extra big batch so there are leftovers.

 As always, these recipes are part of my mission to provide you with 2 goals:

      1) To make amazingly simple homemade comfort food.

      2) To learn useful tips to make cooking fun.

(Watch the video to see all of this in action!)
---
Greek Potato Salad Recipe
Serves 4 – 6
Ingredients:
2 1/2 pounds small red bliss potatoes quartered
32 oz chicken stock
Salt and pepper
1 pint of grape or cherry tomatoes (leave whole)
1/2 of English cucumber* cut in chunks (*With English cucumbers there is no need to peel the skin, so easy!)
Handful of fresh dill roughly chopped
Handful Kalamata olives
1/2 red onion cut into half moons
1/2 cup of feta crumbled
Dressing
1/2 cup mayonnaise
1/4 teaspoon red pepper flakes
1 lemon (zest whole lemon and 1/2 of a lemon juice)
2 cloves of garlic grated or finely chopped
2 tablespoons of white wine vinegar
Instructions
In pot, add potatoes and enough chicken stock to cover, boil for 10 minutes, drain and set aside to cool
In bowl, add mayonnaise, red pepper flakes, lemon zest, garlic, big pinches of salt and pepper, juice from 1/2 lemon, vinegar and mix
Add cooled potatoes, herbs, vegetables, feta and combine all ingredients
Plate and enjoy!  … or eat straight out the bowl 🙂
Want to Chop Happy? Check out my Essential Tip to Take the Stress Out of Cooking.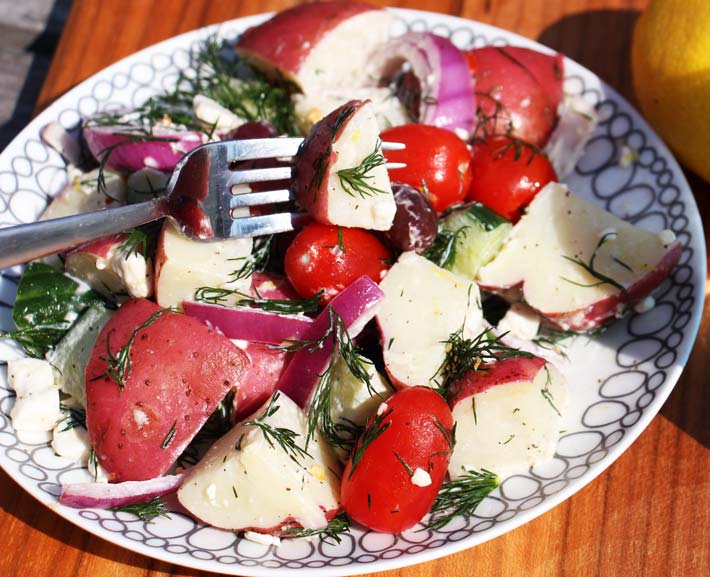 ---
Hope you love this and cheers to a yummy potato meal! Give it a try and let me know what you think 🙂
With a grateful heart and an amazing tummy – Jay
(Visited 545 times, 1 visits today)
Subscribe for tasty, free recipes!