No grating potato pancakes so fluffy they will float off your plate! – Oh Potato, my best friend!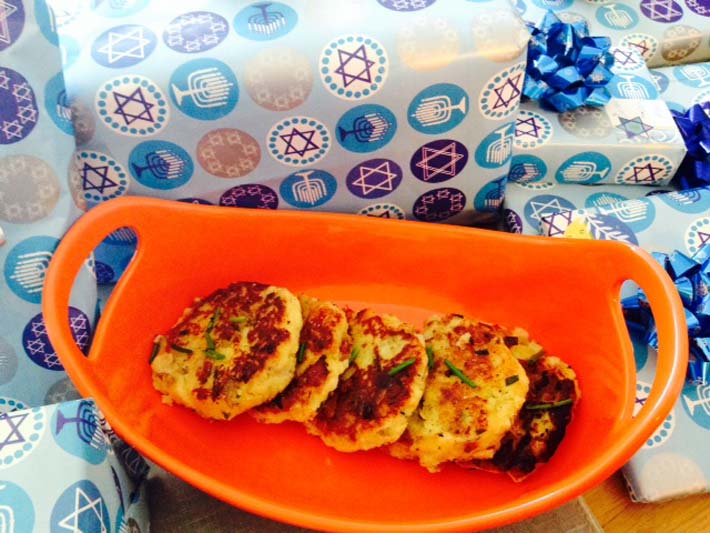 If you are what you eat (those who follow me would know), I am a big yummy potato. Life without potatoes would be yucky. During Hanukkah I love to eat my mom's potato pancakes. The only problem is my hand hurts and gets cut by the grater. Year after year, with a love of all things nicknamed "spuds" I grate, peel, and grate.
Although my mom has the magic touch I have found a great new version.
No Grating!!!  No Peeling!!! No Mess!!!
First of all, we will give the old Russet Potato a rest. Sorry Idaho Chop Happy Citizens! We are going to use buttery and no peel Yukon Gold potatoes. Come with me on a journey that will NOT take eight days and no lighting of candles except your menorah. Follow these easy steps and change your potato pancake dreams forever to first class.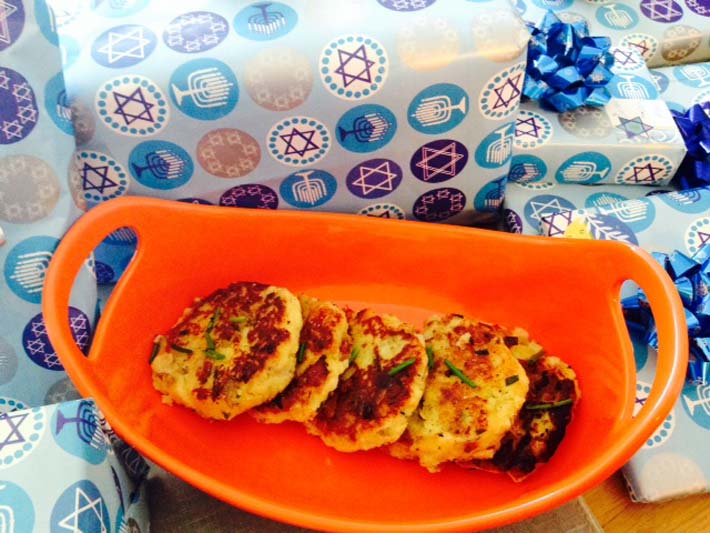 Mashed Potato Pancakes (potato latkes)
Ingredients
3 pounds Yukon gold potatoes (cut in half)
4 scallions (chopped)
4 cloves garlic (crushed)
3 tablespoons butter
1 teaspoon salt
1 teaspoon pepper
4 cups chicken stock (add 1 teaspoon salt to stock)
chives (chopped) for garnish
3 tablespoons oil
Instructions
First, place the potatoes in a pot with chicken stalk and 1 teaspoon of salt.

Next, turn stove on high. When you see the stalk boil time 15 minutes.

Now, check by pearsing the potato with knife to make sure the potato is soft and drain.

Next, place the potatoes back in the hot pot and mash.

When mashed add butter, scallions, salt and pepper. Mix to combine. Then let the potatoes cool.

Now, add an egg and mix into the potatoes.

Form patties with 2 tablespoons of potato mixture. Repeat until all patties are formed.

Now, pour oil in non stick pan and heat to medium.

Next, place potatoes (working in batches) in the hot oil. Fry approximately 2 minutes per side.

Finally, take out of the pan, drain oil on paper towel, and salt while hot!
Note: When you take the beautiful – "BEST EVER" – potato pancakes out of its transformative pan, lay them out on a paper towel to dry off from their oil pool. Add a sprinkle of salt when the patties are hot to add flavor. OHHH SOOO YUMMMY – can't wait to chomp on the deliciousness.
You will cheer and give yourself a standing ovation because the Yukon Gold potatoes add a very fluffy light texture to an otherwise hockey puck pancake!
Fun ways to enjoy them:

Enjoy with Apple Sauce
Put some sour cream on top with smoked salmon
Make mini-pancakes and add some flavored soft cheese on top with some dill as an appetizer
With a grateful heart and a yummy tummy – Jay
(Visited 1,878 times, 1 visits today)
Subscribe for tasty, free recipes!