This is one of my favorite meals to make when I don't have a lot of time to cook.  In the time it takes to order out – you'll be sitting down to a yummy dinner.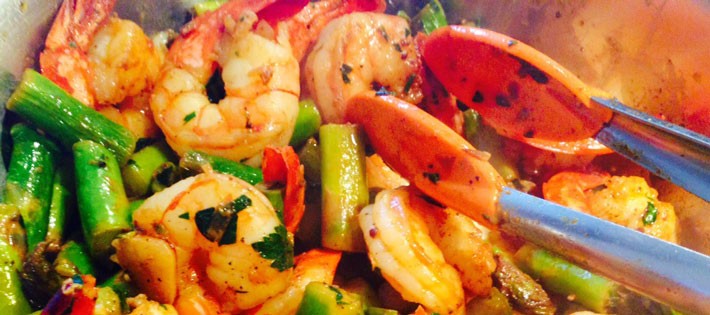 Shrimp and Asparagus Recipe
---
Ingredients
1 Pound of raw shrimp (season with pinch of salt and pepper)
2 bunches of asparagus (bottom ends cut off/thrown away and then cut into 1 inch pieces)
1/2 Lemon
1 Tablespoon of butter
Salt and pepper
---
Instructions
Heat a large pan on Medium heat and when hot add 1 tablespoon of butter and then the shrimp and do not touch for 30 seconds. Then flip over and leave for a minute. Not touching the shrimp helps it brown.
Take shrimp out and put asparagus in the pan with pinch of salt and pepper. Turn the heat up to medium high and don't touch for a minute so gets nice brown char. Then mix the asparagus.
 Squeeze lemon juice over shrimp and asparagus and mix for 30 seconds.
Plate and enjoy!
---
Enjoy the meal and look forward to Chop Happy yummy smiles! Give it a try and share pictures of your tasty creation 🙂
With a grateful heart and a yummy tummy – Jay
(Visited 481 times, 1 visits today)
Subscribe for tasty, free recipes!