This burger has big bold garlicky, salty, and beefy flavor. This is the ultimate fool proof burger that will make everyone cheer.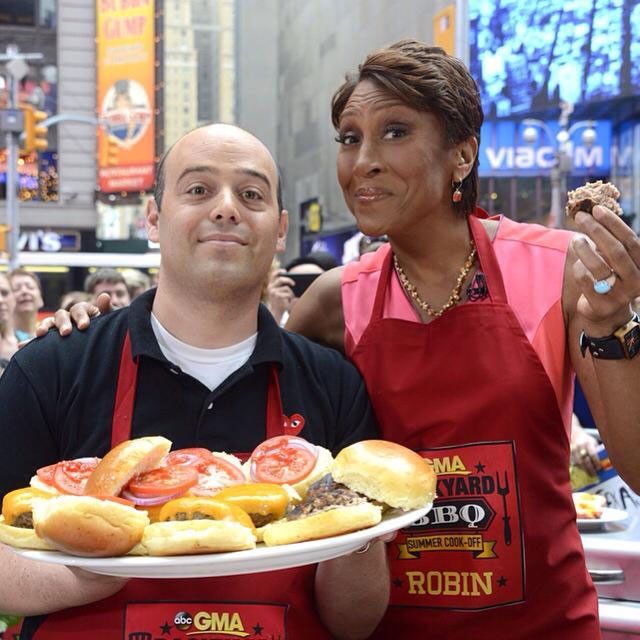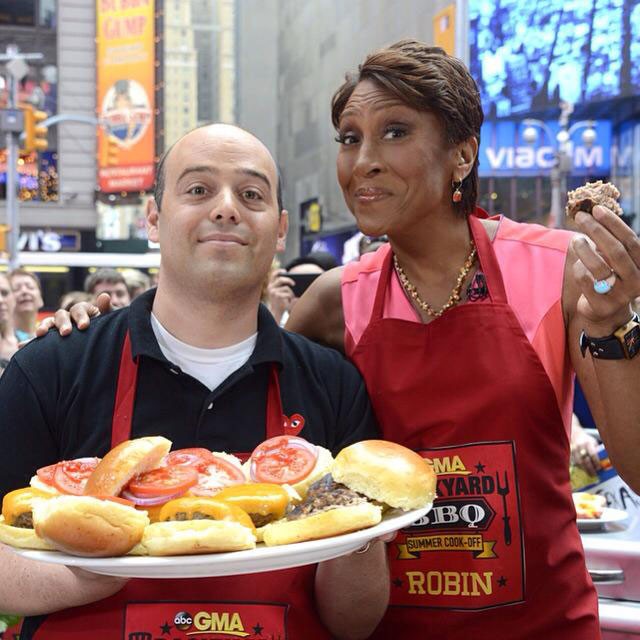 This burger is definitely good luck!! I got to cooked this burger on Times Square for Good Morning America! It was a dream come true. They called me the day before and asked me to come on TV and cook this with Robin Roberts. I immediately called my husband and told him leave work early we are going shopping lol! Robin Roberts is amazing and her gratitude and kindness glows from her. It was soo much fun and they gave me this super cool apron. I will always be super grateful for this life changing experience. Thank you, thank you, thank you!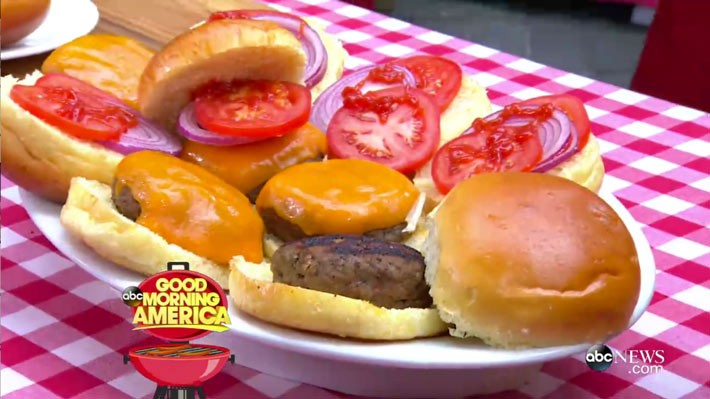 It is sooo yummy that I was asked to demonstrate this at my last cooking class (located at Court Tree Collective in Brooklyn). This burger dream was my grand finale recipe in my Effortless Summer Dinner Party BBQ class. The crowd went wild when they tried the roasted garlic bacon flavor explosion burger. In less then a minute I demonstrated how to make these sexy flavor bomb burgers just using a food processor and a grill. Im was so grateful to see the smiling /quietly chewing faces because this is a no fail recipe that even reheated is juicy and deep in salty bacon flavor. I love how the bacon and roasted garlic do the tango and win grand prize in every bite.
I also love the sound of meat hitting the hot grill. In less then 3 minutes per side this yummy BBQ burger party can begin. Let me know what fun kind of burgers you make with friends? Also take funny pictures of you eating this burger. Check out my video section for how to perfectly roasted garlic. In a pinch you can totally use 2 cloves of raw garlic as it will be in the food processor so you wont get big chunks. I am so grateful and excited to see the yummy tummy smiles on your guests faces when they make this recipe.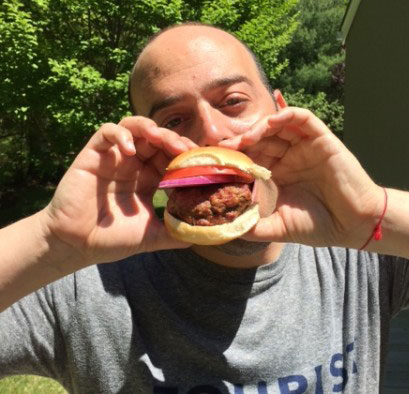 The Ultimate Bacon Burger Recipe
Ingredients
1 pound ground beef (80/20)
8 oz bacon (raw)
1 bulb garlic
1/4 onion
1 teaspoon dried thyme
1 teaspoon salt
1 teaspoon pepper
4 burger buns
ketchup
1 tomato sliced
4 slices cheddar cheese
Instructions
First, make the roasted garlic: cut garlic bulb in half in the middle, place in tin foil, pour olive oil, salt and pepper . Seal the tin foil and roast for 40 min at 400 degrees. Let cool.

Next, place bacon roasted garlic, thyme, and onion in the food processor. Pulse until it forms a bacon paste.

Now add ground beef, bacon paste, salt and pepper in a bowl and mix to combine. Divide into four patties.

Next, grill 3 minutes per side on medium high heat.

Finally, put on a bun, add cheese, tomatoes and ketchup.. Happy eating!
 With a Grateful Heart and a Bacon/Roasted Garlic Infused amazing tummy – Jay
(Visited 1,984 times, 1 visits today)
Subscribe for tasty, free recipes!