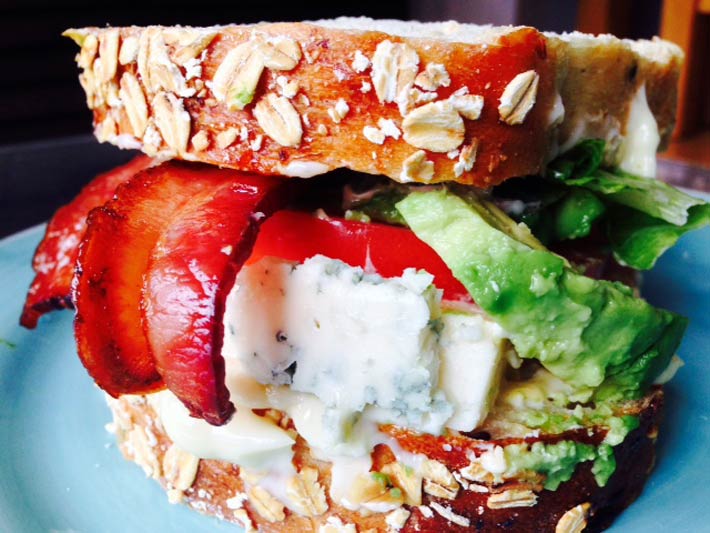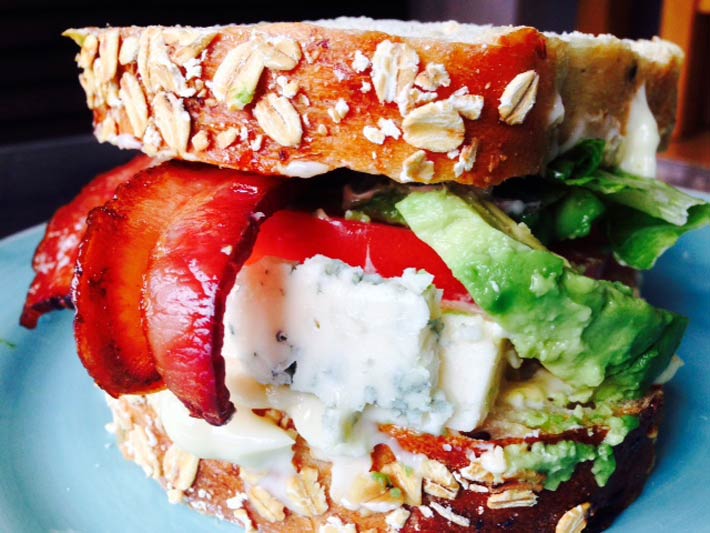 Introducing the "Ultimate Cheesy Bacon Sandwich." Today I remake the boring bacon-lettuce-and-tomato sandwich (BLT) with a new flavor explosion! You will never go back to the old BLT. The blue cheese adds a big bold cheesy flavor that mixes well with the sweet juicy tomato. Then the tangy mayo and spicy mustard dressing coats your tongue with a creamy blanket to allow the bread to join the party. The key is amongst all these big flavors- is not to make the tomato the forgotten ingredient. To make sure the tomato is a great co-star, I generously season and add lemon.
I even get Tom to eat this sandwich! Normally he likes a sandwich with higher meat ratio, but with one bite he was hooked. He says it's super hearty and light at the same time and unlike regular BLT's does not leave you hungry. I hope this is your new sandwich night staple. Any time of the year you can eat like a King and Queen with a NYC flare! I am so grateful and giving you a standing ovation as you make this yummy treat! Make sure to subscribe to get more bacon cheesy sandwiches!

---
Blue Cheese BLT Sandwich Recipe
Ingredients (makes 4)
8 Thick slices of your favorite bread
4 large red tomato (cut into thick slices)
Salt and pepper (BFFs!)
2 lemons cut in half
8 slices of thick cut bacon (watch how to make perfect bacon 🙂 )
1 avocado cut into small slices ( 2 slices per sandwich)
For each sandwitch:
1 tablespoon of mayonnaise or a big smear of the knife of mayo
2 teaspoons of dijon mustard or a big smear of the knife of mustard
1 large leaf of your favorite lettuce
1 thick slice of blue cheese (Maytag or Stilton are my fave)
The key to this recipe is using simple high-quality ingredients. I recommend going to your local bakery for your bread – you won't regret it! 🙂

I used Stilton blue cheese because it has a smoother blue cheese flavor. You can even replace blue cheese with an extra sharp thick piece of cheddar or thick slice of Brie.
---
Instructions
Cook the bacon either by frying or by using my trick to making the best bacon ever!
Lightly salt and pepper (best friends forever!) each of the tomato slices and then squeeze a little lemon over the tomatoes. This will insure they don't get lost in the flavor-town of all the other ingredients!
Spread (or squeeze in my case :-)) the mayonnaise and schmeer (NYC talk for "glob it up!") the dijon mustard on each piece of bread. Spread and mix the two making it smell so good all ready!
Now it's time to assemble … 
Stack the lettuce, blue cheese, avocado, tomato slices and the "Grand Finale" bacon – and enjoy my spin on the best BLT ever!
---
Give it a try and share pictures of your tasty creation 🙂 Let us know what you put on your sandwich below :-).

With a grateful blue cheesy heart and a BLT amazing tummy – Jay
(Visited 1,675 times, 1 visits today)
Subscribe for tasty, free recipes!