Have you ever made Crunchy Ramen Noodle Salad?
You are going to love this recipe as its easy and totally make ahead delish. Also it will last a couple of meals and gets better each day. This pasta tastes bright and citrusy from the lemon and clementines, crunchy and sweet from the cabbage, and a little spicy from the red pepper flakes. It's super easy, and the only thing I have to cook is the ramen noodles, which requires just a quick boil!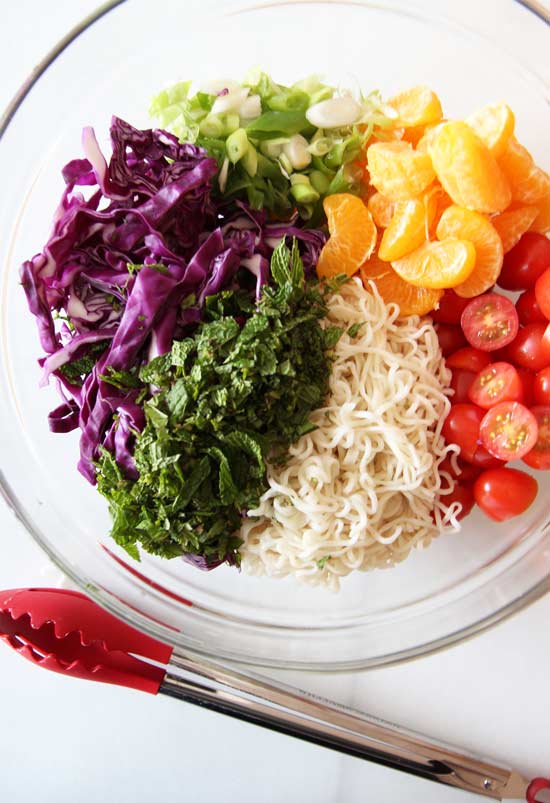 Technique Tips: 
Hold the lemon cut-side up to prevent seeds getting in the food.
To mix all the ingredients well, mix from the bottom of the bowl, going upward as you rotate the bowl (see video).
Use my favorite tool: the microplane! When you grate garlic with this tool, there are never big chunks so you get lots of evenly distributed garlic flavor.
Use pre-cut, store-bought veggies to make your meal less labor-intensive. It also saves you time and helps you relax because you have one less thing to worry about. For this recipe, I used pre-shredded cabbage.
Any time a recipe calls for citrus, also use the zest! This recipe calls for lemon so I zested it because the lemon zest is where the bold citrus oils are, and it adds more intense flavor.
(Watch the video to see all of this in action!)
---
Crunchy Ramen Noodle Salad Recipe
Ingredients
Salad Ingredients:
4 clementines (quartered)
1 pint cherry tomatoes (halved)
4 packages ramen (cook to package instructions but throw out seasoning)
1 handful mint (chopped)
1/4 purple cabbage (shredded)
3 scallions (chopped)
1 handfull sunflower seeds (salted and shelled)
Dressing Ingredients:
2 lemons (juice and zest)
3 cloves garlic (finely chopped or grated)
1/4 tsp red pepper flakes
1/4 cup extra virgin olive oil
1 tsp salt
1 tsp pepper
Instructions
First put all the salad ingredients in a big bowl.

Next add all the dressing ingredients.

Now mix the ingredients together till combined.

Grab a fork and enjoy this pasta treat.
Notes
Best served cold
Last for days and makes great leftovers. 
Your Dash Of Gratitude:

ANY QUESTIONS OR COMMENTS? COMMENT BELOW 🙂
With a grateful heart and an amazing tummy – Jay
(Visited 2,051 times, 1 visits today)
Subscribe for tasty, free recipes!
Reader Interactions