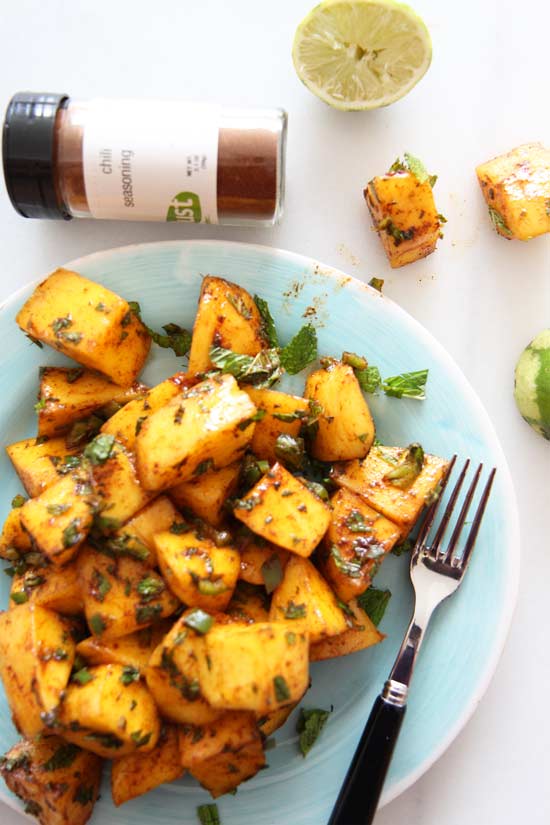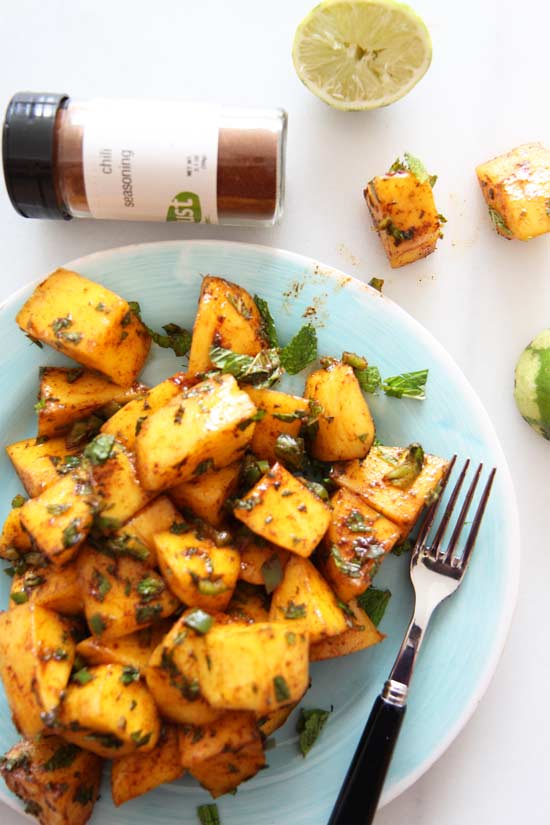 This is not your average mango salad.
It's smoky, sweet, and juicy, with just a hint of spice and a touch of mint to round out the flavor. If you follow my blog, you know that bacon is a vegetable in Chop Happy land, and for me to be excited about a fruit salad, it has to have lots of flavor personality.
Also in true Chop Happy Style: If you are in a time crunch or you're a newbie home cook, this is perfect for you because it involves only a couple of ingredients and takes less than 5 minutes to make.
Two things inspired my love for his salad. First, Tom the Great. I actually had never eaten a mango until I met Tom. It is his favorite fruit, and I was so surprised at how tart, sweet, and juicy it was. It was love at first slurpy bite.
The other inspiration comes directly from NYC subways. If you have ever taken the subway in New York, you will sometimes see vendors with carts peddling all kinds of snacks. Some sell mangos on a stick and you can add as much (or as little) chili seasoning on it.
Now you are my inspiration because I am excited for you to make this stress-free yummy recipe!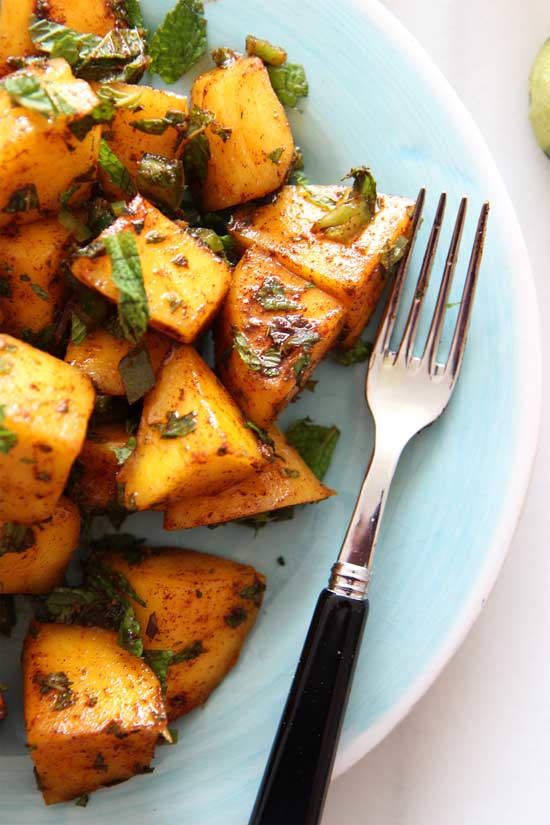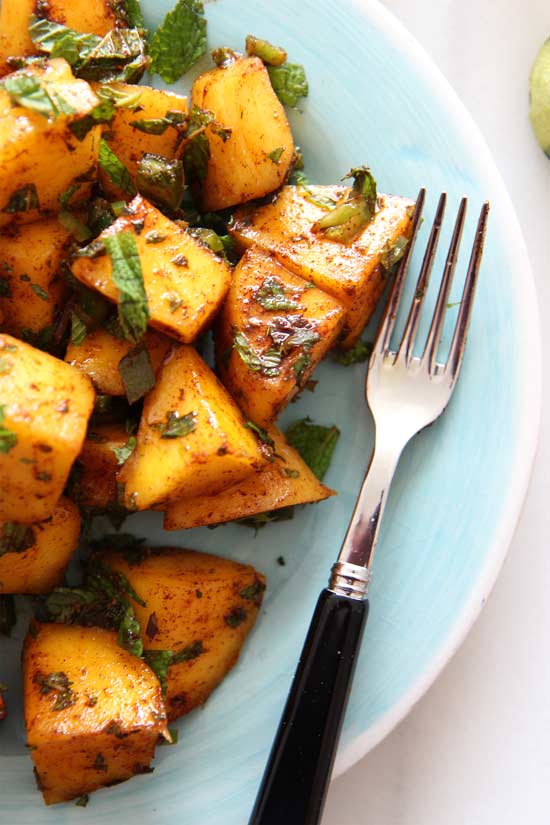 Technique Tips: 
Sometimes, the simplest ingredients speak for themselves. There aren't many ingredients in this recipe – just fresh and tasty combinations.

Whenever you have a recipe with citrus, always use the zest, too. There are bright refreshing oils in the zest that will make your dish pop!

 If you are busy, make salads like the above that take just minutes. This particular recipe is great for leftovers because the mangos have time to soak in all the other flavors.

(Watch the video to see all of this in action!)
---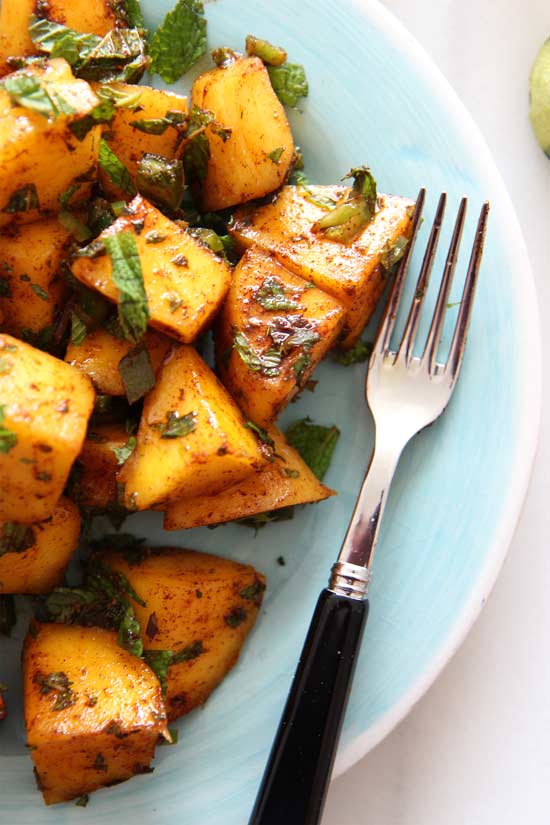 Chili Mango Salad
This is not your average mango salad. It's smoky, sweet, and juicy, with just a hint of spice and a touch of mint to round out the flavor.
Ingredients
2 mangos (cut in chunks)
1 jalapeno (de-seeded and chopped)
1 handful mint (roughly chopped)
1 lime (zest and juice)
1 tsp chili seasoning
1 tsp salt (or big pinch)
Instructions
Place the mangos, jalapeño, mint and lime juice in a large bowl. Next mix all the ingredients together.

Now place the chili seasoning, salt and lime zest in a separate bowl. Mix together until well combined.

Finally add the seasoning to the bowl with the mangos and mix until well combined.

Enjoy this juicy, sweet, and spicy sunshine salad.
Notes
Use fresh mangos for this recipe. 
Great make ahead dish. It gets better the longer sits in the fridge
Perfect for new or busy cooks. Only a small amount of ingredients and takes 5 minutes to make.
Your Dash Of Gratitude:

ANY QUESTIONS OR COMMENTS? COMMENT BELOW 🙂
With a grateful heart and an amazing tummy – Jay
(Visited 1,579 times, 1 visits today)
Subscribe for tasty, free recipes!
Reader Interactions