First of all, I am officially obsessed with Mexican cauliflower rice. Not only is it quick and easy, it's really versatile!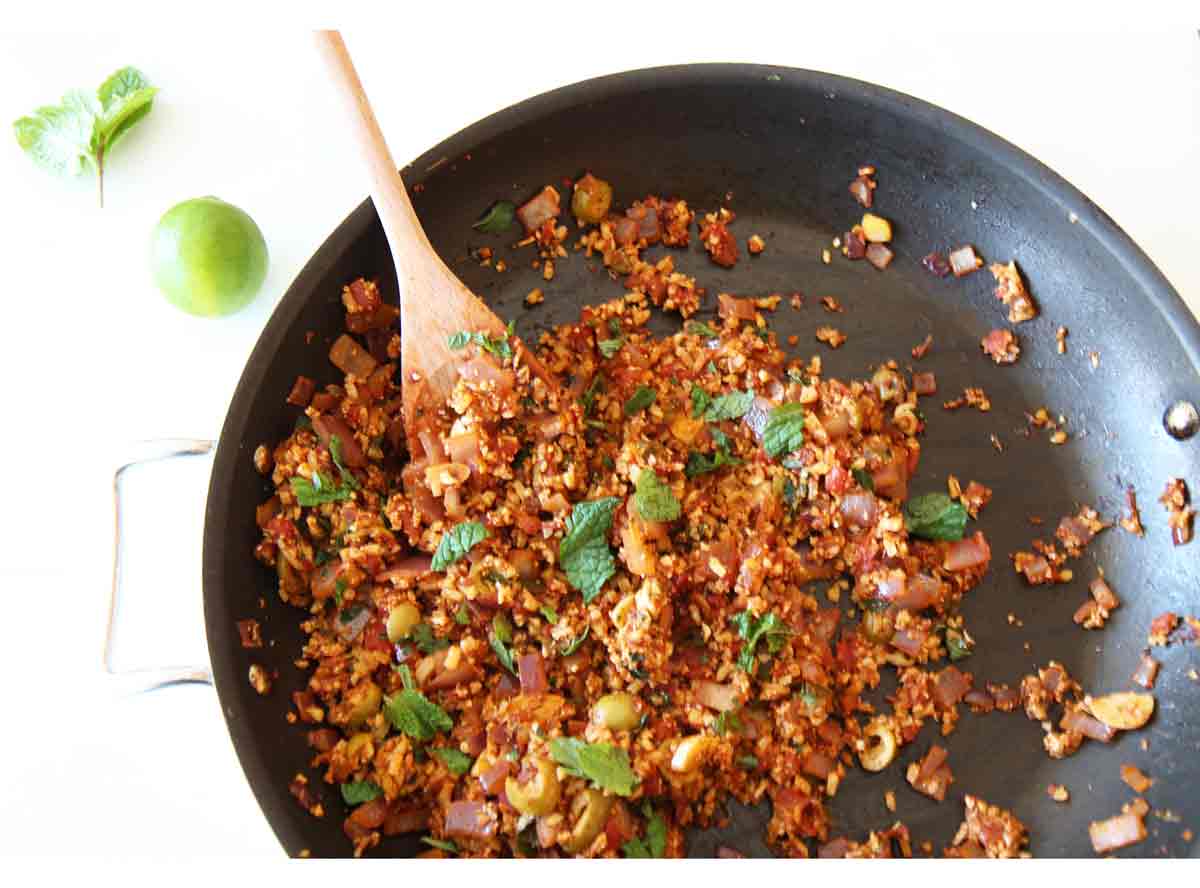 There's sweetness from the tomatoes, smokiness from the cumin, citrus-y brightness from the lime, and subtle heat from the jalapeno. In the time it takes you to cook regular rice, the whole cauliflower dish is done and ready to eat.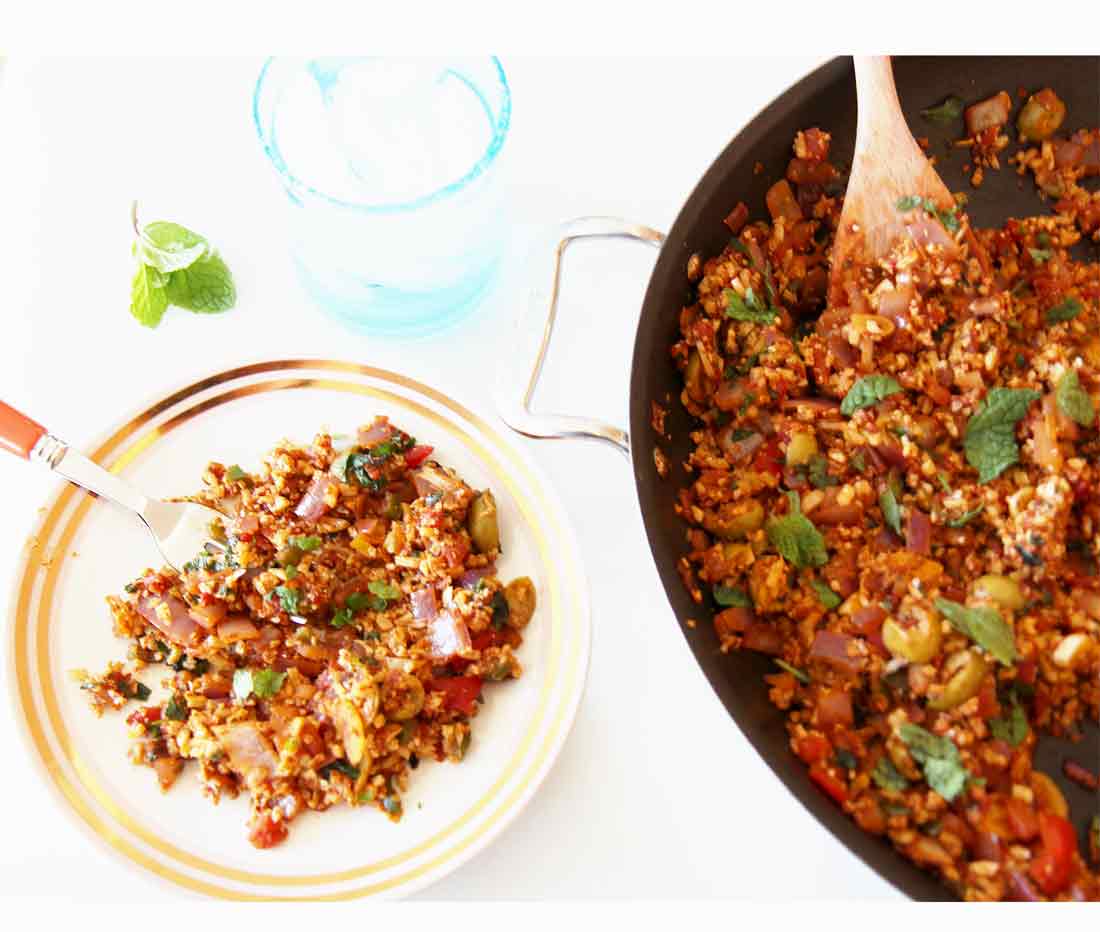 Also, the cauliflower also absorbs whatever you mix it with. You can make a Asian-influenced cauliflower fried rice, or add a Mexican touch, like in this recipe.
Technique Tip (Homemade Cauliflower Rice): This is sooo easy! All you need is a small head of cauliflower and a blender or food processor. Click here for this easy tip.
There are not that many ingredients and most you have in your local supermarket. Don't forget to zests your citrus (its your free ingredient) for extra pow flavor.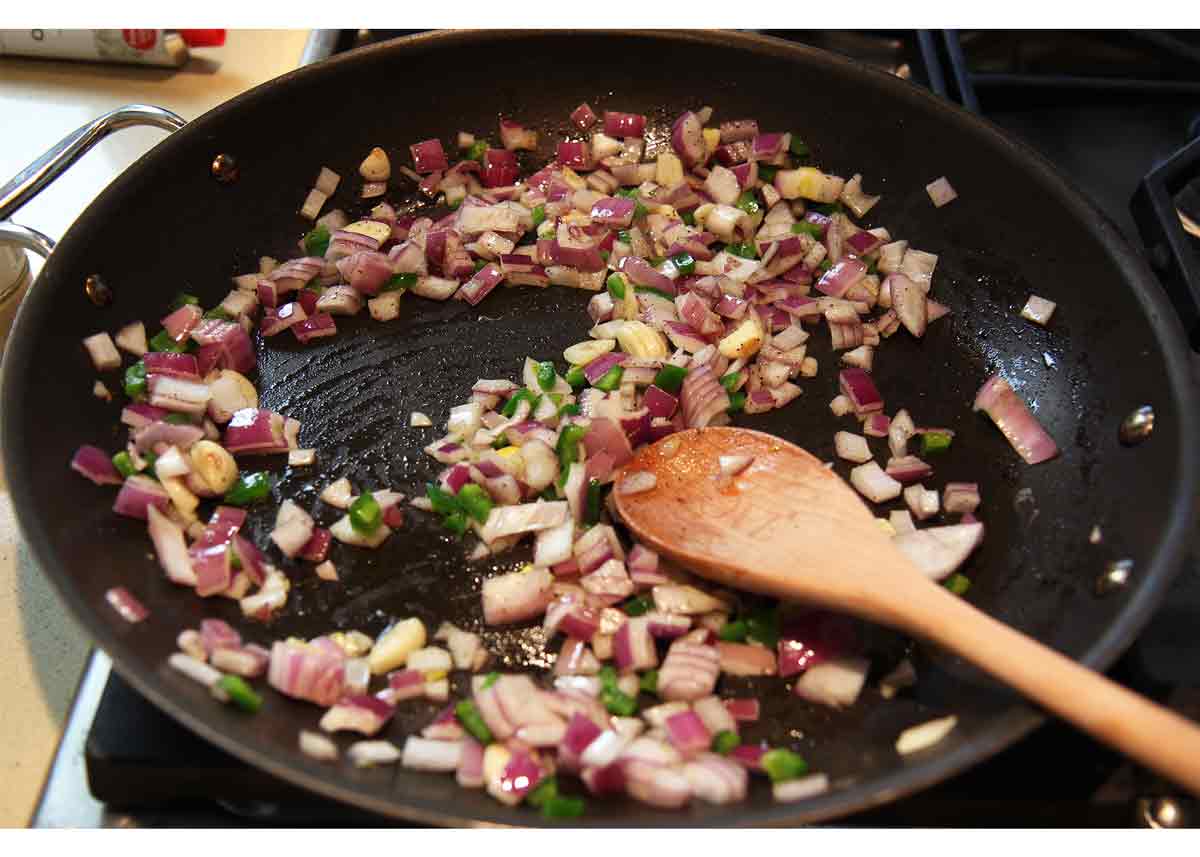 I promise you will love this. Tom is my toughest critic and incredibly picky about substituting rice or pasta, and even he loves the cauliflower rice recipes. In my book, that is a job well done!
---
YOUR DASH OF GRATITUDE:
"Change your routine, even just walking a different way to the same coffee shop. It can change your whole perspective and make life more magical"
---
Cauliflower Mexican Rice Recipe
Ingredients
4 cups cauliflower rice (if you make your own: 1 medium head cauliflower)
1 medium red onion chopped
4 cloves garlic chopped
1 jalepeno de-seeded and chopped
1 tsp chili seasoning (can substitute with taco seasoning)
1 tbs tomato paste
1 lime zested and cut in half
1 14.5 oz can of diced tomatoes drain extra liquid
1 handful mint chopped
1/2 cup green olives with pimentos chopped
2 tbs extra virgin olive oil
Instructions
First heat a pan on medium heat. Add 2 tbs with extra virgin olive oil.

Next add the red onion, garlic, and jalapeno. Cook for one minute till the veggies are translucent.

Now add the tomato paste and chili seasoning and mix with veggies. Let it cook for 30 seconds to open up the seasonings.

Add the cauliflower rice and mix. Now add the diced tomatoes, lime, and zest. Mix everything together until rice turns red.

Finally, add the olives and mint and enjoy.
Notes
Add leftover chicken, shrimp, or tofu to make this dish to make this a meat lovers dish.
ANY QUESTIONS OR COMMENTS? COMMENT BELOW 🙂
With a grateful heart and an amazing tummy – Jay
(Visited 2,797 times, 1 visits today)
Subscribe for tasty, free recipes!