First of all this is a flavor party on a plate! Also, this recipe is fun and all about "drop and pulse." As you can imagine, following my blog, vegetables (unless it's potatoes) don't make a staring role all the time on my menu. It can be a creamy appetizer, mixed with pasta for weeknight din din, a green filled dip and so many yummy options. Pesto is a favorite in my house and Tom cannot get enough of this green wonder. This pesto recipe took many tries to get it Tom approved. The balance of the heat from the jalapeno and sweetness of the peas are now just right. We have eaten so much pea pesto I think 80% of my body is now made up of pesto lol.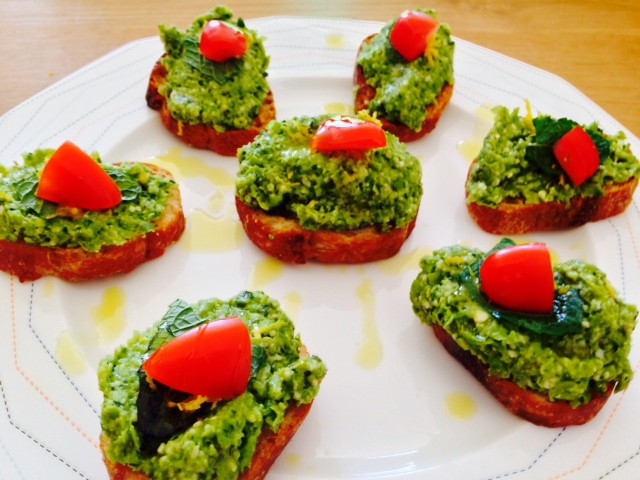 I also do cooking classes at the AMAZING Court Tree studios in Brooklyn (Thanks to Amy and Steven) once a quarter. In May, I did a "Summer Dinner Party Menu" and we served this as a dip with veggies. It was so fun to show people how fast and easy it was to get something so bright, sweet and yummy out of a blender in less then 10 minutes. The crowd was amazed at how fast something could become so yummers.
I love this recipe because you can make this ahead and use the next day. Here it's on a toasted bread, but you can put it in pasta with leftover chicken or on-top of eggs too (the possibilities are endless). The most important thing is that in less then 10 minutes on the table, you have weeknight magic. What is your quick family weeknight meal? Maybe a Chop Happy version will appear on the blog :-)!
---
Pea Pesto Party
Ingredients
1 (10 oz bag) frozen peas defrosted
1 jalapeno seeded and ribs taken out
Zest and juice of whole lemon and juice
1 teaspoon of honey
Big Pinch Salt and Pepper
Big Handful of grated parm cheese
Big Handful of mint
1/3 cup toasted pine nuts or walnuts
1/4 cup extra virgin olive oil
2 garlic cloves
---
Instructions
Welcome the garlic, jalapeno and nuts into the blender and pulse a couple of times to break them up.
Next the green machine (the peas) go into the blender and pulse them together with their friends a couple of times.
Now put in the rest of the fun friends (Lemon/zest, honey, salt/pepper, parm, and mint and pulse till it is a chunky pesto like consistency. Add some fruity olive oil to slick the mixture up and bind everything together.
This bright beautiful zesty sweet pesto can be mixed with pasta, put on a crostini, or as a dip with veggies!
Watch the fun video and see how fast this is to make and the color as it comes out of the blender.
---
Watch "out of the box" pesto's do you make? Let me know your ideas in the comments section! Give it a try and share pictures of your tasty creation 🙂
With A Grateful Heart and A Pea Pesto Amazing Tummy – Jay
(Visited 535 times, 1 visits today)
Subscribe for tasty, free recipes!