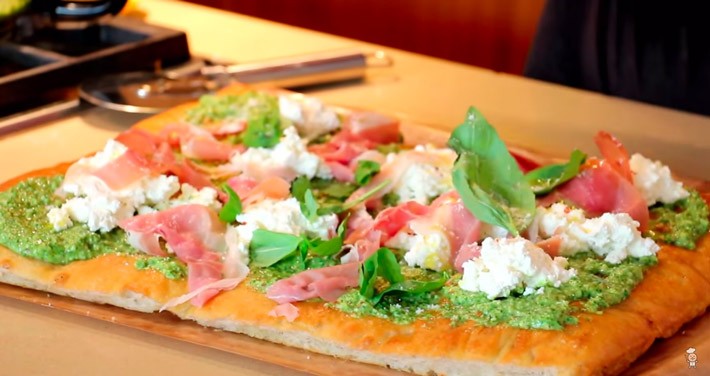 No Oven Needed and Sooo Yummers! Just grab focaccia bread and start creating the quickest pizza your family ever made. This is so yummy you will never order take out again. When I was young it was a super special treat to have pizza in my house and boy did my mom love pizza. Her favorite was an everything pizza. This recipe is in honor of my mom and my awesome foodie childhood memory.
Now you can put what ever toppings you want on your pizza. Go crazy with your pizza artist-self. The fun in this recipe is – it's quick, easy and a great go to weeknight meal. I hope you enjoy the video and the recipe and it becomes a family favorite!
---
Pesto Pizza: No Oven Required
Ingredients
1 sheet of focaccia bread (If not available use soft italian bread or ciabatta cut in half)
1 cup of fresh ricotta cheese
1/2 pound prosciutto torn into pieces
Chop Happy Basil and Almond Pesto (or your favorite jar of pesto)
10-15 basil leaves
1 big pinch red pepper flakes
Lemon zest from 1 lemon
Extra virgin olive oil for drizzling on top of the pizza
1/4 cup of parm cheese for sprinkling
---
Instructions
Gather your family and friends and start to slather on the garlic pesto yumminess all over the top of the focaccia. Wow doesn't it look pretty already!
Now drop spoonfuls of ricotta cheese all over the pesto, like balls of silky cheesy love.
Let's party Italian meat style and drop prosciutto all over the pizza in chunks so easier to eat. Next let it rain basil for a fresh bite of sweet green goodness.
From high in the sky sprinkle the lemon zest, red pepper flakes, and the parm cheese evenly over the pizza.
Now the grand final yumminess ingredient, extra fruity topping of a drizzle of extra virgin olive oil all over the pizza.
As always, and especially with the ones you love, a dash of crazy fun gratitude is the best ingredient.
---
Bellissimo to your at home based pizzeria ! Give it a try and share pictures of your tasty creation 🙂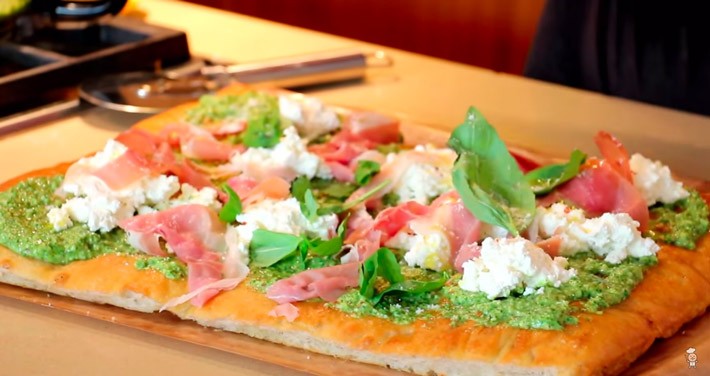 What are your favorite toppings for pizza?
After you watch this video what would you put on top besides prosciutto?
With a grateful heart and a pizza amazing tummy – Jay
(Visited 438 times, 1 visits today)
Subscribe for tasty, free recipes!